Software that uses the power of your devices for good — easy, secure, and waste-free printing
Live demo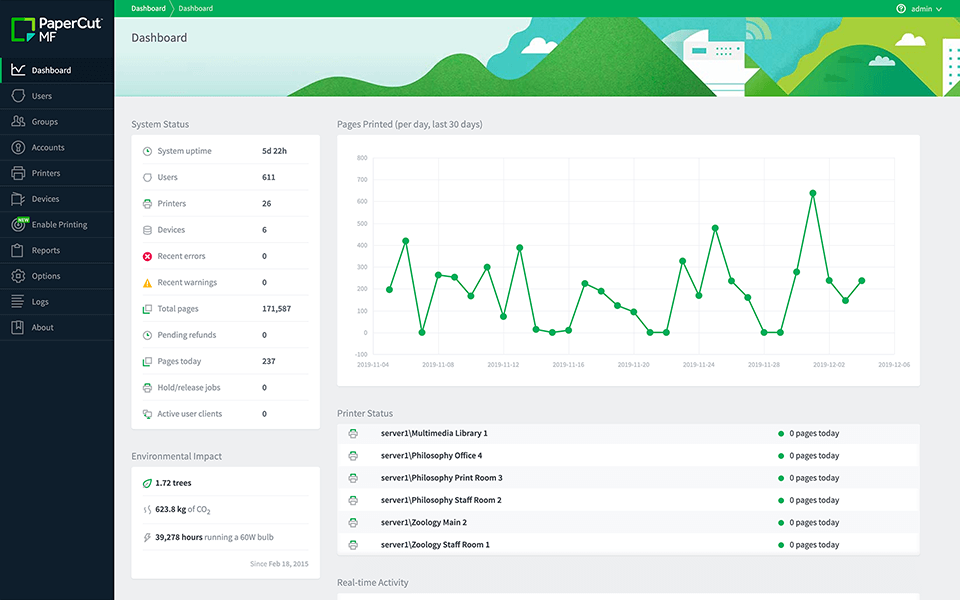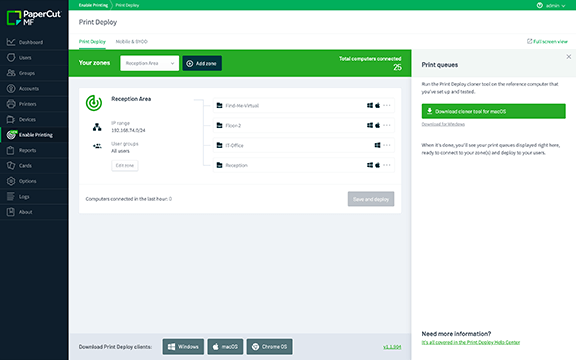 EASY PRINTING
Enable printing that just works on every platform
PaperCut MF fits in with your print environment, supporting devices you already have. Configure things exactly to your liking, and we'll make sure the printing part simply happens, every single time.
Mobile and BYOD printing
Managed and BYOD systems are all covered. Print from Chromebooks, Android, macOS, iOS, and Windows devices.
Automated print queues
Push the right print queues and printer drivers to roaming users no matter where they go, all automatically.
Convenient print release
Print to one queue and pick up at any printer with the simple 'tap and release' workflow powered by Find-Me printing.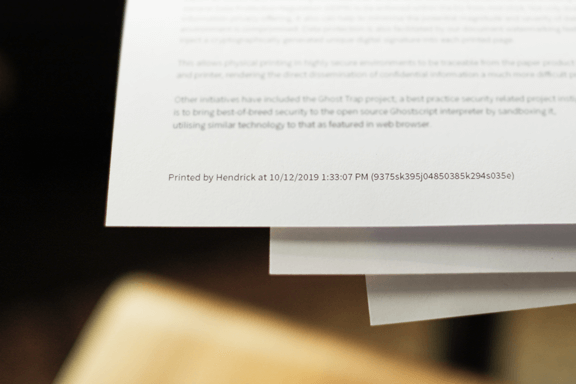 SECURE PRINTING
Protect data before, during, and after printing
PaperCut MF's security puts peace of mind center stage. Physical measures protect documents throughout their entire lifecycle – and end-to-end encryption keeps data as breach-proof as possible.
Before: Access control
Authorize users to control who, when, and how they print. Link with AD, eDirectory, LDAP, or Cloud directories.
During: Secure release
Leverage the combination of identity cards and embedded MFD software for quick 'tap and release' of print jobs.
After: Watermarking
Bring back document ownership. Promote responsible document handling by applying a username watermark or a digital signature.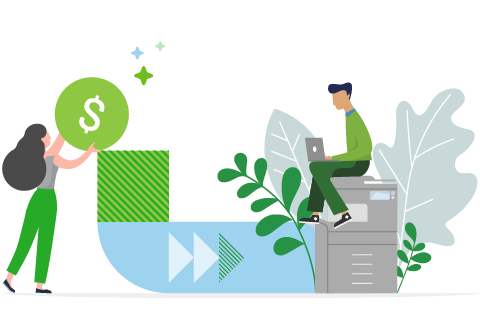 SUSTAINABLE PRINTING
Shrink your footprint and your bills
Give back to the earth and your printing budget. PaperCut MF boasts eco-friendly policies to help you use less paper, save on toner, recover costs, and make sustainable habits the status quo. Our sustainability program PaperCut Grows turns your printing into tree planting for a Forest Positive impact on the environment.
Forest Positive printing
Reduce print waste with PaperCut MF or PaperCut Hive then transform your essential documents into a Forest Positive force for the environment by planting trees with our PaperCut Grows program.
Zero uncollected print jobs
Make the overflowing recycling bin a thing of the past with Secure Print Release. Did you know that up to 12% of print jobs are uncollected?
Actionable reports
Get full print visibility to unlock in-depth insights and stats – how many trees have you printed?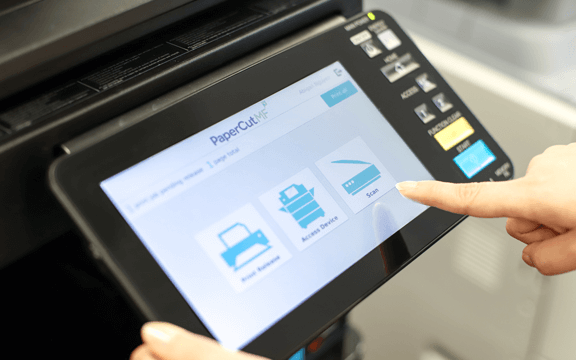 FEATUREFUL SCANNING
Scan and digitize documents to do more with your day
Harnessing cutting-edge cloud and document processing tech, PaperCut MF makes MFD scanning simpler, smarter, and more business-integrated than ever to give you more information, more readily.
Any and every destination
One-touch scan to home folders, email, or cloud storage accounts like Google Drive, OneDrive, Sharepoint, Box.net, and Dropbox.
Smarter digitized documents
Activate optical character recognition (OCR) and image processing to make your documents more useful by making them text searchable and editable.
Universally user friendly
Enjoy a consistent, modern, and easy-to-use scanning interface – regardless of MFD brand and model. Your roaming profiles personalize every device.
Extra print management powers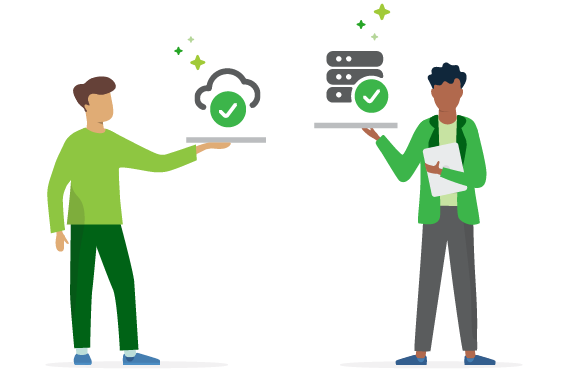 Cloud hosting PaperCut MF
Deciding how and where your print management solution can be hosted can create more questions than answers. Gain more insight to how PaperCut MF's versatile hosting options can help you get the most out of managing your printing.
More about cloud hosting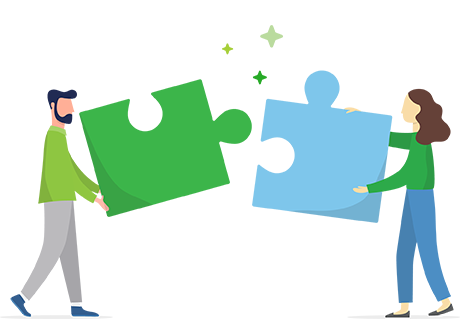 Third-party integrations
Do more with PaperCut MF. Anything from student payment gateways through to integrating with a legal practice management system, plus 100s more! Many of them have been developed in cooperation with our customers and partners.
Learn about our integrations & customizations
Support
Our support is so good it should be a feature — with a geeky interface :-) Our team is full of SysAdmins and a network of local PaperCut experts. With this, our Help Centers, and our knowledgebase, we're geared to help.
Stump our support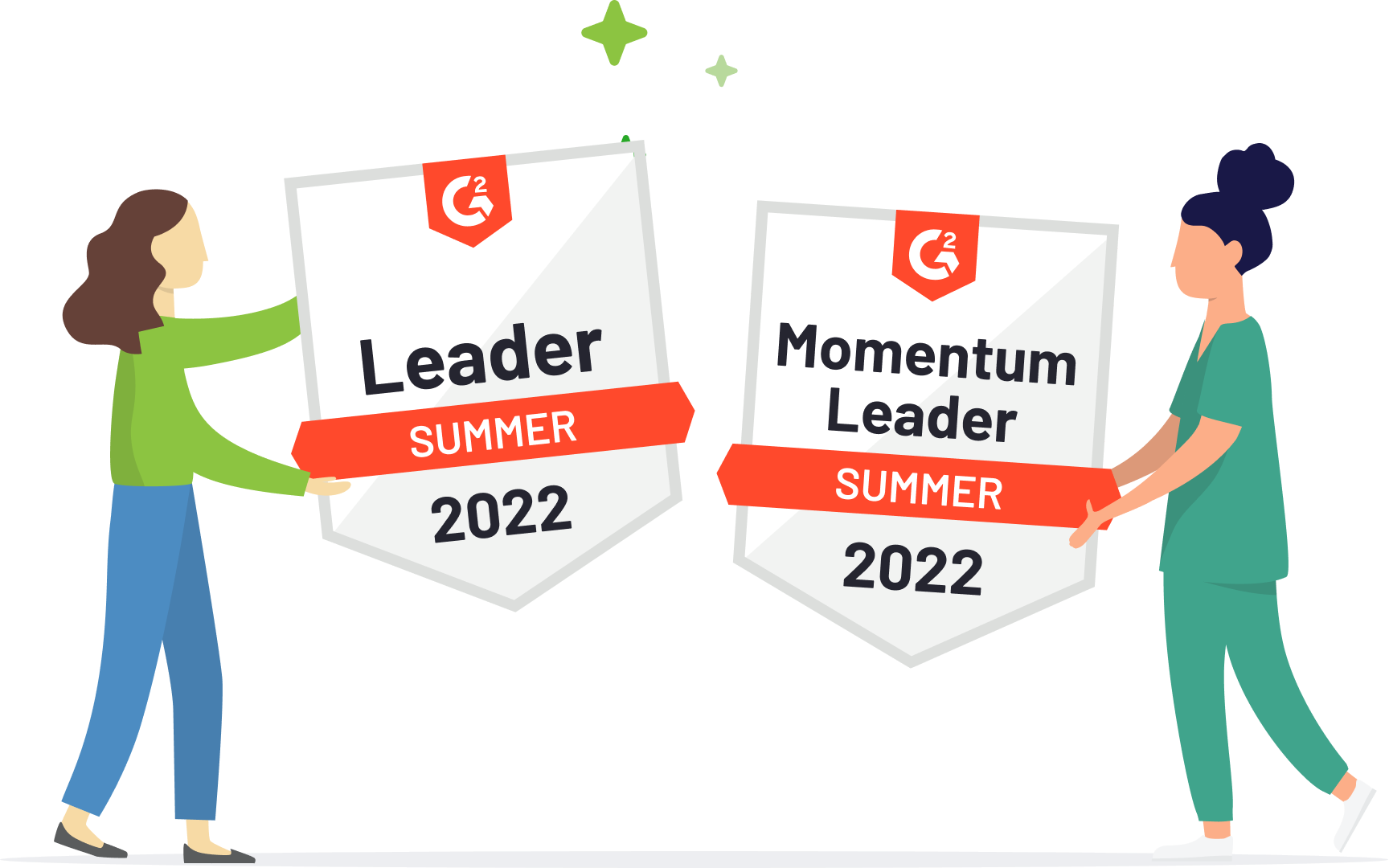 PaperCut ranked #1 in Print Management
Compare ratings for each primary feature and learn how PaperCut can help you save.
GET REPORT
The benefit of PaperCut is really in its ease of use. It's the right choice if you are looking for something with ease of application and an easy user interface.
– C.Y. Tung, co-founder of the Institute for Shipboard Education
READ OUR CUSTOMER STORIES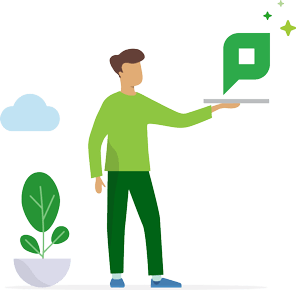 How to buy PaperCut MF
For the best possible customer experience, we sell PaperCut MF through our certified network of partners who guide you in the selection and configuration of PaperCut MF.
Let us help put you in touch with the right partner in your local region.
FIND OUT HOW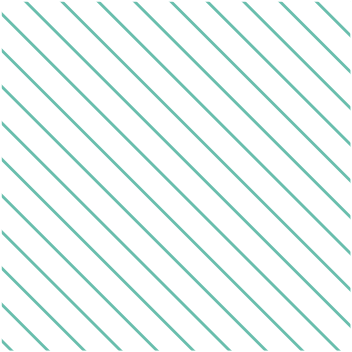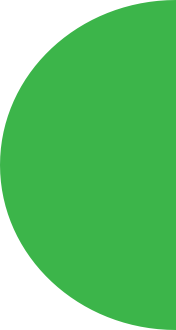 PaperCut MF FAQs
All the things you want to know about PaperCut MF.
What does PaperCut MF do?
All good FAQs should start with a question that's best answered with a 500 page novel! The short answer is that PaperCut MF enables user and device-level management and control for all your printers and multifunctional devices (that is, MFDs - copy, print, fax, and scan).
PaperCut MF is typically used to:
Track and control all print, copy, fax, and scan activity on MFDs.
Manage user access rights to devices based on function, for example, 'marketing', 'administration', and 'finance'.
Implement copy quotas, charges, and per-page costs.
Enhance document security with Find-Me print release at both MFDs and printers.
Enhance device security with managed access to your MF devices via user ID or building access cards.
Allow for cash payment of print, copy, scan, or fax — for pay-for-print environments.
PaperCut MF was originally an extension of the popular print software application PaperCut NG and built on this with embedded software and hardware support. PaperCut MF software may be integrated with 3rd party, off-the-shelf copy controllers and card readers.
For a deeper dive into the features and capabilities of PaperCut MF, check out the product brochure.
How does PaperCut MF differ from PaperCut NG?
PaperCut MF and NG are very similar in core features and, at a technical level, share the same code base. But PaperCut MF has the additional ability to integrate directly with Multifunction Devices (MFDs) and other hardware to deliver extra features. The embedded software available with PaperCut MF runs on the MFD and allows you to track and control printing, copying, faxing, and scanning.
Extra capabilities include:
Track and control access with user ID authentication right at the device.
Create a consistent user experience on the screen across all your devices. (Co-branded for your organization if you'd like.)
Use network card readers to facilitate secure print release and Find-Me printing at any copier or MFD via card swipe.
Enable users to reload their PaperCut MF user account in pay-per-print environments by integrating with cash payment hardware.
A few other complex integration areas that are too obscure to list here in an FAQ!
All other features, including general print tracking, print quotas, rules-based printing, and driverless web print, etc. are identical on both PaperCut MF and PaperCut NG.
Why is copier control in a different edition?
Part of the power of PaperCut NG is the simplicity and ease of use for anyone who wants to control their printing costs and reduce waste. It's distributed online and can be installed and supported by any network administrator, with the main level of integration at the Operating System level.
As we integrate at the firmware level with dozens of MFD manufacturer platforms, the complexity of the solution has increased. Often the setup requires specialist expertise and an up-to-date knowledge of current MFD hardware. And, to support the MFD and printer manufacturers, PaperCut must also ensure a correct notification and acceptance procedure is followed before any device can be loaded with the PaperCut embedded software.
So, rather than have one solution that introduces that complexity to people who may not ever need it, we created PaperCut MF and a clear separation between the two products. To help make PaperCut MF as straightforward for customers as PaperCut NG, we have extended our network of reseller and support experts to ensure the best configuration and installation experience.
The two products are complementary, however, and many PaperCut MF customers have evolved their installation from PaperCut NG. Migration between editions is very easy and your data and settings are maintained in the upgrade.
I'm running PaperCut NG. What do I need to do to use the PaperCut MF functionality?
Many of our users first implement PaperCut NG, our print-only edition, as the first phase of their deployment. PaperCut MF's setup on the other hand is a bit more involved (see other FAQs for why). The process of converting an existing PaperCut NG install across to PaperCut MF can be summarized as follows:
Obtaining a License:
Please contact us as a first step with the following information:
That you're an existing PaperCut NG user.
Where you obtained your license, direct from PaperCut or via a reseller?
Where are you located? (country and region)
What type of MFDs or copiers do you want to manage? How many?
How will users access the MFDs, log in, account code or card?
Do you have a preference to deal with any particular Authorized Solution Center (ASC) or reseller?
What industry are you in? Education, Business, Professional Services etc.
We'll put you in touch with the closest and most qualified ASC and work with them to give you a recommended path forward. On the licensing side, there is no need to purchase a whole new license. You'll get a credit for your existing PaperCut NG license. (See the pricing FAQs for PaperCut MF for the details.)
The Technical Upgrade Path
It's very straightforward to convert an existing PaperCut NG installation to PaperCut MF without any loss of data or settings. Because the two editions share an identical code base, all data is compatible. In many cases the conversion is a simple install-over-the-top process as outlined here. Because you already have the printing and server-side install up and going, your chosen PaperCut MF reseller or Authorized Solution Center will focus on the copier integration installation side of the installation. The new MFD devices will appear in the PaperCut Admin web interface just like your normal printers and you can then take over their management.
What does it mean to be a vendor agnostic/vendor neutral solution?
PaperCut is vendor agnostic/neutral, which means that we endeavor to support as many operating systems, platforms, and devices as possible. This position is part of our core development philosophy and ensures that you as the PaperCut user have choice. We surveyed our user base a few years back and the overwhelming voice was that our vendor neutral position is important. It means that you have the ability to change operating systems, printer brands, MFD makes, etc. with minimal impact on PaperCut and its core features. That is, your implementation can remain intact. This, however, is at times a difficult position for us. Aside from the engineering investment required to develop across multiple environments in parallel, we're also under pressure at times from organizations that would prefer to 'lock-in' to a particular environment or hardware/device. We've committed to remain neutral and will continue to support an open approach to infrastructure, hardware, and other services. Please note that a vendor neutral approach does not mean that all embedded offerings are created equal. We are reliant on the quality and feature-set of the underlying device (MFD) firmware and supporting SDK used to create our embedded software. In this regard some manufacturers can claim better integration and a fuller feature set, thereby setting their devices apart. In every case we strive to supply the very best user experience at the device.
Are copier/MFD interfaces available in languages other than English?
Yes. Where possible we support the same set of languages the PaperCut Admin web interface supports. (Over 30 languages so far…)There are however some caveats to this:
Some embedded/onboard solutions can't support Asian or full Unicode character sets. Contact your PaperCut ASC for more information.
Many copier control hardware terminals have fixed interfaces and only support English.
Right-to-left languages such as Hebrew may have screen layouts more suitable to left-to-right text.
Always innovating
It's not what the software does today, it's what it will do tomorrow. We've been innovating for over 20 years.
At PaperCut we don't just sit back and smell the coffee...we consume it in copious amounts, but there's a good reason for it. We use this as our fuel to keep making better and better products with a vision to help our customers achieve their goals!
It just works
It doesn't matter what size your organization is, what printers you use, or what operating system your users prefer — PaperCut MF is for you.
That's because we take a cross-platform, vendor-neutral approach to technology and device support to deliver a print management solution that just works.
View supported devices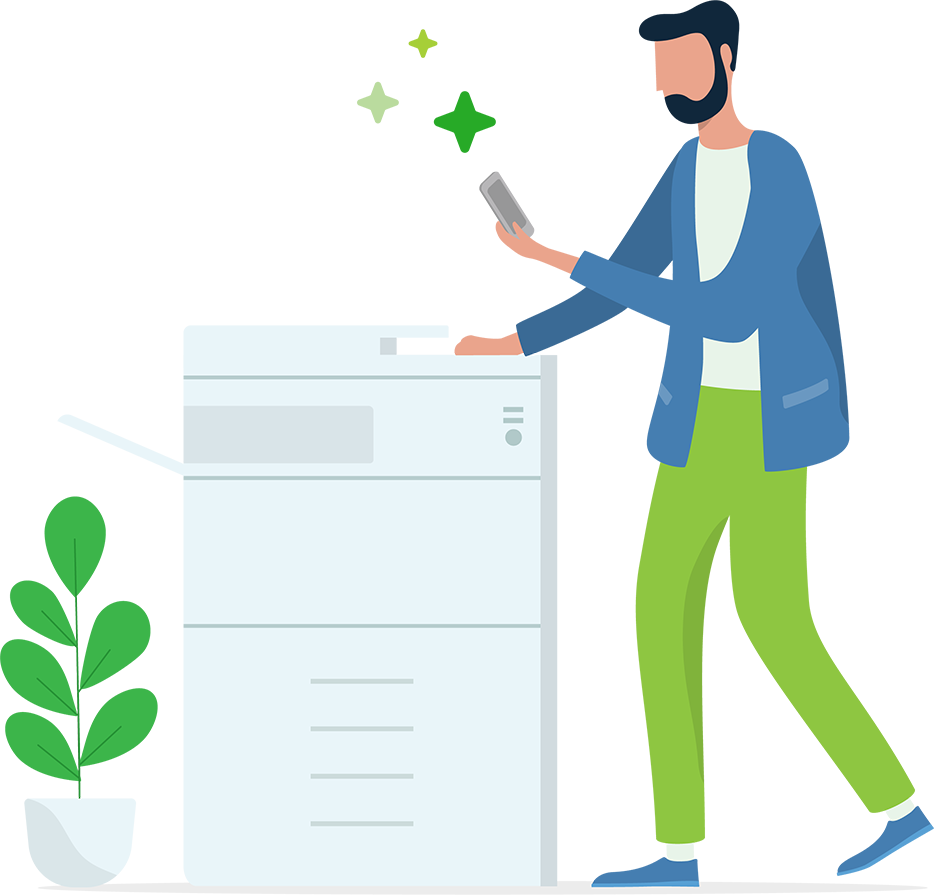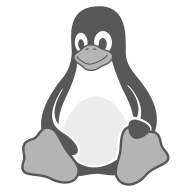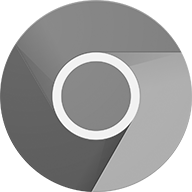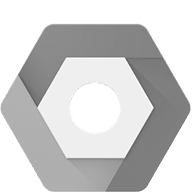 Want to get going?
Of course you do!
One of our customer care team will get in touch to work out the best way to get PaperCut MF into your organisation.