Version 10.0 of PaperCut is now available, just fitting into our target December-January period for new major versions. This release brings several new features including printer groups and some visual updates to the client tool. The printer groups feature allows printers to be tagged or grouped together for management or reporting purposes. The client tool has had a graphic and GUI effects makeover and now sits nicely with the "glassy" look found in modern operating systems.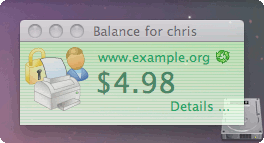 The version 10 client tool running on Mac OS 10.6
The full list of changes can be found in the release histories for PaperCut NG and PaperCut ChargeBack .
This release is the start of many new features, major and minor, that will become a part of version 10 in the coming months and throughout the year. Upgrading to version 10 now will entitle you to all current and upcoming features in the 10.x series.
A feature that is scheduled in the next few weeks but fell short of 10.0 is the new advanced scripting interface for print job routing, redirection and conditional client interaction. This feature is undergoing some final polish and testing, and once available will open the door to a wide range of possibilities.
Customers with upgrade assurance may upgrade to version 10.x at any time. For our other customers please see our upgrade policy to determine if you are eligible for a free upgrade. Once-off upgrades may be purchased via our online order system .