Exactly a year ago, we changed our licensing model for PaperCut MF. We introduced a simplified license structure that is based on the number of devices.
No longer do you have to worry about user counts, or needing to license additional servers, the list goes on.
Not only does this make it simpler for our Channel Partners and Authorised Resellers to get a quote over to you, but it's also easier for us to support our ecosystem and all the Sys-Admins out there.
Simpler for schools
I've spoken to many schools who have exceeded their user limit at the start of a new academic year. With the arrival of new students, we appreciate that educational organizations need to keep historical records for months or even years in some cases.
To solve this, we'd need to walk an administrator through applying for a license exception. This is a process that brought extra stress to IT teams who were already overwhelmed with students trying to connect to the WiFi!
Today, the worry is gone. Every license includes unlimited users.
Simpler for commercial
Commercial customers share similar pain points to schools as they grow with new staff members joining.
The worry of potentially having to get board-level sign-off on a PO to add more users is now redundant.
With the unlimited user license configuration, this is one less thing to worry about. More time to take that new starter out for a morning coffee.
Overnight sync worries begone
One of the most annoying scenarios is when our overnight sync pushed you over your license limit and you had no idea why. Making the life of the Sys-Admin easier is what we strive for, so we made sure this worry went out of the window as well.
You can stop worrying about if that stray service account makes it into the system. We've removed the hassle of having to ensure PaperCut MF ticks along ideally without intervention. You don't need to painstakingly trawl through the user directory, or remove dormant user accounts, or group active users.
Unlimited Site Servers
We didn't just leave it at unlimited users. With the new license structure comes unlimited Site Servers as well.
PaperCut Site Servers give you peace of mind for those remote offices that suffer from poor connections back to HQ. They make sure that printing is not interrupted by unexpected network dropouts.
Under the covers, a Site Server duplicates the key features of a PaperCut Application server. MFDs, PaperCut Secondary Servers , and PaperCut Mobility Print are all configured to connect to a Site Server as if it were the Application server.
This makes sure they operate even if the local water company digs up the road and drills through the cable which runs back to head office! This simple but effective design delivers high availability to MFDs and support for Secure Print Release including Find-Me Printing .
Advanced User Client
Next up, and also now unlimited with every license, the Advanced User Client . This client makes life a dream for professional organizations to be able to chargeback to their clients easily and efficiently.
Paper-less Desktop Widgets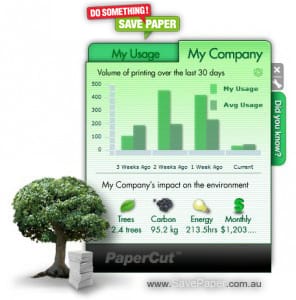 Last but not least, Paper-less Desktop Widgets were designed to draw the user's attention to environmental impact. They allow users to not only compare but also benchmark their usage against the organization's average.
For those who are competitive like me, it adds that little edge of lowering their environmental impact and gamifying who can be the friendliest to Mother Earth .
So how do you get your hands on all this?
If your Maintenance & Support (M&S) has expired, just simply ask for a quotation to get you back into premium active support.
For those who already have active M&S, then your reseller can upgrade you to the Unlimited License for a nominal fee.
Lastly, if you need to add a new device or add-on to your license, you will be automatically upgraded.
Just speak to your Authorised PaperCut Reseller (if you are not sure who your Reseller is, they can be found under the About Tab in the PaperCut Admin Interface).