Behind the new PaperCut login screen - Part 1
Stories are ingrained in PaperCut. They're how we keep our company culture alive, how we connect veteran employees with newbies, and how we share our passion with partners and customers. 
So allow me to tell you a story about stories…
Project admin login refresh
In November 2021, I was given the task of updating our product login screen. You know, this one?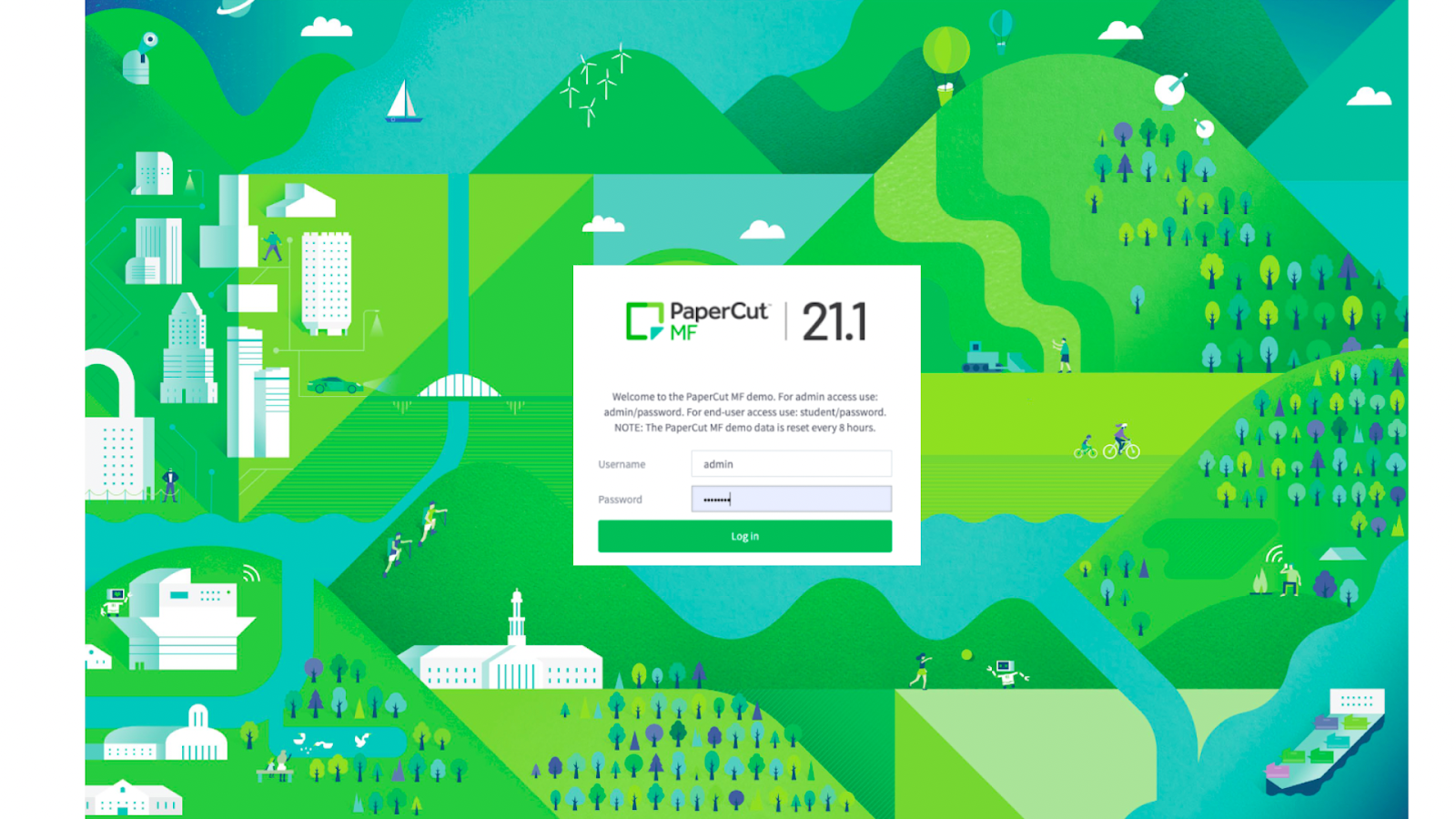 This illustration was designed in 2017 for PaperCut MF's version 17.0 release. And in it, there were 17 PaperCut stories 'hidden' in plain sight:
A man trying to stop a bulldozer from destroying the forest
A printer playing ping pong with a PaperCutter
Coffee cups sailing away with hot air balloons
A bridge crossing a river, similar to the cities where our two offices (at the time) were located in Melbourne, Australia and Portland, Oregon
Our co-founders hobbies – Chris' sailboat and Matt's sports car
…
But those stories haven't been talked about much in recent years. And needed a new voice.
How new stories formed the new PaperCut login screen
A picture tells a thousand words. But sometimes to draw the picture, you need those words first!  Across two weeks I met up with PaperCutters across the planet – in all teams, all departments, and all timezones. I wanted to get new stories!
And those word pictures joined together to become our 22.0 login screen illustration…
To keep the anticipation alive and your eyes from glazing over pages of text, I won't reveal all the stories to you at once (cheeky, I know). 
Let's start with the general flow of this new illustration. The stories begin in the lower left corner and wind up and around (following the river) to the upper right corner.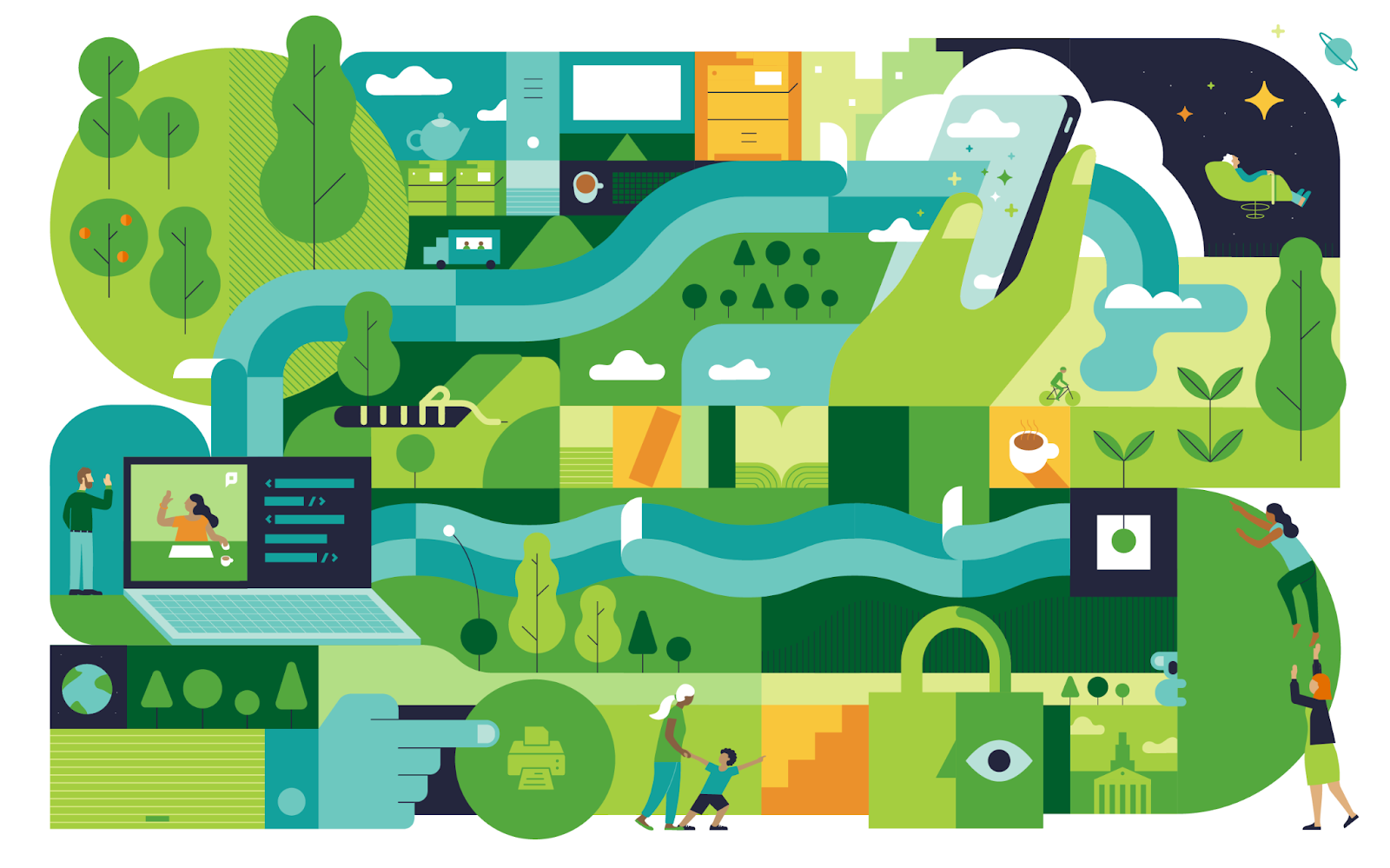 These are the stories on the bottom row:
Chris and Matt - the garage days!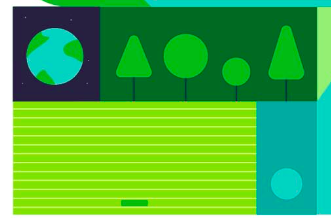 The early days of PaperCut looked very similar to many software companies: Two brilliant nerds (co-founders Chris Dance and Matt Doran), locked in a garage 'til the wee hours of the morning. Drinking way too much coffee and writing loads of code purely as a passion project – to save trees! Thus, you'll see a garage door with trees and the world stacked atop.
A "little piece of software" to stop print waste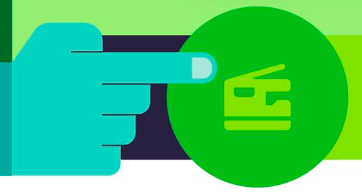 How were co-founders Chris & Matt saving trees? And  the world? *insert hero jingle here* By reducing wasted print jobs, of course! Chris worked as a Sysadmin during his college years and got really tired of throwing stacks of paper away each night. Directly off the printer tray into the recycle bin. Students were frivolously pressing print without even collecting their jobs. And so entered PaperCut!
Products that "just work"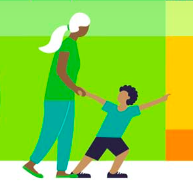 From the start, Chris said he wanted PaperCut to 'just work' so anyone in any demographic could easily figure it out. This formed one of our product priorities – Easy to Use –  and it still lives on today.
Security before, during, and after printing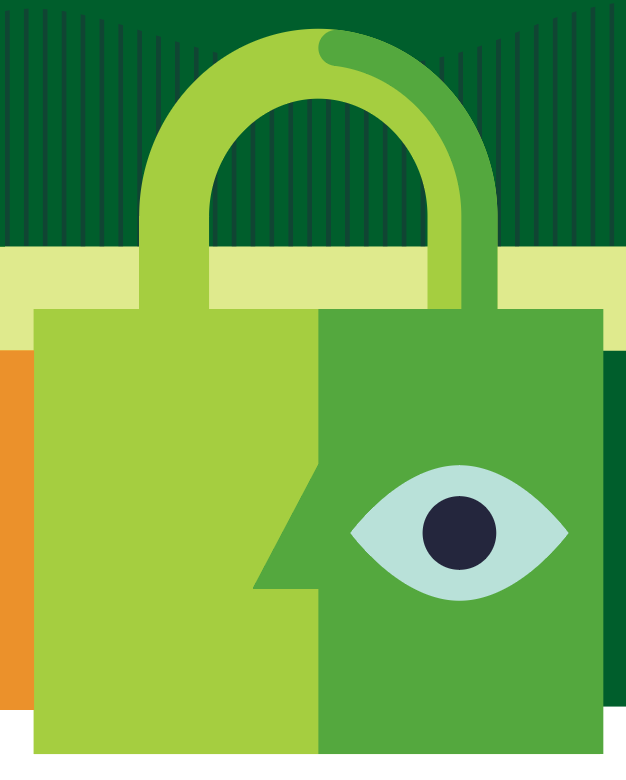 Security has always been a top priority at PaperCut. Print jobs often contain sensitive information. So we make sure that data is protected before, during, and after print with a variety of different features. One suggestion for this visual was a meerkat standing on hind legs, always having an eye out for danger, but it felt a bit too abstract (even though it was cute!).
Alright, alright, I'll show you the meerkat concept from an earlier draft…

Back to our "old school" roots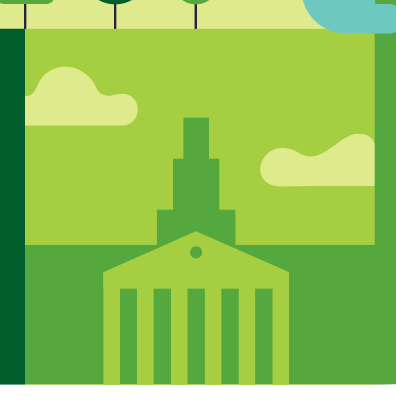 PaperCut was created in and for a school. That's where our software's roots really took off. Our primary customer base has always been in the education industry, with still 51% of our licenses sold to schools and universities.
A sleepy, charming national symbol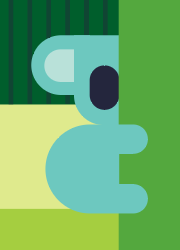 We had to throw a cheeky little koala in here somewhere, as PaperCut was founded and is still headquartered in Melbourne, Australia. Many years ago, we placed a bulk order for little stuffed koala figurines (about 2" or 5cm tall) whose hands gripped together to cling to a monitor screen, or pen, or your earlobe. We used them at shows and events, and put one on every new PaperCutter's desk. They were everywhere! "Look out for the drop bears!" 😉
Women Better Together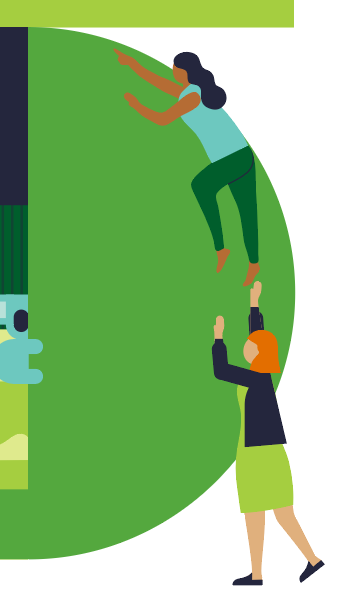 One of our own Beck Ballantyne started an internal program in 2019 called Women Better Together. The purpose is for female identifying PaperCutters to Connect, Learn, Amplify, Support, and Strengthen (we're all CLASS) with each other in a male-dominated industry. And it's part of our bigger Diversity, Equity, Inclusion, & Belonging (DEIB) work, which I'll touch on later in the next blog post.
Well that's it for the first row of our new illustration. 
Stay tuned for part two where I'll share stories from up the river stream.
Never miss the news!
This site is protected by reCAPTCHA and the Google Privacy Policy and Terms of Service apply.