There's always a buzz around product releases here at PaperCut HQ.
Personally, I get a fair bit of enjoyment out of our release donuts (I managed to snaffle five donuts this time around, sorry not sorry). However, I got an extra special treat this time around in the form of a catch up with the new product lead for PaperCut MF, Matt Coad. 
In between my sneaky donut snafflings, I pitched a handful of questions to him to get a flavor of PaperCut MF v23.0. Here's what he said…
AL: Give us your elevator pitch for PaperCut MF 23.0.
MATT: We had three key areas of focus:
An ongoing commitment to security, via changes to default configuration on new installs and proactive testing and auditing
A specific focus on customers moving to Entra ID (Azure AD) ensuring PaperCut MF supports modern authentication and Multi Factor Authentication (MFA) across the product. This will be an ongoing series of work
A whole new area unlocked for deployments, enabling users of Virtual Desktop Infrastructure (VDI) to not only benefit from all the value of print management, but also offer simple print enablement by getting the right print queue to the right person at the right time.
That was either a tall building or a slow elevator. What was the main motivation behind developing 23.0?
MF 23.0 was always going to be a release that was important for our partners, and we wanted to show the continued investment in our flagship product.
Off the back of our success in the Healthcare vertical, we saw a trend toward VDI environments and wanted to capitalize on that moving forward. As we moved into the detail and saw the underlying tech of the four major VDI platforms being the same, we were excited to see our implementation worked on all of them.
From a security standpoint, this release is about proactive maintenance and change to ensure we're providing an out-of-the-box secure experience for all new customers, while provide the configuration and changes for existing customers to opt-in to security.
VDI's an exciting new challenge to solve. What are the main challenges for workplace printing using virtual desktops and how does this release help?
It all comes down to the word virtual. VDI environments may be physically in the same location or hosted in the cloud, so when users log into their session it is difficult to present them with location-aware applications and services like the closest printer to their desk. Having location awareness in our clients enables that seamless deployment of print queues, allows user-level installation of optional printers while continuing to also providing Find-me printing and Secure Print Release.
Virtual desktop users now get the right printers based on their physical location, even when their desktop session is virtual, no matter their device. This includes users on Chromebooks, tablets, mobiles and even macOS devices when they connect to a Windows virtual desktop. I know ChromeOS users in particular have been looking forward to this tech.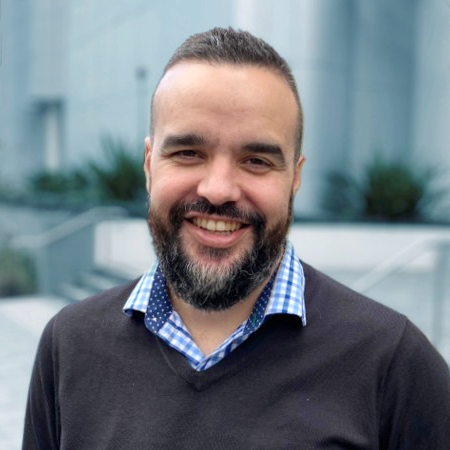 What industries will benefit from this release the most?
As I mentioned Healthcare is a vertical where we are seeing VDI environments being favoured, however more customers big and small are looking at newer VDI environments like Azure Virtual Desktops.
How does this version align with PaperCut's development roadmap and strategic goals?
There are a lot of synergies in our portfolio. Modern authentication and MFA are areas we're recently introducing into our cloud products. For PaperCut MF, we see customers moving from on-prem solutions to cloud identity products and we've had to pivot to fulfil their needs. For cloud, its where we start the identity journey for our customers.
As we move to a more unified offering over time for our portfolio, this will simplify migration between our products.
Who are the primary target users or customer segments for this new version, and how do their needs differ from PaperCut MF 22.0?
Outside of security which is everyone, and VDI which is more horizontally focused on technology more than segment, the main focus is on customers in the Microsoft Cloud ecosystem who are moving their identity to Entra ID.
Tell us more about the PaperCut MF 23.0 security enhancements.
There's some behind the scenes work on libraries and dependencies ensuring they're kept up to date, but also some new ways for customers to ensure they know when security issues are occurring in future.
We added the ability to add urgent notifications in the UI related to security incidents that will show  to admins when they log in to the admin interface.
Speaking of admins, we're also requiring the admin to reauthenticate when they're changing their passwords or assigning admin rights to other users.
For our print provider software, which does the heavy work on communicating between print events and the server, we introduced https support to ensure all communications are encrypted.
Are there any specific key performance indicators (KPIs) or success metrics that you'll be tracking for this software release?
Along with the VDI support, we're introducing a new licensing model for Print Deploy to unlock more customers to purchase that require a small amount of zones. We'll be tracking our net-new Print Deploy customers as well as increases in existing customers purchasing additional licensing.
From a security perspective, we want all customers to be on the latest release possible, and will be tracking upgrade trends to this release. This ensures a simpler upgrade path to minor versions in future for those customers, ensuring they're on the most secure version available.
What's the long-term vision for PaperCut MF, and how does this version fit into that vision?
PaperCut MF is and will remain our flagship product for a long time to come. 
Our vision is to ensure that PaperCut MF is known as the most secure, battle-hardened print management solution that is more than just about security features.
We want to support customers moving to modern authentication platforms such as Microsoft Azure or Google Workspace while still allowing total choice via standards such as SAML.
As our cloud and SaaS offerings grow, we want to ensure that we meet our customers on their cloud print management journey, whether that is Self Hosted, Private Cloud, Public Cloud or SaaS. For MF, this will be a combination of uplifting existing functionality, learning and borrowing from our cloud solutions, as well as introducing cloud solutions into the product where this makes user and admin experiences much simpler.
---
I'm mighty proud of Matt negotiating his way through his first PaperCut MF release. If you've updated to PaperCut MF (or NG) 23.0, do let us know how you go on our socials: