Note, this widget no longer works on current Mac OSX versions.
Rob at Sheridan College Institute of Technology & Advanced Learning has been kind enough to contribute a PaperCut Dashboard Widget. It's a simple Widget that allows Apple users to conveniently check their print quota without the need to run the full client. Rob has hooked into PaperCut via the XML-RPC Web Services interface using some clever AppleScript calls.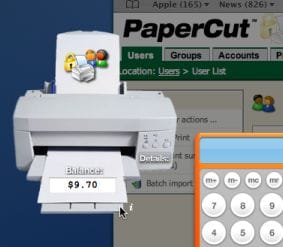 The preferences on the back of the widget provide access to user-definable username and server name fields. The username defaults to the output of whoami. The server name defaults to papercut. As long as the server is aliased in your DNS as papercut, it should work out of the box with no configuration.
We'll looking integrating the widget into the standard PaperCut NG release over the coming weeks. We'll address the server discovery issue (default name) using the same method used in the standard client – that is, write the server's name into an embedded configuration file during the initial install.
Thanks again to Rob for his contribution. Rob has access to the PaperCut source code and is using it as a basis for some other enhanced Mac client-side tools.
Please feel free to email through feedback and I'll pass it onto Rob.
Note, this widget no longer works on current Mac OSX versions.