Having been at PaperCut for 18 months now, I was lucky enough to learn and contribute in different areas of our product. From an accessibility feature to release print jobs, Mac client transformation to use the native bar through to adding support for the IMAP protocol in Email to Print.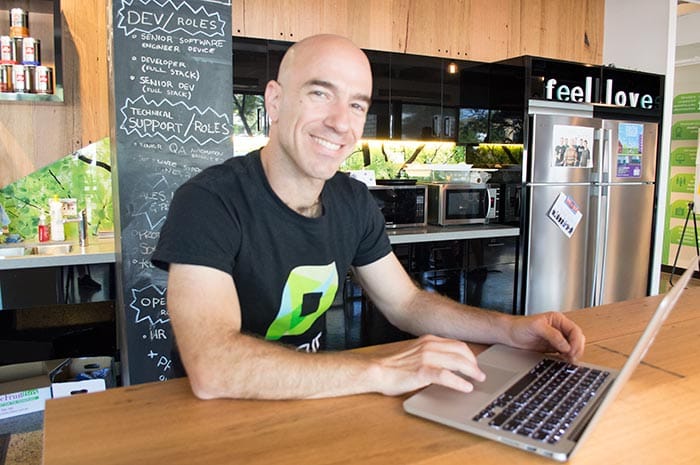 But that only lasted two months… and then it began.
A new beginning
For some time we have been aware of the need for an integrated and intuitive scanning solution that leverages PaperCut MF's authentication of users and device control functions. This is a real customer need that appears over and over in our feature request queue.
As PaperCut MF already knows who you are when authenticating at the device, by adding the ability to use email and home directory information, we are able to securely deliver scanned documents to predefined destinations.
I was offered to take the lead in the design and implementation of the new product, which will take PaperCut into the world of document delivery and business processes.
We got the ball rolling at our Global Partner Meet-up in late 2014, describing what 2015 would bring -  a refreshed PaperCut embedded application with rebranded color scheme and a seamless new interface that we call the home screen. With a click on a Scan button, new screens will allow users to choose Scan Actions and delivery options.
Anticipation galore…
The process
During a year of continuous development, we have been able to take a concept which we believe in; a simple and clear vision and turn it into a fully fleshed product that is now part of the PaperCut MF solution.
We started small, just Dan Quest our Global Partner Manager, and myself. Brainstorming for hours on end to define the domain problem, requirements, user flows and eventually - a high level design. From the beginning, our aim was to involve as many people as possible in the process.
Starting with Chris, our CEO, who gave us a lot of business context and UX ideas, through to our UX designer who lead workshops to pixel-perfect our screens and flows. Then came testing our ideas, getting feedback with internal stakeholders and eventually, forming a team of four developers and a QA tester. Internal builds started to emerge.
A day in development
We knew what we needed to do. Using our agile delivery methodology , we embarked on bi-weekly sprint iterations to design, implement, review code and verify 204 user stories! Anything from providing a simple administration interface for configuring Scan Actions and extend user data for delivery (syncing user's home folder) through to a new framework for delivering scan documents reliably. All through a totally refreshed embedded implementation for Sharp and Kyocera (and anything in-between).
Also, any new feature that comes out of our doors supports Site Server configuration. Integrated Scanning is no different - fully supported from day one!
It's the start of an amazing journey, and we are working hard to put in more features and support a wider range of models. I am able to work with some super smart people who think outside the box, ready to champion our product to be the best simple scanning solution out there.