PaperCut MF & NG 16.2 – released August 2016
A quick overview guide to 16.2. For more detail see Release Notes
Increase throughput with Web Print scaling
Looking for a quick and easy print solution for mobile and BYOD without the overhead of installing print drivers and user authentication? Web Print - a popular feature in PaperCut NG and PaperCut MF - gets users printing from their devices using a standard web browser.
Tommy Carron, Technology Management at The University of Melbourne describes how more than 47,000 students access printing across their 7 campuses. "In the past, students would need to use a University lab computer to print. With the rise of BYOD and mobile devices, PaperCut's Web Print allows driverless printing for students who simply upload their documents."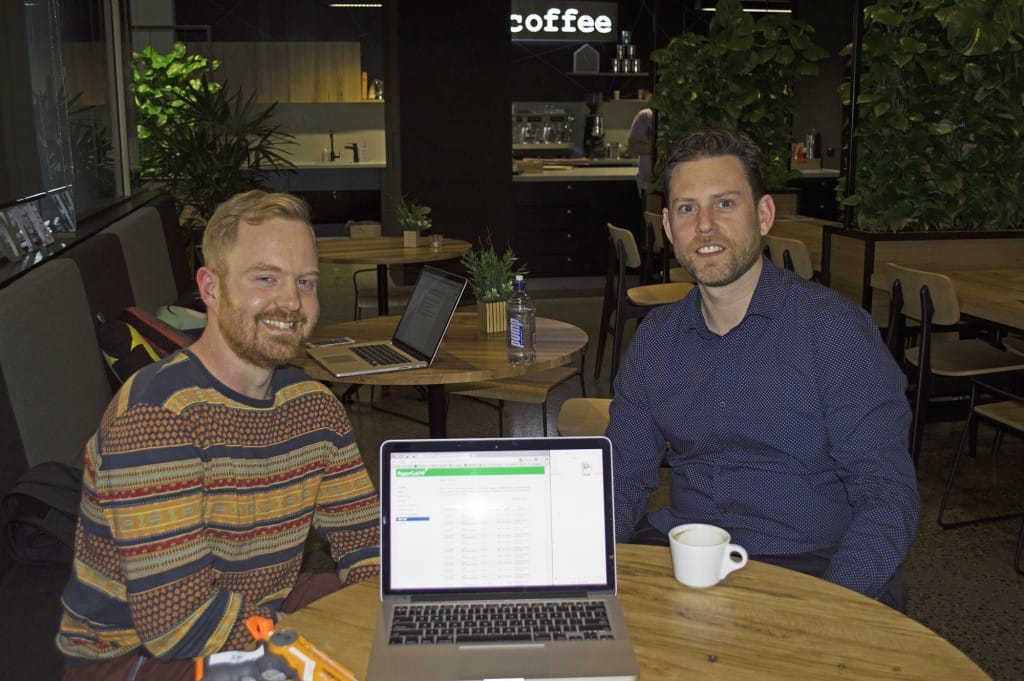 Pictured, (left) Peter Fitzgerald, PaperCut Support Melbourne showing Tommy Caron (right), Tech Team Lead Melbourne University a preview of Web Print scaling.
Large education institutions like The University of Melbourne can print hundreds of thousands of pages daily during peak periods. PaperCut 16.2 now includes scaling to minimize bottlenecks and user wait times.
To assist throughput, you can now deploy multiple PaperCut Web Print servers, allowing many jobs to be processed simultaneously, speeding up output. Scaling up with multiple servers also builds redundancy into PaperCut Web Print, so there is no longer a single point of failure.
"Anything that improves the end user experience and makes things quicker, is a huge benefit, " said Tommy. "Introducing speed and redundancy is always welcomed in IT."
SysAdmins can now assign roles to print servers. For example, if you have three print servers, one can process Office docs and the other two can process PDFs and images; you can configure the servers to load balance on the most printed file types. If images and PDFs are more regularly printed, you may save on the number of Office licenses needed.
For more on Web Print scaling, visit the Web Print Tour . PaperCut MF for the new Ricoh Smart Operation Panel (SOP)
Streamlined workflows are delivered via an all new responsive interface with PaperCut's first Android development on the latest Ricoh Smart Operation Panel devices.
With an intuitive experience, users save time at the MFP.
Easier data entry for login or PIN with a multi-touch screen
Quick scroll functionality for selection of more than one print job
Print, delete, and view the cost of multiple print jobs together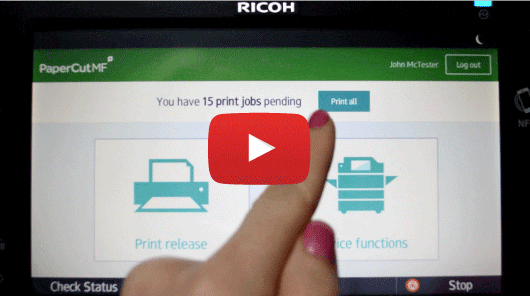 Watch how easy it is to release printing and access device functions from the new PaperCut MF interface.
For more on Ricoh Smart Operation Panel (SOP) or Ricoh Java-based platform and supported models, see the Ricoh Tour .
Integrated Scanning enhancements
Make it easy for users to send emails from a pre-configured selection, either their own email or choose from a list. Ideal where groups of users share an email account such as accounts@ or sales@ and need to Scan to Email.
Available for Kyocera and Sharp customers using PaperCut MF. For more on secure document scanning, visit the Integrated Scanning Tour .
Early Access for PaperCut MF 16.2
PaperCut has established an Early Access scheme. PaperCut MF 16.2 is now in Early Access.
PaperCut MF is a more advanced product due to the addition of embedded hardware functionality.
The Early Access build is market ready, it is not a BETA or pilot phase. It is an opportunity for you to get your hands on the latest release and provide feedback.
It's your choice, if you don't have an immediate need for the latest features, enhancements or fixes, remain with the current build.
If you choose to download the Early Access build, during Early Access you receive:
Premium support
Proactive messaging about any issues
Feedback to PaperCut on your installation, keeping you on the front foot
All through a dedicated email address available after registration.
Read more and sign up for Early Access here .
Want to know more?
To help you digest all the updates, we've detailed all features, enhancements and fixes, in the 16.2 Release Notes for PaperCut NG and PaperCut MF .