PaperCut 17.0 makes your job even easier with Mobility Print, a new modern UI design, Integrated Scanning, and direct copier access for guests.
Release overview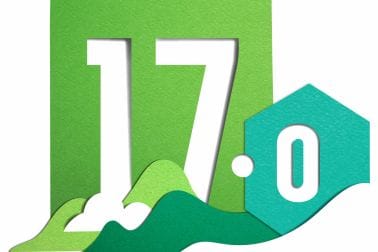 For 17.0, PaperCut have focused on making it easy - easy for SysAdmins and easy for end users. From simple printing from BYOD and mobile devices to the latest in UI design, we're making PaperCut as easy to use as child's play.
The addition of PaperCut MF Integrated Scanning for Toshiba MFDs (MDS v3) and Epson Multifunction Devices makes it easy to configure and manage Scan Actions, allowing users to securely scan to authorized email and folder destinations. On Sharp and Kyocera MFDs (and others soon) we've added a new optional "Guest Access" button providing easy one-click access to the device under a guest user account. So…let's get into the detail!
---
Mobility Print - Make mobile & BYOD printing simple again
As IT has shifted from managed desktops over to BYOD and mobile devices, a whole new set of complexities have appeared. Print environments in particular have felt this, with fragmented solutions needed to support all the different platforms and devices available. Wasn't technology meant to make our lives "simpler"? That's why we created Mobility Print ! It takes a few clicks to set up, new printers are automatically published, and most importantly, no more support calls about finding print drivers or joining domains!
After brewing in the percolator (under the codename Project Banksia), release 17.0 lifts the curtain on Mobility Print . Building on our existing mobile and BYOD solutions , PaperCut is bringing the simplicity of print management back for SysAdmins - having the software do the heavy lifting so printing "just works" on any end-user device. We're making it easy!
Mobility Print gives users the choice and freedom to print from whatever device is at their disposal, providing a native print experience across all platforms (iOS, Android, Chrome OS, Windows MacOS). Whether on smartphones, tablets, laptops, or Chromebooks, users can quickly discover and print to any published printer, meaning SysAdmins get more time "playing with infrastructure" rather than dealing with frustrated end users.
And of course, PaperCut will continue to support existing Mobile & BYOD options such as Web Print , iOS printing , Google Cloud Print and Email to Print, providing greater choice for SysAdmins and end users alike. This flexibility is especially helpful if you are encouraging BYOD at your workplace or implementing a 1-to-1 (1:1) laptop program at your school.
Find out more on the Mobility Print Tour page or dive into the Mobility Print manual .
---
Introducing a new modern UI design
As we push ourselves to deliver the latest in technology, we always have SysAdmins, their users, and the overall experience at the top of our mind. Drawing on the latest UI designs and UX workflows, we have refreshed the interface of PaperCut NG and MF to present a more intuitive, clean, and fun new look.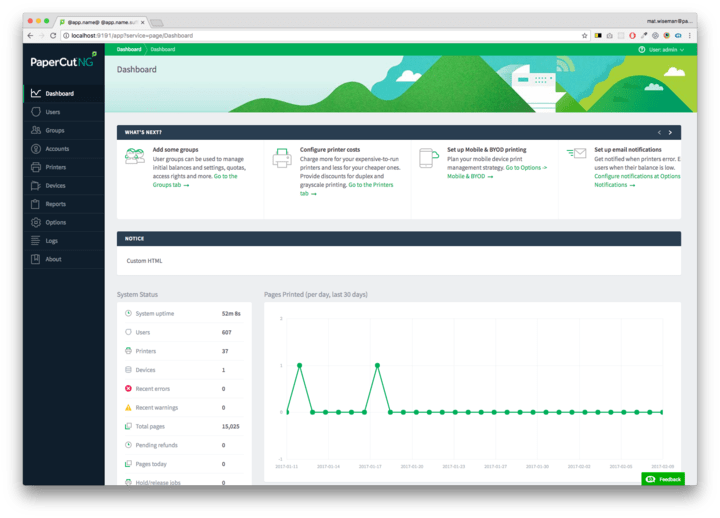 A few changes you will notice straight away are the main navigation menu has moved to the left hand side and the Actions menu is now at the top right hand side. On a high resolution screen, you will be greeted with clearer icons and an actions menu that is always in sight, giving you a warm fuzzy feeling about that 5K screen you just bought. As an added bonus, you'll now have time for an extra coffee or two with the ability to bookmark your commonly used pages and a quicker way to select or clear admin rights for users.
The refreshed Admin web interface is just one of the modern enhancements we will continue to deliver. With more room on the navigation menu, there is no limit to how many new features PaperCut NG and PaperCut MF can contain!
We'll be sending out a couple of blogs over the coming weeks telling all the little stories behind the picture. Keep an eye on our blog!
---
PaperCut MF with Integrated Scanning for Toshiba and Epson devices
Integrated Scanning extends PaperCut MF print and copy management features with new pre-configurable Scan Actions ensuring effortless integration into existing business processes.
Toshiba MDS v3 and Epson users can easily scan documents to authorized email and folder destinations via a seamless experience at the MFD panel.
See the Toshiba Tour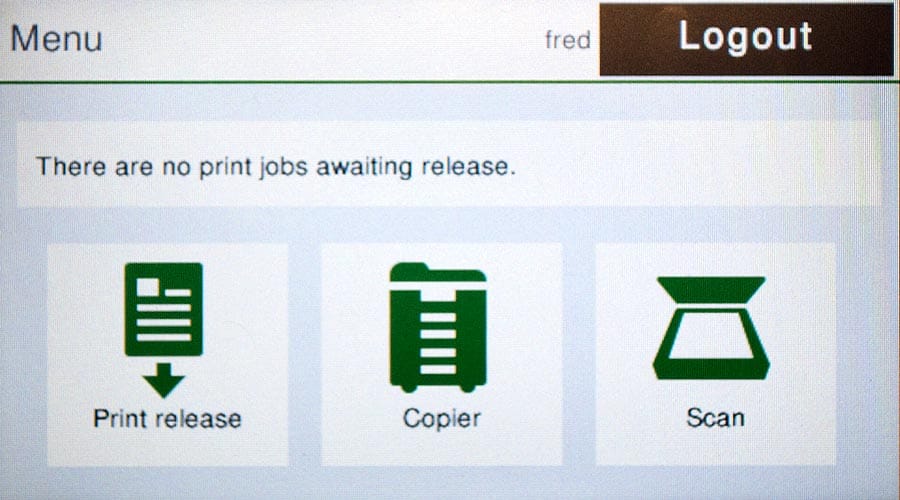 See the Epson Tour
---
Refreshed PaperCut MF interface on Xerox and Canon
We are continuing to refresh PaperCut MF across all manufacturer devices - with 19 supported embedded applications, this is clearly a big job yet one we gladly take onboard!
We are pleased to announce the PaperCut MF interface has been refreshed for Xerox and Canon Multifunction Devices.
We're excited to announce that this refresh is the first step to adding Integrated Scanning to Xerox in 2017.
To find out more on Xerox, visit .
To find out more on Canon, visit .
Guest Access on Sharp and Kyocera using PaperCut MF
There are some times when you need to bend the rules! PaperCut MF now allows SysAdmins to easily enable a button on the device login screen authorizing anonymous user access to the device. This provides a quick and easy option for users and/or guests wanting to copy and scan on otherwise restricted devices without logging in or being charged. A nominated user account can be associated to the "Guest Access" button, allowing tracking of all copy, print and scan usage with device-specific and user account configuration.
To find out more, check out our latest knowledge base article .
---
Getting started on PaperCut NG has never been easier!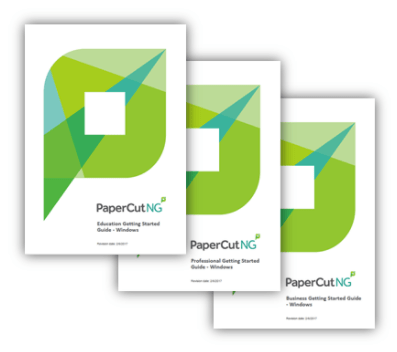 While PaperCut NG has one of the best documented products out there, our manual is over 1000 pages long - and we know no-one really likes to read through that many pages no matter how much you like techie stuff! We have developed Getting Started Guides for Windows users to get you up and running quicker! Tailored specifically for Education, Business, and Professional sectors, each guide provides the key information required for a standard install.
To find out more, check out our knowledge base article on getting started.
---
The latest on Print Security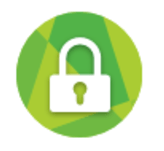 Have you heard the story about 150,000 printers being hijacked? Unfortunately, this one was not a joke as many offices discovered earlier this year (read more from the BBC in " Hacker briefly hijacks insecure printers "). Cases like these highlight the increasing importance of printing security - after all printing is a business critical function which handles sensitive information.
PaperCut's heritage is in education, a tough security environment (students do like to hack!) and security has always been a core value. We've now pooled our security knowledge and lessons learnt over the past two decades to bring you a new white paper: Securing your Print System .
This paper provides practical and tested advice on how to secure your print system end-to-end from before a print job is printed, through securing the print workflow, to safeguarding your printed documents.
For the latest on PaperCut's security, check out the PaperCut security knowledge base article.
---
Want to know more?
To help you digest all the updates, we've detailed all features, enhancements and fixes, in the 17.0 Release Notes for PaperCut NG and PaperCut MF .
And of course, the "Fine Print"
If you have a current subscription to Premium Upgrade Assurance , your upgrade to Version 17.0 is already included. Otherwise, one-time upgrades may be purchased via our online order system or through your PaperCut supplier. And hey, added bonus - upgrading now will entitle you to all of the releases in the 17.x series throughout the year!