PaperCut NG and MF v16.0 – released March 2016
A quick overview guide to the v16.0 release. For more detail see the Release Notes .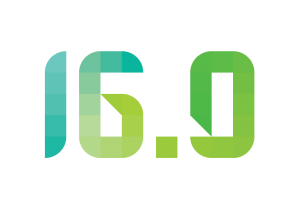 Flexible printer setup with Direct Printing
PaperCut makes it easy to print from a computer to a printer without a print server. Businesses of any size can track and report on printing keeping configuration, administration and reporting simple.
Are you a Small to Medium Business (SMB) with a small number of computers, no dedicated IT support, a lean or cloud-based network infrastructure or no budget to increase hardware?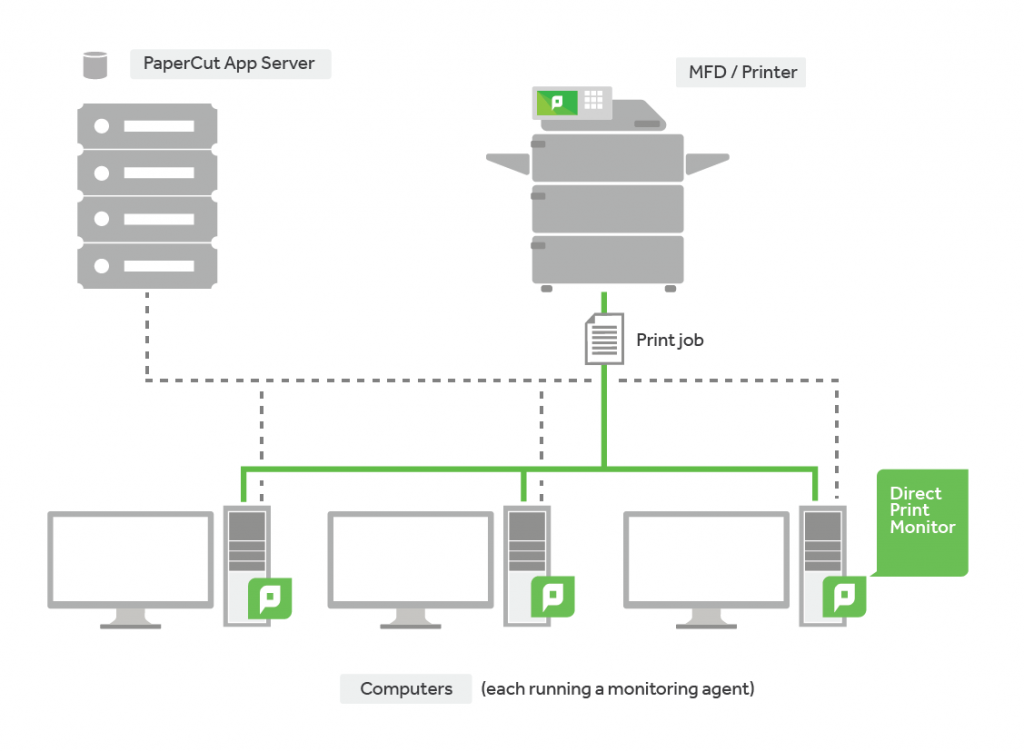 A simple SMB configuration with computers and an App server.
Consider this alternative PaperCut deployment model to simplify set up for new printers. There's no need to add a print server or change printer or network configuration, saving time on installation.
Organizations with distributed branches are ideal for Direct Printing, including post offices, bank branches, gas stations, and retail outlets. Headquarters can track and report on printing using a print server, but avoid the cost and maintenance of having one in each branch.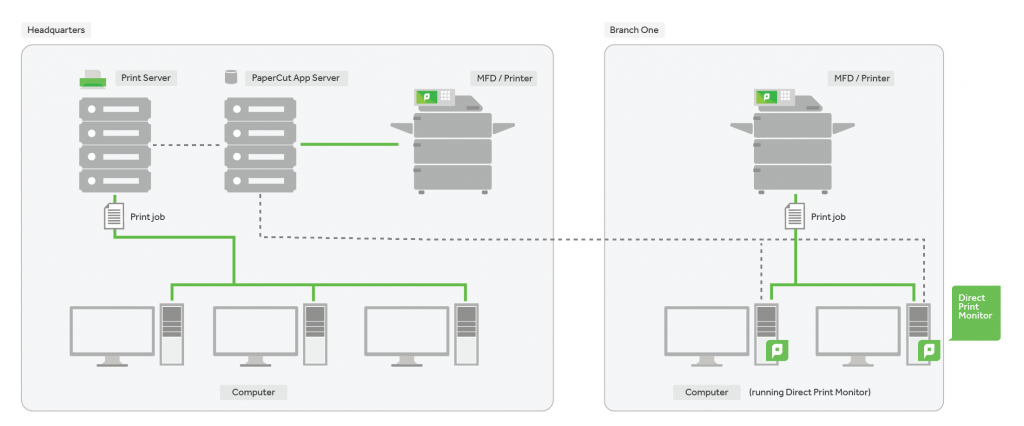 Organization with head office hosting the print server and other server infrastructure.
The combination of Direct Printing and a private cloud implementation of PaperCut can eliminate the need for any local server infrastructure by hosting the App server offsite. Visit the Direct Printing Tour .
---
Notifications for Printer Groups
Get the right printer notification to the right person in your organization. Now administrators can select who receives print error notifications for any collection of printers by groups, department or building. Notifications include "printer in error" and "low toner" alerts. Coupled with 'timely alerts' these notifications allow for quicker response times for devices in error.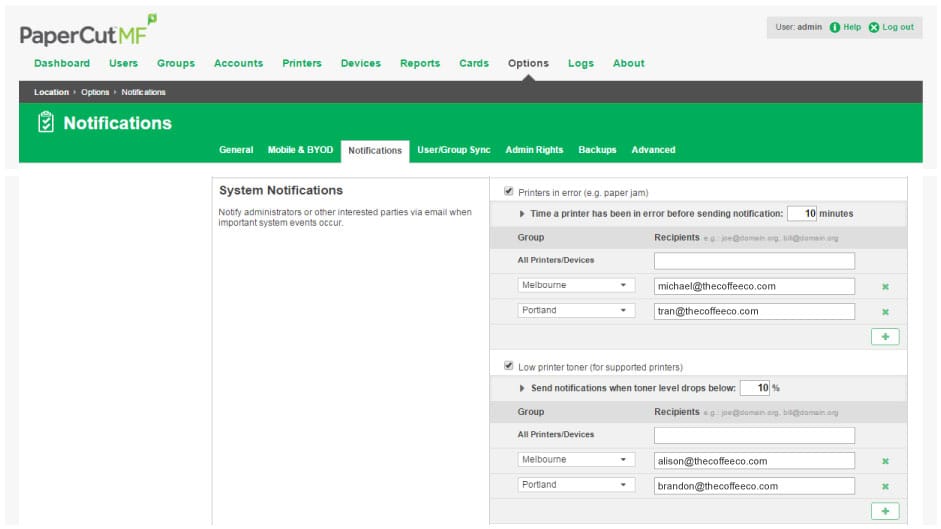 Notify the right administrator of each printer group when a device they are responsible for is in error.
---
Easier Mail Server Setup
Configure email servers easily from the Admin User Interface, enabling notifications about important events that you want to be alerted to.
Settings for popular services like Google, Yahoo and Outlook.com are populated automatically.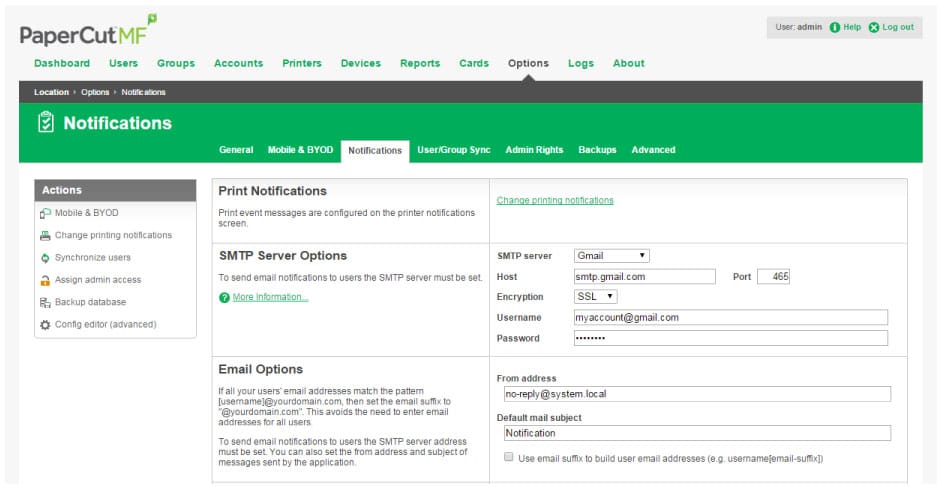 SMTP Encryption now enabled from the Notifications Tab.
---
Our New Look Manuals
We're excited to announce we are revamping our manuals! This first phase includes a refresh to the User Interface and easier navigation and search functionality. Whether you're searching the manual, or the entire PaperCut website, all the information you need is at your fingertips. Stay tuned for the next update. View the new PaperCut NG Manual.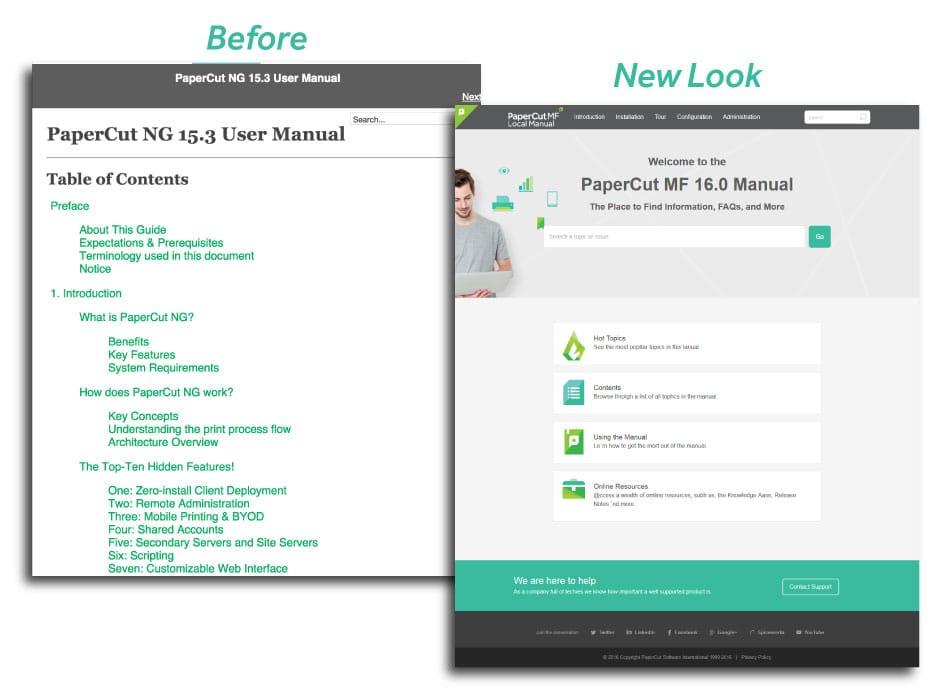 The refreshed format HTML manual brings the design in step with the PaperCut website.
---
PaperCut MF on Epson, Muratec, OKI and Sindoh MFDs
In our drive for customer choice, we have extended the range of devices supported with PaperCut MF. In partnership with PaperCut, Epson, Muratec and OKI have developed device integration for secure tracking and print control on Epson inkjets , Muratec MFDs and added OKI MFDs . Additionally, PaperCut's integration now extends to Sindoh MFDs.
Available for all manufacturers, if there's a device out there that we don't support, let us know.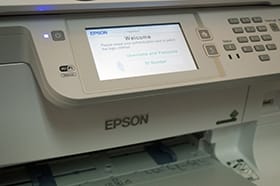 See the Epson Tour .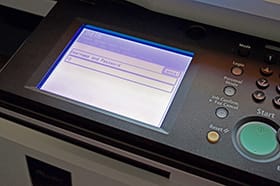 See the Muratec Tour .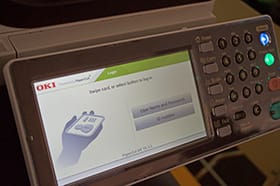 See the OKI Tour .
---
PaperCut MF Accessibility Improvements for Canon Embedded
Not all users can easily access the touch screen on devices, they may be hard to read or placed in a difficult to reach position.
To increase accessibility for all, PaperCut MF now supports keyboards and card readers connected to Canon MFDs . Users can choose to login to the device via a swipe card or better positioned external keyboard.
Canon MFD shown with USB connected keyboard and USB connected card reader.
---
Want to know more?
To help you digest all the updates, we've detailed all features, enhancements and fixes, see the Release Notes for PaperCut NG and PaperCut MF .