Sync from multiple Google Cloud Directory domains
Multi-domain support for Windows Active Directory using UPN usernames is out of percolator and supported from version 20.1
In the percolator from 20.0, PaperCut NG/MF can sync usernames across multiple Google Cloud Directory domains using the User Principal Name (UPN) to avoiding username clashing. Sign up below!
SIGN UP FOR BETA
Sync from multiple domains with fully qualified usernames
Supporting multiple domains
Sync users from any number of Google Cloud Directory domains
Multi-domain syncing may be necessary in environments where one PaperCut installation suports multiple brands, regions, or schools.
In addition to syncing from multiple domains, you can also configure PaperCut NG/MF to import users from two distinctly separate directories.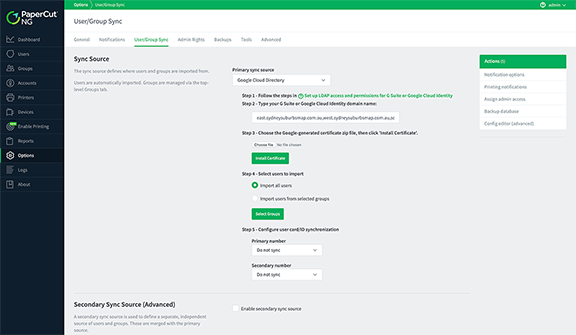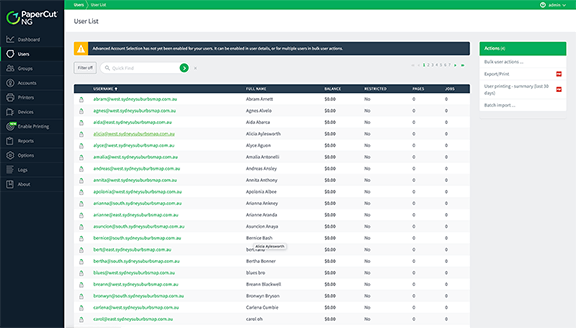 Email addresses as usernames
We use the fully qualified email addresses as usernames
This ensures all usernames are unique across all domains. For example jsmith maybe be unique within a single domain but jsmith@papercut.com is universally unique.
It also means usernames are consistent across different tools including Google Workspace (G Suite).
FAQs
You've probably got a couple of questions on your mind right about now. We've done our best to answer the more common ones right here.
Which sync sources support multi-domain syncing
As of 20.1 Windows Active Directory is fully supported including UPN usernames!
From 20.0 Google Cloud Directory multi-domain support is available in Beta and you can sign up below!
Let us know in the feedback section below if you're interested in support for other sync sources such as Azure AD.
Are there any limits on the length of my fully qualified username?
Yes, the full email username including the domain can be no longer than 50 characters.
Can I migrate from my short-form usernames to fully qualified email addresses?
Yes, but right now it's not built into the user interface. You'll need to work with our solutions team to get things transitioned smoothly. Please reach out in the contact section below.
We know Windows clients are supported, what about Mac and Linux clients?
Sure thing! The client OS support does not differ from what PaperCut currently offers.
Does it work with Mobility Print?
Of course! End users can login to Mobility Print with their email address.
OK! But how do I enable multi-domain support?!
As the feature is still in early beta stage we would like to work with you to determine the best way to set things up for your environment. See below contact section to reach out.
Get started with Google Cloud Directory multi-domain support
Becoming a beta pilot user involves some fairly advanced tinkering, but we'll happily help you nail the perfect configuration – or just answer your questions for now.
Recommendations, complaints, questions – we want it all!