PaperCut Software welcomes you to 2013 with the release of PaperCut 13.0! We are proud to reveal new features and functionality, and have added one of your most requested features of last year - Print Archiving .
Print Archiving allows approved administrators to review printed jobs interactively in the browser.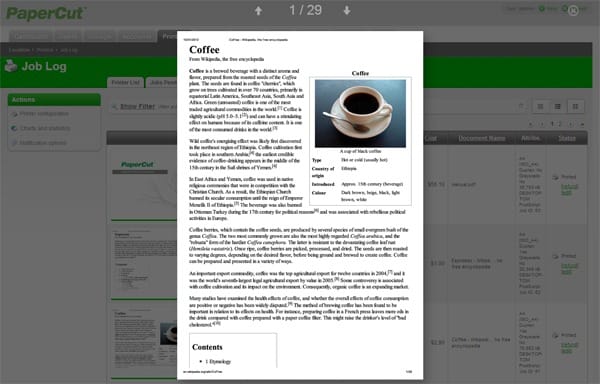 This feature is ideal for a variety of scenarios including information security, audit processes and validating refund requests. Many organisations have data retention and distribution policies, whether they be requirements to archive e-mail or restrictions on USB storage devices and cloud services. Printing has traditionally presented an auditing difficulty, and PaperCut's Print Archiving adds to the auditing tool belt.
Let us know how you use Print Archiving , and how you'd like to see it extended and enhanced in future releases. To see how Print Archiving works in detail, please see the manual entry .
One for the Hotshots
One of the hottest features in PaperCut is advanced print scripting, which is being leveraged by more and more power administrators. We have listened to the feedback and added the following:
Scripts can now be previewed, allowing you to quickly cut and paste example code into your own scripts.
Common functions that are shared between individual printer scripts can now be stored in, and referenced from, a master include script.
As you know we are passionate about technology and supporting all platforms; whether that be Linux operating systems, Novell clustering solutions or iPads. The same applies to our off-the-glass tracking solution (PaperCut MF) and its support for a diverse range of manufacturers. We are proud to announce our support for additional industry-leading manufacturers:
We would like to thank these vendors for their support in bringing PaperCut solutions to these devices.
The Fine Print: If you have a current subscription to Premium Upgrade Assurance you may upgrade to version 13 at no additional cost. For our other customers please see our upgrade policy to determine if you are eligible for a free upgrade. One-time upgrades may be purchased via our online order system. Upgrading now will entitle you to all the releases in the 13.x series throughout the year.
Please refer to the relevant release history for full details.