What does "being more sustainable" actually mean? More environmentally friendly business practices immediately come to mind. But wasteful behaviors don't just impact our planet, they also hurt our communities and prosperity. 
The triple-bottom-line framework promotes sustainable practices to benefit people, the planet, and profits. Not just commercial profits, but converting ecological and social margins from red to green. 
Uncontrolled printing wastes costs, resources, and time. This is detrimental to workplaces and the planet. So how do you reduce print costs and waste? 
How to identify wasteful printing
Conduct a comprehensive print audit: Start by assessing your organization's printing landscape. Identify the number of printers, their locations, and usage patterns. Analyze print volumes, ink or toner consumption, and paper waste. This will help you understand the extent of the problem and identify areas for improvement.
Implement print tracking and reporting: Utilize print management software that offers detailed tracking and reporting capabilities. Monitor print volumes, print job attributes (such as color usage and paper size), and individual or departmental printing habits. This will provide insights into wasteful printing practices and guide your waste control strategies.
Analyze printing policies and practices: Review your organization's printing policies and practices. Identify any outdated or inefficient procedures that contribute to waste. Look for opportunities to consolidate or streamline print workflows, encourage double-sided printing, and promote responsible printing habits among employees.
Waste control print solutions
Print management software: Invest in a comprehensive print management solution that enables your organization to gain control over your printing environment. Feature-rich print software offers tools like print tracking, cost allocation, quota enforcement, and print rules to minimize waste and encourage responsible printing behavior.
Print release stations and pull printing: Implement print release stations or pull printing functionality. This allows users to release their print jobs at the most convenient time, minimizing unnecessary printouts and reducing paper waste. Users can also review their print jobs and make any necessary adjustments before printing, further reducing errors and waste.
Mobile and cloud printing: Enable mobile and cloud printing features to provide flexibility and convenience to users so employees can print from their mobile devices and remotely.
Benefits of waste-controlled printing
Cost savings: Waste control measures lead to significant cost reductions. By minimizing excessive printing, organizations can save on paper, ink, or toner, and maintenance costs for printers. This translates into tangible financial benefits that can positively impact the bottom line.
Environmental sustainability: Reducing printing waste has a direct Forest Positive impact on the environment. By cutting down on paper usage and implementing responsible printing practices, organizations contribute to conservation efforts and reduce their carbon footprint.
Improved efficiency and productivity: Waste control measures streamline print processes, reducing time wasted on unnecessary print jobs and troubleshooting printer issues. This results in improved productivity and allows employees to focus on more important tasks.
Enhanced data security: By implementing print management solutions, organizations can enhance data security by requiring user authentication for print jobs. This prevents unauthorized access to sensitive information and ensures that documents are only printed when necessary.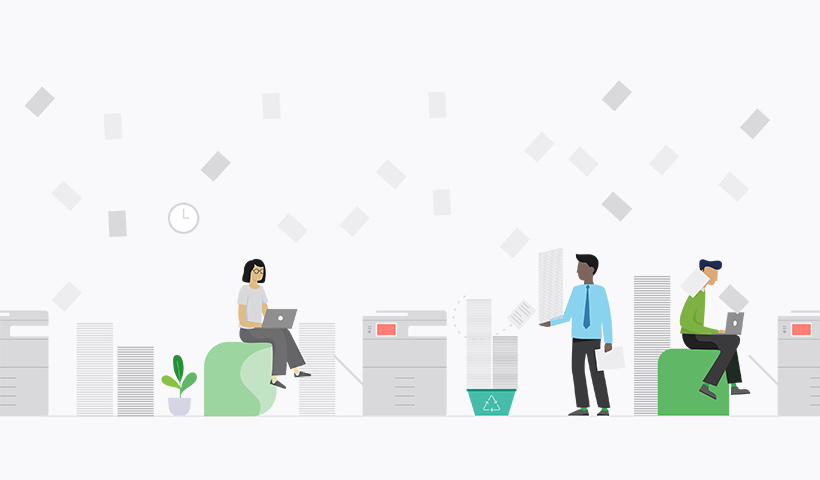 How PaperCut software minimizes print waste
PaperCut Software has been developing smart print software for 25+ years and counting. Our company was founded upon a high school system administrator's desire to stop overflowing recycling bins next to the printer. 
To date, our industry-leading print management solutions have saved 3.2B pages from being printed, preventing 386,391 trees from being logged for paper production. This has added up to thousands of dollars in savings for hundreds of organizations. 
Our product suite boasts a range of thoughtful printing solutions so that you can save time and reduce costs, ultimately creating a sustainable, Forest Positive future for our planet.
Save time with simple print enablement 
Time is sneakily wasted by out-of-control printing. PaperCut Software offers a range of time-saving products and features that free up your IT administrators and boosts your end-users' productivity and efficiency.
Our DIY cloud product PaperCut Pocket and our free BYOD (Bring Your Own Device) solution PaperCut Mobility Print provide simple print enablement with cloud printing functionality for remote printing scenarios.
Our Find-Me printing feature in PaperCut MF and PaperCut Hive creates a convenient "print from any MFD you choose" environment. And Print Deploy in PaperCut NG and PaperCut MF makes print queue and driver installation lightning-quick and automatic. 
Reduce costs with secure printing and policies
Lawless printing chews through the costs of paper, ink, toner, and electricity.  Not only are PaperCut solutions time-saving, but they cut your printing expenses considerably.
Find-Me printing and Secure Print Release prevent duplicate print jobs. Print quotas and chargeback systems make users accountable for the amount they print. Print policy nudges or hard defaults for duplex and greyscale instantly save on color ink and paper. 
Save the environment with Forest Positive printing
Reducing waste saves time and money, then the next part of the printing equation is giving back directly to the environment. Find-me printing and Secure Print Release's hold/release queues are the solutions that have empowered PaperCut customers to save 3.2B pages from being printed. PaperCut customers can go one step further with our Forest Positive printing program PaperCut Grows, planting more trees than what is logged for their printing.
Save time, money, and the planet with thoughtful printing
In today's digital era, environmental consciousness and cost optimization are paramount. While we're not yet paperless, implementing waste control measures for fundamental printing not only helps reduce environmental impact but also leads to significant cost and time savings. 
By following the steps to identify waste, implementing suitable solutions, and leveraging the benefits of waste control, organizations can optimize their printing processes and create a more sustainable and cost-effective printing environment. 
Searching for sustainable print management software? Compare our products to see which solution best suits your business to cut down your print costs and waste.
LEARN MORE