Ever pressed print but forgotten to collect your document from the printer? Or worse, said printout contained confidential information and a simple mistake became a security concern? 
You're not alone. Printing in the workplace commonly presents these types of challenges. Without proper configuration, direct printing in a large workforce can present workflow and security issues. But there's a simple solution: print management software with print release functionality.
What is secure print release?
Secure print release is a form of controlled print job retrieval. It's a program that allows you to print your documents securely and conveniently, without worrying about sending your documents to the wrong printer or leaving them unattended in the output tray. Instead, you can send your documents to a virtual hold and release queue, then release print jobs at a printer or release station of your choice using an authorization method of your choosing i.e. PIN code, ID card, mobile device, etcetera.
Secure print release can help you save time, money, and resources by reducing printing errors, waste, and reprints. It can also help you enhance security and privacy by preventing unauthorized access to your documents. Plus, it can improve your user experience by giving you more flexibility and control over your printing.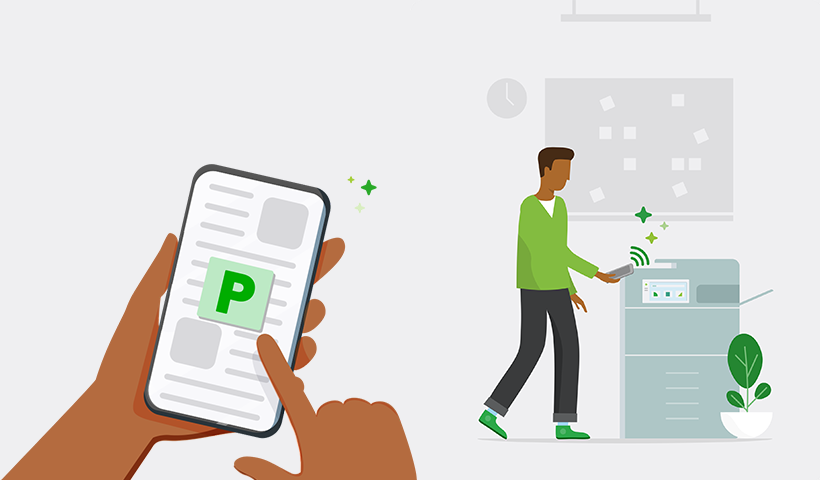 How does secure print release work?
To understand secure print release, let's start with the context of direct printing and share print queues . Direct printing is what you usually experience at home, or in a small workplace. You press print, and the document immediately starts printing. Direct printing means the client device talks directly to the printer which starts automatically printing the moment you press "Print." I used the word print a lot in that sentence.
The difference between this configuration and workplace printing is a shared print queue - a printing setup that allows multiple users to send print jobs to a shared printer or group of printers. Some workplaces have personalized desktop-based printers, but to reduce operational and/or capital expenses, many organizations will lease a fleet of printers to be shared by the workforce. Direct printing has its time and place, but in a shared print queue environment it can cause lots of issues like perpetual "Spooling error" messages and forgotten or misplaced documents. 
Secure print release immediately places your print job in a holding state in a hold/release queue. The document will only release once the user authenticates at the device by confirming their identity as the owner and initiator of the document. It means that printing isn't direct by default. Instead, the user controls the instigation and the retrieval of the print job.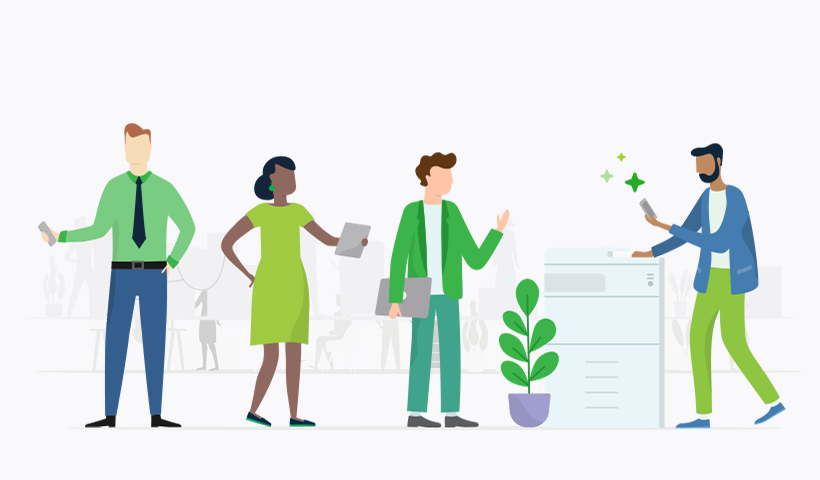 Industries that benefit from secure print release
Secure print release begins as a security and enablement tool, but is beneficial for a variety of industries and provides multiple bonus advantages:
Education: Schools and universities can use secure print release to protect student records, exams, grades, and assignments from prying eyes. They can also use it to manage printing costs and quotas for students and staff.
Healthcare: Hospitals and clinics can use secure print release to comply with HIPAA and other regulations that protect patient data and health information. They can also use it to reduce paper waste and streamline workflows.
Legal: Law firms and courts can use secure print release to safeguard client files, contracts, evidence, and court documents from unauthorized access. They can also use it in conjunction with tracking printing activity and billing for clients and cases.
Finance: Banks and accounting firms can use secure print release to prevent fraud and identity theft by securing customer data, transactions, reports, and statements. They can also use it to optimize printing efficiency and control print consumable costs.
Never miss the news!
This site is protected by reCAPTCHA and the Google Privacy Policy and Terms of Service apply.
Do you need to consider print release for your business?
If you want to improve your printing security, efficiency, and sustainability, print release software can provide the following benefits:
Security: Protect your confidential documents from being seen or stolen by others
Workflow: Reduce your printing errors, waste, and reprints
Cost savings: Save money on paper, toner, and energy
Visibility: Track your printing activity and costs
Governance: Comply with legal or industry regulations
User experience: Enhance your user satisfaction and productivity
---
---
Secure Print Release by PaperCut Software 
PaperCut's Secure Print Release feature is available with our products PaperCut MF, PaperCut Hive, and PaperCut Pocket. With PaperCut secure print release, you can:
Send your documents to a virtual queue and release them at any printer with Find-me printing - an overlay of secure print release that creates the ultimately convenient printing experience 
Use your own device as a personal release station with Mobility Print , PaperCut Pocket , or PaperCut Hive
Use 2FA or MFA to authenticate yourself at the printer via PIN code, ID card, mobile device, or QR code
Set up rules and policies to enforce duplex printing, grayscale printing, or page limits with Print Deploy
PaperCut Secure Print Release works with any printer brand or model, any operating system or device, and any network or cloud environment. It's easy to install, configure, and use. And it's trusted by over 150 million users across 96 thousand organizations in 195 countries.
Searching for secure print release software? Check out our portfolio of print management solutions.
EXPLORE PRODUCTS