You'll never believe it! An event just for techies… mind blown, right?
Every year, across the globe, we host an event we call TechFest: a gathering of all the brightest technical minds from our Authorized Solution Centers.
For 3 days, a room full of techy geeks deep-dive into all things PaperCut and discuss the challenges which the ever-evolving IT world presents us. First up this year our EMEA office (Europe, the Middle East and Africa) was all set to play host.
What is an Authorized Solution Center I hear you ask???
Our Authorized Solution Centers are a group of trusted and authorized PaperCut partners who help us sell and support PaperCut MF through-out the world. They work with our resellers located in each region, offering local sales and technical support.
After several months of planning, the time arrived.
Day 1, February 18, 9.30 am. Dan, our Frontline Support Team Lead kicked off an action-packed three days at our Bracknell office in the UK.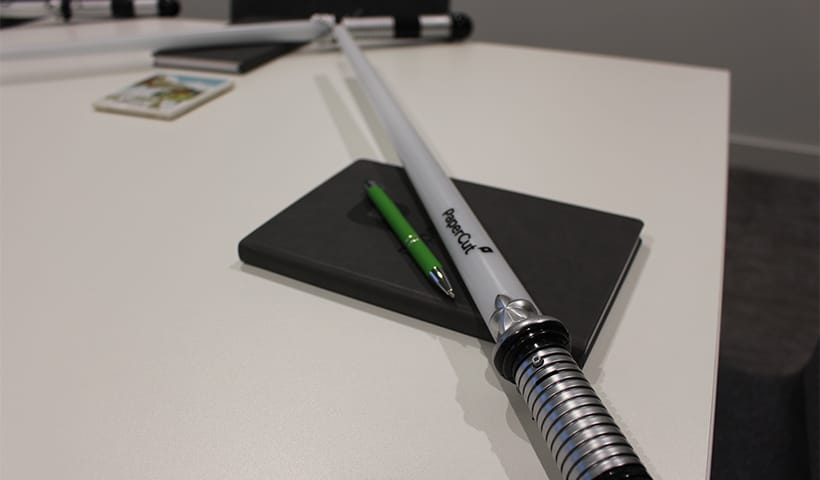 A treat for all attendees: our sought after PaperCut lightswords.
What did we talk about?
Custom Reporting
You may have spotted this as a new feature back in v19.1 .
We've got a comprehensive list of in-build reports across both PaperCut NG and MF, which tick the box for 95% of users who want to get an insight into their printing.
However, based on customer feedback, we've taken this to the next level and added the ability to customize the reports or start from scratch with the specific information they want to see.
In this session, we took a deep-dive into using Jaspersoft studio to write custom reports and how to integrate the report template into PaperCut NG or MF for scheduling.
Print Deploy
Also added in v19.1, Print Deploy is a print queue deployment tool that gets the right printer drivers and print queues to the right person in the right location, effectively.
If you've ever struggled with the time consuming, frustrating task of setting up print queues and getting them deployed to your users, then this is the feature for you.
In this session, we looked at the inner working of Print Deploy and talked about the customers that have grabbed hold of this new feature.
Gotchas
In this session, we looked at all the tidbits we've learned over the years within PaperCut. What always catches people out when they set up? Where to look first when jumping into supporting a customer?
We also got an insight into some of the weird and wonderful challenges (although maybe not all that rare) that our Authorized Solution Centers see when supporting their customers.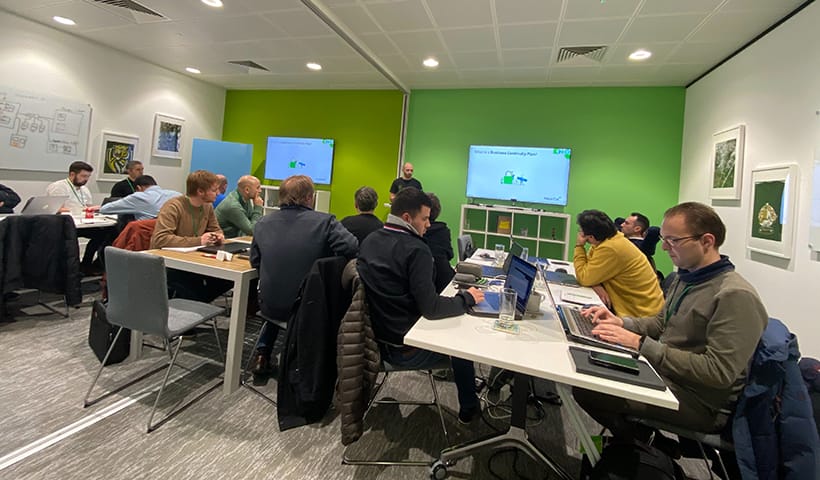 Tom Pearce taking the floor during one of our group sessions
The coveted 99% uptime is strived for by more and more organizations throughout their business. This doesn't stop at printing.
Organizations large and small want to know that their Print Management solution and broader printing infrastructure is protected against, and able to recover from, any interruptions.
In this session, we explored how we can make sure printing is always up and running. We examined the many different industry-leading technologies available and the recommendations we have for protecting each component.
As part of this discussion, our techies huddled around a whiteboard to explore several challenging scenarios that we came up with from the many different installations we see daily. It's incredible to see how the approaches differ across the many different countries our Authorized Solution Centers cover.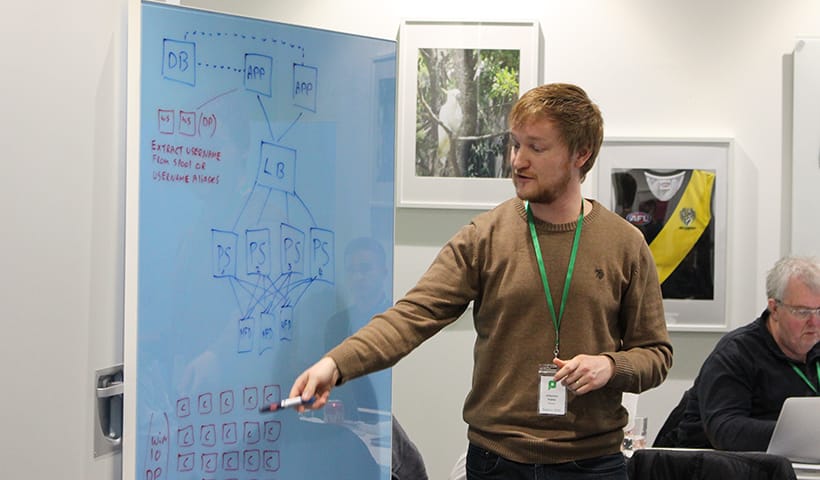 PaperCut Pocket
If you haven't heard of PaperCut Pocket , then head over to our Percolator to find out more about the latest product that we're brewing up.
During TechFest, we looked at how PaperCut Pocket is going to help solve the print management challenges of the future; enabling customers to go serverless and embrace zero-trust environments, all while making sure print jobs don't need to leave the security of their local network.
Beer and pizza
It isn't all work and no play for the team here at PaperCut. We wanted to make sure that our Authorized Solution Centers got to take some time out with us.
Many slices of pizza and a few brews later, and I'm pretty sure we could convince the world of how the occasional bit of fun makes us the very best techies in the world.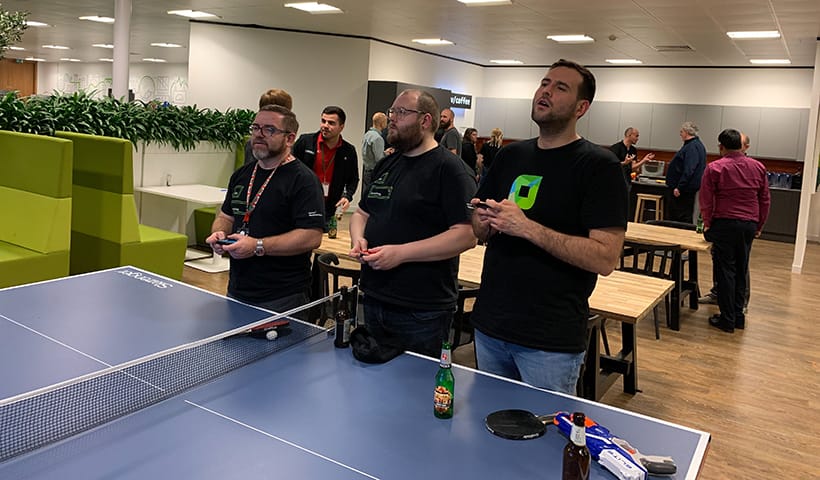 A pre-pizza round of Mario Kart. The concentration…
On Day 3 we gave everyone the opportunity to quiz our CEO and co-founder, Chris Dance.
Both Chris and the ASC techies are kindred spirits and the opportunity to chat at a technical level was one that was embraced by both. There were lots of discussions around how PaperCut works behind the curtain, what opportunities we're exploring next, and the new technologies we're embracing.
We finished up our three days together by allowing our Authorized Solution Centers to spend time with our support team to see what we get up to each and every day.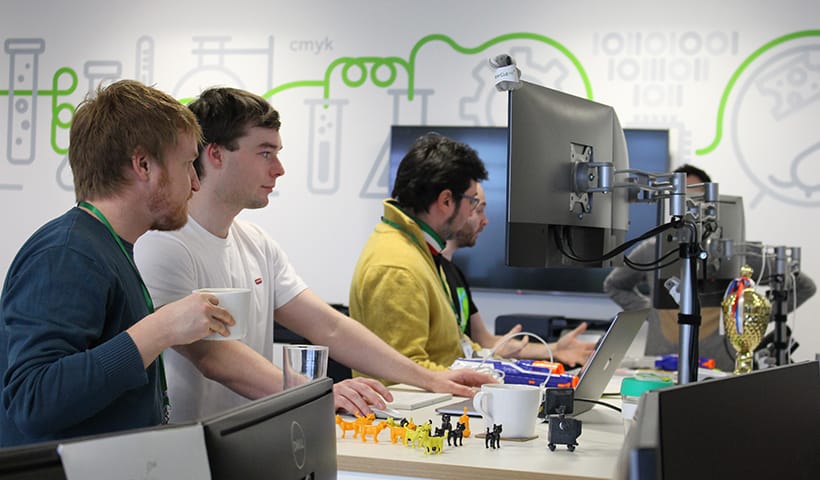 Two ASCs chatting to our support team
We'd like to say a massive thank you to all of our Authorized Solution Centers for joining us.
I'll leave you with a quote from Ross Malyon, one of the team at Selectec :
_This year's TechFest was a perfect opportunity to go hands-on with recently released features as well as obtain a head start on understanding what is just around the corner.

All of the EMEA ASCs got a lot from the two days, and I am sure we all look forward to the next event.

Not only was it a chance for us to learn, but PaperCut benefit by being able to get direct feedback from the people promoting and installing their product; this insight is priceless.

It was a great chance to share stories, problems, and workarounds as well as shape the next version of PaperCut. Plus, they had pizza and Mario Kart, what more could we want?_