Making print management easy for small business
Join the beta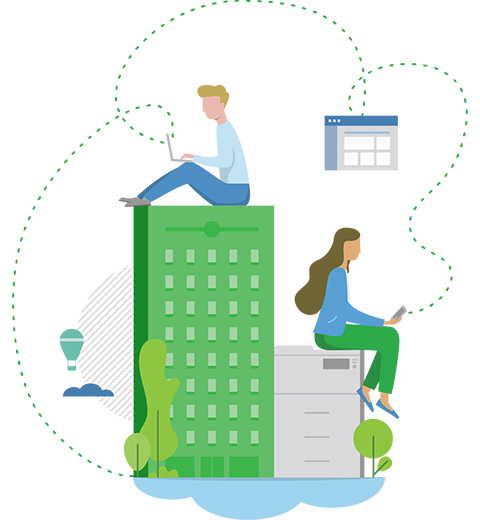 Printing can be frustrating at times. It's complex to set up, often wasteful, and let's not talk about people leaving important documents at the printer. 🤐
We believe ALL businesses should benefit from better printing, and we've spent the last 20-years making this possible. Today we're announcing the next exciting step in our mission - PaperCut Pocket. It's the first product off our brand new cloud platform.
PaperCut Pocket is a brand new print management service specifically designed to be simple enough so that any small business can benefit.
It's a fully managed cloud solution
It's super easy to set up
It saves you time, and
Most of all it's the easiest way to make the connection between a person and a printer.
What's so great about PaperCut Pocket?
It's simple to use
We're always looking for ways to make printing easier. PaperCut Pocket does just that. It's cloud hosted and fully managed for you. No servers. And super easy to set up for both you the admin and your print users. This means you can focus on your day (and coffee :).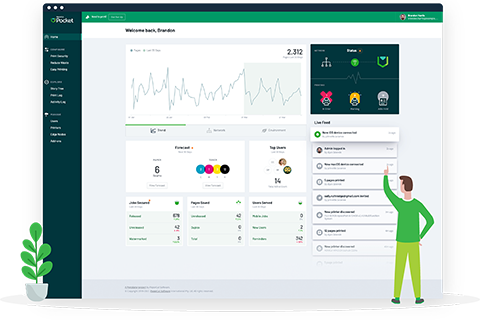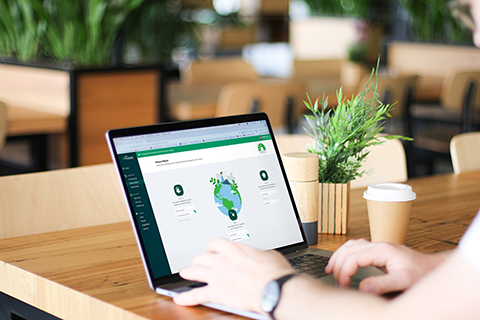 It's real print management for small business
It's simple, but that doesn't mean it's not powerful. We've reimagined the most popular features from 20 years of building powerful print management software and put them into PaperCut Pocket. It's real print management, just like the "big businesses" use.
It's printing, reimagined
The workplace has changed. Today we use smartphones, Chromebooks, and tablets. PaperCut Pocket doesn't just enable printing from all these devices, but uses them to make printing even better. For example, you can simply print, then securely collect your job at any of your printers. This magic is made possible with NFC or QR codes and the phone in your pocket.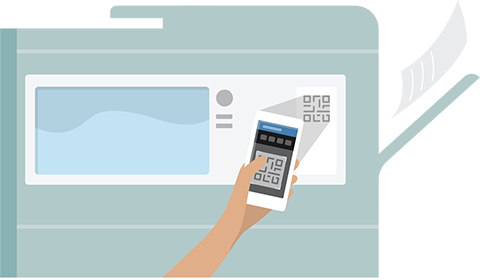 The PaperCut Pocket journey
We've been releasing more and more cloud features in the last few years: Scan to Cloud Storage, Cloud OCR, and PaperCut Views to name three
This has not been random. It's our strategy to use our 20 years of experiance in print management to bring more and more power to the cloud, retool our team's skills, and make even more awesome products.
Here's a timeline of how we got here and the plan for what happens next:
NOV 2017 – ROASTING BEANS
The first line of code was written
18 months ago we assembled a dream team of product engineers to rethink print management software. We set out to combine the latest technology, cloud, mobile, as well as all our learnings from PaperCut Views and Mobility Print.
We weren't building a product, though. That first line of code was for a platform that will form the basis of our future printing products.

JUL 2019 – PERFECTING BLEND
The PaperCut Pocket beta is released to the world
The first product off the new platform: PaperCut Pocket rethinks print management for cloud-ready SMBs. It's ready to be used for day-to-day printing. While rounding out the feature-set, we're looking to get more businesses hands-on over the next few months.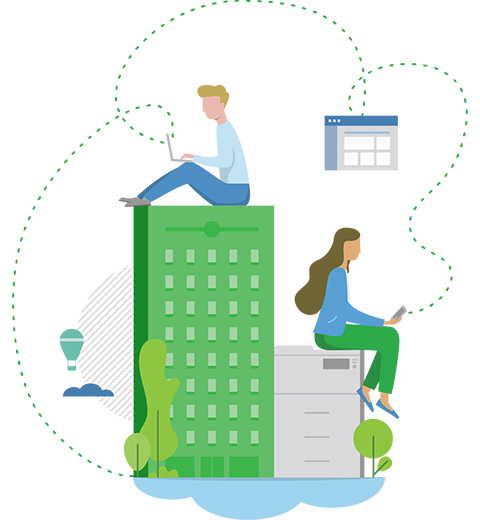 2019–2020 – POURING MILK
But what about MFD embedded software?
While we're perfecting PaperCut Pocket, there's a team already working on the next product off the platform. This product will integrate with MFD touch screens to bring copy and scan capability into the cloud (providing a PaperCut MF style functionality that supports selected MFD manufacturers).
This new product (its name is still secret) will be available with full local support from PaperCut's channel partners around the globe.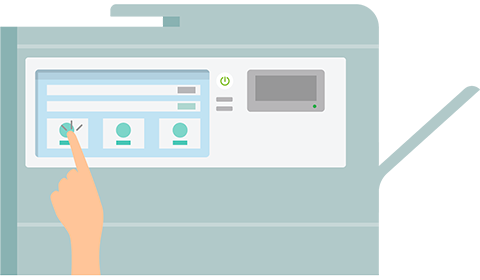 2020 – MAKING LATTE ART
Ensuring choice
There are many powerful features in our flagship product PaperCut MF. We'll selectively add some of these features to our fully hosted cloud products to better suit speciality use-cases and markets.
We also want to ensure customers can seamlessly move between all products, either self-hosted (e.g. PaperCut MF) and/or fully-hosted (e.g. PaperCut Pocket). Because choice is important - no matter how your business, security, and growth demands change in the future - there'll be a PaperCut product perfect for your workplace.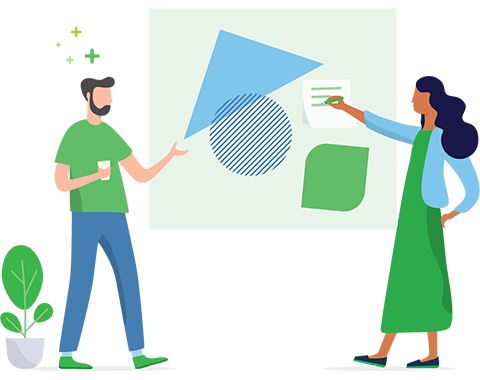 Why did we make PaperCut Pocket?
We wanted to make print management so easy anyone could set it up. By taking our 20 years of learnings and combining them with the tools and thinking of today, I think we've done just that.
PaperCut Co-founder, CEO, and still a developer in the team – Chris Dance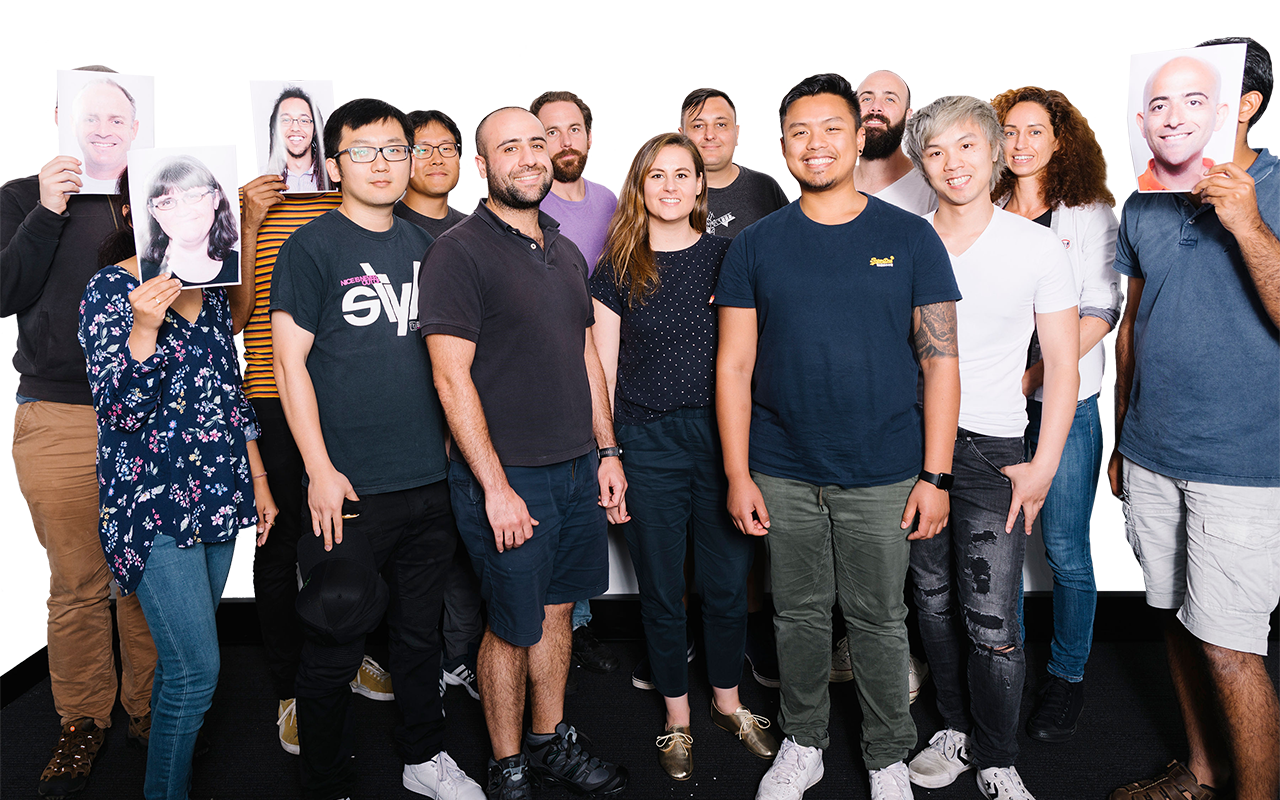 Join the beta and be a part of the journey
Have a say on how the future platform evolves
A Massive Thank You to all businesses around the world who:
Joined us in this journey and have been using PaperCut Pocket during the last 12 months
Helped us spot UX improvements and fix bugs
Spent their early mornings and late nights for geeky conversations with the team in Australia
Shared valuable feedback and gave new feature ideas
Thank you for becoming a part of the team and influencing the future of print! PaperCut Pocket is out in the wild now helping more small businesses to benefit from print management.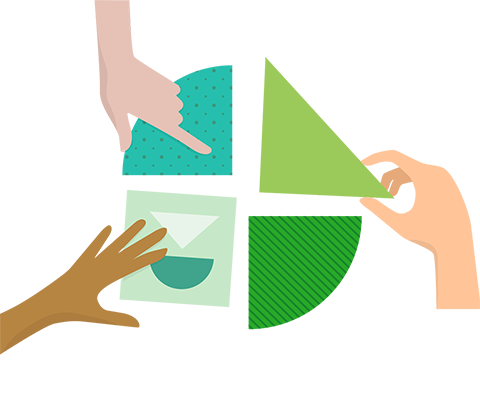 Want to know more about what`s happening behind the scenes?
Dive deep with our CEO (Chris) and the product manager for PaperCut Pocket (Jacques) in a "fireside chat" to give you a behind the scenes look into the plans for our cloud platform.
Warning, this is not a short video. We would suggest to grab a coffee and a comfortable sofa. Enjoy!
FAQs
You've probably got a couple of questions on your mind right about now. We've done our best to answer the more common ones right here.
Do you recommend using this in production?
Yes. We're looking for people to use this in production environments at this stage. It has a beta tag, but this also means you will have special care and attention. A lot of this system is based on more mature technologies such as PaperCut MF Mobility Print and the technology behind PaperCut Views. Having said that, this is beta software (and we hope you help us hunt down those bugs and round out the feature set). We've added a bug or two in there just to make sure you're paying attention
Is this trial limited?
During the beta, we are not limiting any features or having any form of an enforced time limit.
How long is the beta period for?
It will be a little indeterminate... Hurry up and sign up. Ideally, we'd like to see it last for 3 months. Oh, by the way, anyone who helps us out during the percolator phase will receive 6 months of access free of charge after we start charging.
I'm playing with the Beta and have a few thoughts. What do we do?
Please reach out to us! There is an In-App feedback form that lets you easily provide your feedback. We'll be in contact quickly as we'd love to chat more about how you use the product.
What size of organizations is PaperCut Pocket suitable for?
PaperCut Pocket is the first release of our new platform and is specifically targeted to bring print management to small to medium organizations of up to approximately 250 users. More products/tiers will be released with richer feature sets targeting larger customer bases later this year.
How much is it going to cost?
It's free during beta, but... We've come up with our initial pricing and have shared this with a number of customers and partners. We'll be sharing the price over the next few months, so reach out if you have some thoughts.
So tell me about security.
When we embarked on this project our primary requirement was security and this thinking has influenced the infrastructure and feature set all the way through. We'll be releasing a White Paper on this really soon. To give you a teaser, we've leveraged some of the latest ideas out of IoT and edge computing to make sure your print spool file data never leaves your site. We won't give away all the detailed spoilers yet about magic like multi-key encryption and defense through depth architecture.
Where is PaperCut Pocket hosted? How reliable is it?
Our number one objective of hosting is reliability, and our initial implementation is multi-region by default. This means it is hosted in data centers across multiples regions, so if one data center goes down the system can remain available. However, your spool files stay in your region, in fact even on premise. This is similar to many other cloud services such a Google Workspace (GSuite), Dropbox, etc. Like PaperCut's other cloud products, on our roadmap, we plan to introduce an option to lock hosting into particular geographic regions.
Do I need to download anything to make this work?
Yes, there is a printer discovery tool to discover your local printers. We'll guide you through this process when you sign in for the first time. End users will need to download and install an app to set up printing on their devices (computer and mobile).
What operating systems are supported?
We support users printing on Mac, Windows, iOS, Android and Chrome OS
I currently run PaperCut NG/MF, can I try this?
Yes, you can run this in parallel. In fact, this is what we do in our office for the last 6 months in preparation for this launch.
How does this compare with PaperCut MF/NG
1 - This is a fully hosted solution. 2 - secure print release is implemented with end users releasing using their mobile phone. 3 - We specifically selected the features from MF/NG most commonly used by SMBs.
How suitable is PaperCut Pocket for a Google Cloud Print alternative?
PaperCut Pocket has a set of real print management features which includes: secure print release by using the PaperCut Pocket mobile phone app; access control rules for who can access which printers and when; rules for Black & White or Duplex printing; and mobile pop-up messages to reduce waste by reminding people to print double sided or Black & White. If you are looking just for print enablement and printing over the internet our free Google Cloud Print alternative is a suitable solution for you, check out PaperCut Mobility Print.
What happens if one of my users doesn't have a mobile phone?
During the percolator phase, this is a requirement as this is a key workflow that we want to build and validate. We'll support other printing methods in the future.
Which type of printers do you support?
One of PaperCut's strengths in the last 20 years has been our support of every printed and operating system combination. We've stayed true to this vision in this project. PaperCut Pocket is designed to work with every printer.
I found a bug. What do I do?
Please reach out to us! There is an In-App feedback form that lets you easily provide your feedback. We'll be in contact quickly as we'd love to chat more about how you use the product.
When can I sell PaperCut Pocket
All current approved and certified NG and MF resellers will be able to resell PaperCut Pocket. As per our roadmap, we also have in development some new products/tiers based on the same platform that will be released later this year. This will provide embedded functionality and will be exclusively available through approved partners.
I might have a client for PaperCut Pocket. What are the next steps?
That's great! We'd love to work with you to help them out during this phase. The more input we get, not just from customers but from the way we work as an ecosystem to support the customer will be a win.
Can I sell PaperCut Pocket before the beta ends?
We can work to set the customer up. After the free period ends we'll work with you to make sure the customer purchase is smooth and streamlined.
Can customers switch upgrade from Papercut Pocket to PaperCut MF
Yes at some point we will be providing a migration path.
When will we get on device functionality such as copy tracking, scanning and print release at the device?
As per our roadmap, we also have in development some new products/tiers based on the same platform that will be released later this year. This will provide embedded functionality and will be exclusively available through approved partners.
Can I use card readers?
Adding support for card readers is on our roadmap and will be released at around the same time we release functionality for on-device functions.
I have this one customer. They're one of the biggest banks...
We get a lot of people asking for cloud solutions, but for most of these cases, it means private cloud or fully managed private cloud (e.g. a private cloud environment managed by a reseller). Of course, all of these are available in MF today. If you believe there is an overlap in PaperCut Pocket requirements please get in touch as we'd love to learn more.
As a reseller, can I host PaperCut Pocket for my customers?
We are looking for avenues for resellers to host PaperCut Pocket. It is early days, but please get in touch if you are interested. We'd love to hear your thoughts.
What services and support do you intent resellers to provide for a cloud product?
The nature of services will change from NG and MF, however, the fundamentals of getting the most value out of a system will equally apply.
What about technical support?
During the percolator phase, we'll try to stay as close as possible with the customer to learn about the requirements and refine the product. The development team will be taking the support load for you during this beta phase. If you can help in some way that'll be awesome.
I have more questions, can we talk?
Yes. You can fill out the form below, or if you prefer the personal touch you can get in touch with your Authorised Solution Center and they can work with us to set up a session to dive deep if and when it is appropriate. Do keep in mind we have thousands of resellers, so there might be a bit of a queue forming, so please be patient.
Recommendations, complaints, questions – we want it all!