G'day,
My name is Jason Clarke, I've been with PaperCut nearly 7 years, firstly in our customer facing tech Support Team in Melbourne, and now as the IT guy supporting over 100 staff. After being the IT guy in both a high school and now at PaperCut, I can see the frustrations felt by SysAdmins and users surrounding print. At the end of the day, users want printing and IT to just work.
Cycling off some steam
Quite recently I've re-found a fondness for cycling, something I was keen on in my teenage years but as life went on, riding took a back seat. As part of setting goals for myself, I took up riding to help with weight loss, yes, I've lost ~28kg (~62lb)!
Since I've managed to lose the excess weight, I thought it was time to set myself a new challenge, completing an annual charity ride in Melbourne, Australia, called Around The Bay . As the name suggests, it's a ride around Port Phillip Bay with options from 10km, 50km all the way up to 210km and 250km (6mi, 30mi, 130mi, 155mi).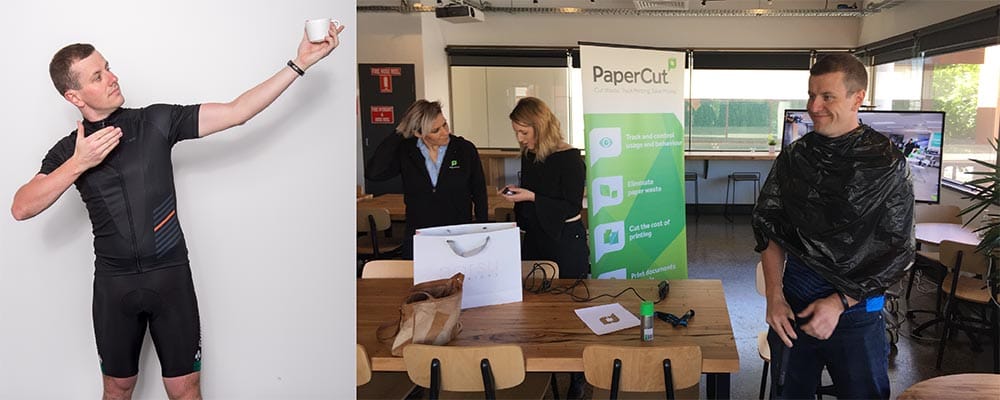 Riding for education
Happy to ride for a cause, Around the Bay aims to get individuals and teams to fundraise for The Smith Family who assist Aussie kids at risk of falling through cracks and who struggle to meet basic educational needs. Growing up in a lower socioeconomic area and working in educational organizations for many years, it is something close to my heart.
Reaching out to my PaperCut family I found an overwhelming base of support and to just say thanks, I agreed to a challenge of a different kind…
The great PaperCut shave
Yes, it was suggested that alongside achieving the 250km ride, I would also color my hair or shave it off in return for raising money. In reaching $500 I would dye my hair PaperCut green, and for $1000 I would shave it into the shape of the PaperCut P brand. So guess what, this week, that's just what the team did right here in Melbourne. Watch the video for more.
Armed with a real hairdresser (thanks Steph) green hair color, a logo stencil, and hair clippers, I'm now officially wearing the PaperCut brand (until my hair grows out).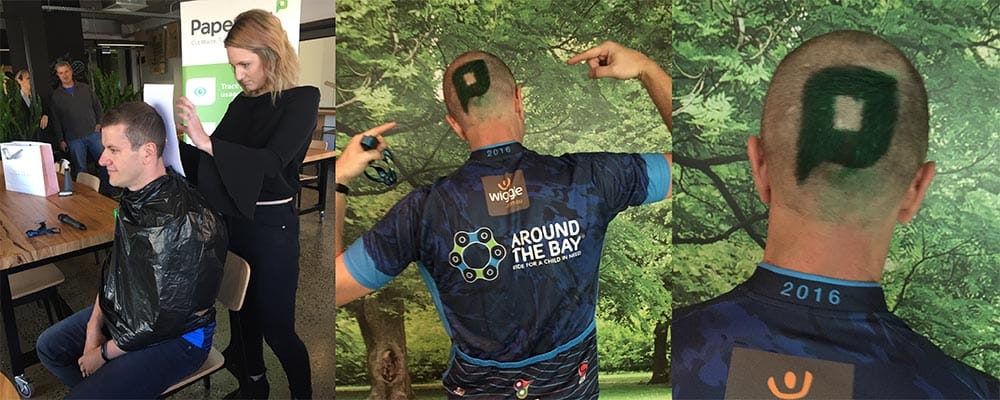 While bearing a resemblance to a soft green patch of grass on top of my shoulders, I really am overwhelmed by the sponsorship and support given by the peeps at PaperCut and the PaperCut company for matching employee donations. It really does show our company's culture along with the shape of my skull.
The extended version of my ride Around the Bay
TL;DR (too long; didn't read): the ride to Geelong was flat and quick, Geelong to Queenscliff gave hint of what was to come. Sorento to Frankston was wonderful scenery, Frankston to the city was indescribable.
The longer version:
The ride out of Melbourne, over the West Gate Bridge was quite easy to be honest. An easy pace, good weather conditions and people behaving sensibly. Once out past Werribee the pace quickened as larger groups formed. That tailwind really helped push us along and we made exceptional time (with little effort to be truthful) to Geelong. I was able to stay with large groups and the conversation was awesome!
We turned east after Geelong and got a taste of what was to come. The crosswinds between Geelong and Queenscliff were pushing riders about. A break in the trees meant you could be pushed nearly to the dividing line in the road. Nonetheless I made it to Queenscliff without incident.
The break at Queenscliff was welcome for some (myself as an example) but others cooled down, even started shivering. I'd been warned that this could happen and so made sure I kept moving about. Water bottles were refilled, food was eaten while walking about. I made sure to get out of the wind while on the ferry crossing.
Once over to Sorrento, things got hard. The groups that formed during Melbourne -> Geelong -> Queenscliff didn't appear near me and I wasn't dragging my feet either. They also didn't overtake me. It was clear the easy part was over. The ride along the southern edge of Port Phillip Bay was interesting. It was tough, groups rarely formed for long (as some had obviously over exerted themselves on the first leg), or hadn't had enough food, gotten cold, or maybe the cross wind was hurting them more. I spent a fair bit of the time alone from Sorrento to Mornington, or on the front in the wind. The scenery was quite simply amazing even if the conditions were tough.
However, I had not yet understood just how sheltered that part of the course was.
Some of you may be familiar with Oliver's Hill . It's fairly steep. I've ROLLED down it at 50km/h (30mph) on the bike.
This day, I HAD TO PEDAL TO STAY ABOVE 30KMH!
From Frankston onwards was quite simply brutal. I am still struggling to describe the conditions without descending into profanity, repeated vulgar profanity.
From this point onwards, no large groups formed that I could see. Even the "sponsored" teams that had semi-professional riders sitting at the front keeping everyone sheltered had splintered. I saw more than a few lycra clad cyclists, Myki card (Melbourne public transport system) in hand, waiting at train stations as I rode past.
I think the worst of it was from Black Rock -> Sandringham -> Hampton. The wind was strong enough that it blew me to a standstill several times. I looked back a few times to find that I had up to a dozen riders sitting on my wheel, sheltering from the wind, at a miserable 12-15kmh (<9mph). I will admit, I sheltered behind other riders where I could but found that only worked for a short while as not many could sustain it. It was about this point that the cramps started. Quite simply this was agony and I really wanted to pull over and quit but somehow managed to keep going, just.
Getting in towards Luna Park, St Kilda the larger buildings afforded us more protection and larger groups formed again. While far from jovial, riders started talking again… the topic was how brutal the wind was.
I made it to the finish. I didn't fall over, others did.
I just want everyone at PaperCut to know that your support meant the difference between completing this and me quitting and taking the train.
Over the last couple of weeks, and the days leading up to the event, numerous people have encouraged me, sent me messages of support on the day. I won't name names (you know who you are), but quite simply, you made a difference on Sunday.
I had my Myki, I considered using it.
I didn't.
Because I didn't want to let the PaperCut team down.