On Friday 29 April, PaperCut's Melbourne HQ was paid a visit by winners of the 2022 RMIT Google Developer Student Club's first annual hackathon.
The challenge of [HackVision]() was to hack a better future for our planet based on one of the 17 Sustainable Development Goals. Justin, Nayli, Isaac, Benji, and Thomas won the 'Best Pitch Prize' with their project [GreenSnap]() - an app for best-practice waste disposal and recycling. Given our commitment to sustainability, it was something right up PaperCut's alley!
As we sponsored their category, part of their prize was to spend a day with PaperCut engineers and developers at our Camberwell office. To give the students a first-hand taste of working in the tech industry. And to introduce them to the exciting world of engineering printer software!
This prize and the hackathon were close to my heart, as the former leader of the RMIT Google Developer Student Club (which is still just a recent memory). During my tenure, my team and I organized this global hackathon. It was important for me to provide university students all over the world with a forum to innovate and hack for the future based on the [United Nations' 17 Sustainable Development Goals](). It also provided students with an opportunity to gain experience working in a team, a taste of pressure, and a chance to put their knowledge to the test.
I was so excited that the 'Best Pitch Prize' winners got to hang out at PaperCut for the day. I know firsthand how important moments like these are for students. So, myself and Senior Product Engineer Simon O'Connor acted as tour guides for the day.
Coffee, standups, and retros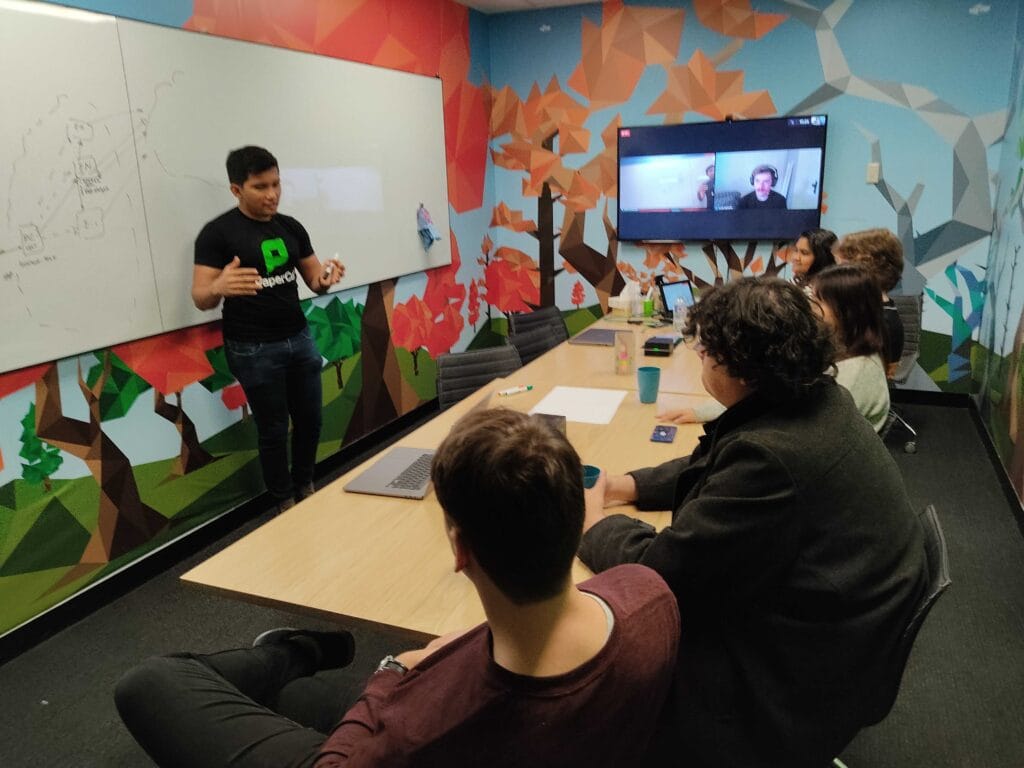 Senior Product Engineer TJ leading a session on cloud printing and Edge computing - joined virtually by Justin
The day began at 9 am when all the students arrived en masse. Well, except for Justin, who had to virtually visit all day via Google Meet, "It was nice to be invited to the meetings remotely to meet the team. From what I saw everyone was really welcoming!" It was unfortunate that Justin couldn't attend in person, but, hey, what better way to introduce the students to the fresh reality of remote working?
Simon greeted Nayli, Tom, Benji, and Isaac in perfect PaperCut style - by making them all coffees using the company machine! And testing Simon's barista prowess with Almond milk…
While they sipped their (passable) coffees (sorry, Simon), we checked in to see what they were hoping to get out of the day…
"My expectations for today are just to see how a tech company works, how it runs, and what the workflow process is." - Nayli
"Looking forward to seeing how technical teams operate, standups, meetings, how all that stuff works in the 'real world'." - Tom
"I'm expecting to find out more about how PaperCut manages themselves as a startup that's growing into a larger company overseas." - Benji
"Looking forward to seeing exactly the processes they go through, and what sort of insights they can give for my future career in computer science and data science." - Isaac
The first activity for the day was to join our team's [standup](). This was actually the students' first standup, so it was a great induction to the day-to-day life of a software engineer.
This was followed by Senior Product Engineer TJ giving the students a deep dive into how our cloud-native solution, PaperCut Hive , and its Edge Mesh architecture works.
After this, we performed an old-school, Agile [retro](). This was another first for the students, but they didn't shy away from utilizing their newly acquired cloud and networking knowledge (thanks TJ). They were quickly adding sticky notes to the whiteboard like a bunch of veterans!
Lego and CEO face-time over lunch!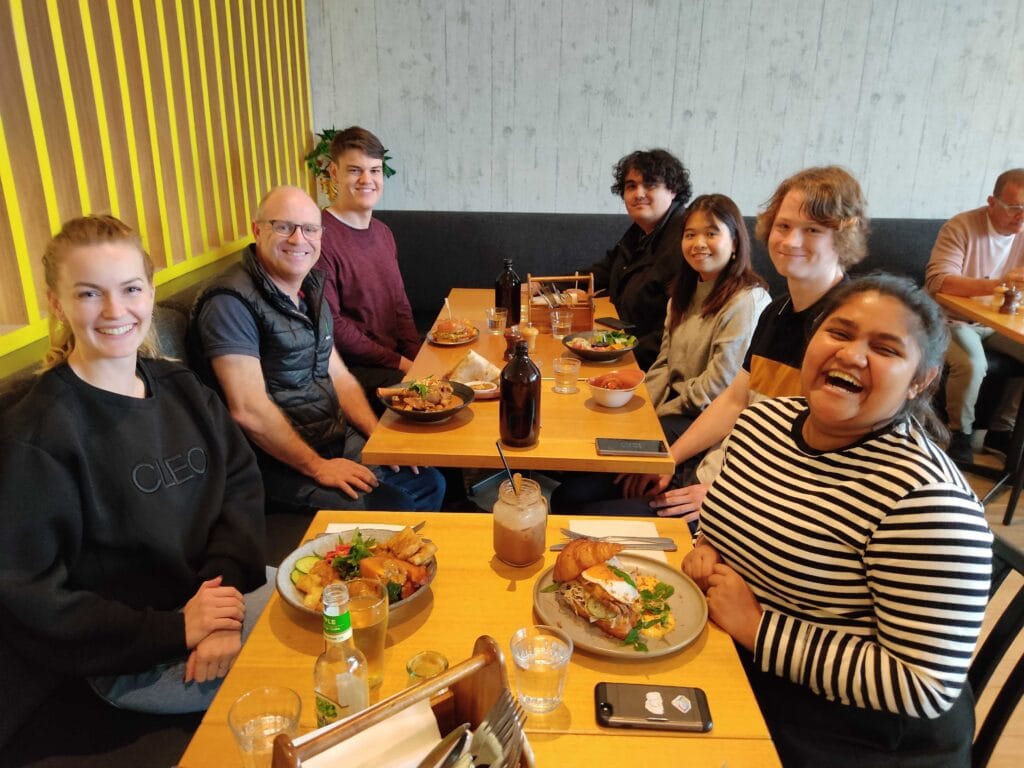 Lunch at Infuse in Camberwell: (left to right) Head of Talent Laura White, CEO/Co-founder Chris Dance, Tom, Isaac, Nayli, Benji, and Associate Product Engineer Milindi Kodikara
The middle of the day was marked by an enthusiastic trip to our Lego room. You read that right, we have a Lego room. What's a Lego room? A meeting room… with Lego! Yeah, the students were pretty excited about its existence too. They celebrated by creating an RMIT logo.
After all that excitement, it was time for lunch with our CEO and co-founder, Chris Dance, and our Head of Talent, Laura White (who was one of the judges in the RMIT hackathon). The students really appreciated the undivided attention of Chris for a solid two hours - and he relished a new audience for all his jokes!
When the students returned to the office, after their second round of coffees, we checked in to see what the day had offered so far…
"__We got a sneak peek into how print jobs are done via the cloud, which was more complicated than I thought it was - lots of gateways. As I'm in my first/second year, it was interesting to know all this information, considering that I don't have any background in networking." - Nayli
"We've witnessed a few [Agile]() ceremonies. We witnessed a retro. We got a good overview of the PaperCut Hive platform. It was really good to see an actual use-case of microservices/mini services, a complex cloud structure, and how that ties into a mesh deployment, how that's working in a real production environment, and a business use case. - " Tom
"It's been good having an idea of what sort of technology goes behind the PaperCut platform. How it is able to be used for print management, both for the case of security, for resource management, and for environmental usage. Printers do consume a lot of energy and they're making sure that it is used responsibly." – Isaac
"I've learned a lot about just how PaperCut manages work schedules and how they're doing the infrastructure with PaperCut Hive's Edge Mesh, which is very interesting. I know a lot about Edge computing, but I've never seen it used in a practical example before. So it's really interesting to see it being put into practice." - Benji
High-level problems, culture, and Jurassic Park
With everybody adequately fed and caffeinated, it was time for another whiteboard session. This time it was an actual work in progress. The students got to see Simon work through a high-level problem. Again, not backing down from a challenge, they had some strong suggestions for solutions!
With the whiteboard done it was time to introduce Nayli, Tom, Isaac, and Benji to PaperCut culture. We quickly waved goodbye to Justin before he logged off Google Meet, then Simon and I walked the rest of the students around the office, introducing them to different teams. This gave them a chance to see how other parts of the business work, like marketing and design.
The day was all capped off by our famous Friday drinks, where the students were again joined by CEO/co-founder Chris Dance, and other PaperCutters, to talk software, coffee, and how many Jurassic Park films we're up to - it's six!
Before we said goodbye, we asked them all for their highlights:
"It was nice getting some insight into how printers work. What sort of tech stack they have in order to allow PaperCut to be the kind of printer queuing system that it is. And the new innovations they're bringing to printing in the cloud." - Isaac
"Everyone's been super friendly. The office environment is great. Obviously, a coffee machine downstairs would be great to work next to. Lots of different rooms, and environments. It's quite interesting to see a new office environment that's not your standard cubicles, and boring. It's actually exciting and gives people opportunities to collaborate and work together as well." - Tom
"A highlight was definitely being treated for lunch, and also this coffee right here. I brewed it myself - my first time doing it. It was scary. The milk frother was scary. So I do like that they kind of give you perks to being employed here. As in, you do get barista training. I don't think a lot of workplaces offer that kind of thing." - Nayli
"I was pleasantly surprised that the CEO, Chris, was very technical-minded. He was very fun to talk to. I had a lot of fun learning from him about how PaperCut began as a startup and grew exponentially from there." - Benji
With tears in our eyes, Simon and I bid the GreenSnap team a wave goodbye and demanded they keep in touch with us as they progress in their technology careers.
Curious about life at PaperCut? Check out our Careers page.
Read more about students at PaperCut: