I spent the last week working from our main office in Melbourne. I live in Portland, Oregon and this is my second trip to Australia to work with the team here. The trip had been planned for months, and I'll have to admit that I wasn't really looking forward to the 13 hour flight or living out of a suitcase. I'm not much of a road warrior. Once here it took me a while to recover from jet lag and get my bio clock realigned. On my first work day I only made a little progress on the goals that I had set for the trip.
[caption id="attachment_1658" align="alignright" width="300"]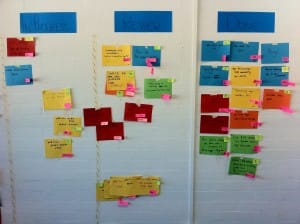 The Melbourne Office Kanban[/caption]
Steve, our Partner Alliance Manager joined us from Sydney on Tuesday. We spent most of the day flowcharting our sales and distribution channel partner strategy. That and the ever changing Melbourne weather gave me a headache that had me limping back to the hotel at the end of the day instead of socializing with the team as I had hoped to do. As I rested in my hotel room that night I wondered if the trip was going to be worth the expense and inconvenience. The following day was much better. Steve and I finished up the channel process flowchart, and I went out for beers with Tom, Hendrik, and Ian after work. Things were back on track.
On Thursday I watched the team go into action birthing release 11. 6, better known as the iPad Printing release . We don't have pointy haired managers or project team meetings at PaperCut –instead we use the Kanban method of project management. For PaperCut that means pasting colored pieces of paper on a wall and moving them through stages starting with concept and ending with completion. Everyone on the team stood in a circle and each of us reported the progress of the previous day as the papers were moved from "Review" to "Done". The build was completed by Tom and Chris in the late evening hours in order to keep to our policy of not posting new releases on Friday.
Thursday night I went to an art museum opening with Hendrik and met several of his artist friends. I really enjoyed that. The experience kicked my creative juices into high gear. On Friday, I was able to finish the tasks that I had planned, and we all got together for the Friday Christmas dinner.
Saturday was my one play day in Melbourne. We spent the day in the Yarra Valley at Healesville Sanctuary, a beautiful wildlife park that houses some of Australia's most interesting animals. We finished the outing with lunch at the Chandon Winery. I spent the evening dining with John and Christine the anchors of our Customer Service team. They keep the orders and licenses flowing to the resellers and customers in the 60 countries where PaperCut supplies print management solutions.
I had a great time overall and left with a few new insights that were not on my list of stated goals:
Steve is still a rock star. Sure, he stopped touring years ago, but he doesn't skip a beat synchronizing our development and operational teams with our business partners globally. That's not an easy gig.
I saw a different side of Hendrik. He introduced me to an eclectic group of artist, complete with a personal tour of the backroom of their gallery in downtown Melbourne. I wouldn't have guessed that he had mates with such a different background. We had a great conversation about art and psychology over dinner that expanded my thinking, and my view of Hendrik.
Face time is important. I experienced my team mates in a way that can't be done via chat, email and phone calls. Thanks to everyone that invited me into their space and took time to share with me.
Finally, my brief time with Chris helped me to focus on what I need to do to fulfill my role at PaperCut. My job is getting PaperCut into the hands of everyone in the Americas that can appreciate its benefits. The message that I took away from the meeting with Chris is summarized best in a quote that was shared with me by the traveler that sat next to me on the flight from Sydney to San Francisco:
Ten words of two that can change you If it is to be, it is up to me – William H. Johnsen