Greetings and salutations everyone!
My name is Zak and I'm a 21 year old software dev intern who has been working at PaperCut for the last 8 months. Last year, I was in my 3rd year at Swinburne University (and during this time I bumped into one of PaperCut's founders, Chris at a Golang meetup. I expressed my interest in doing an industry placement, and thus began one of the most interesting adventures of my life.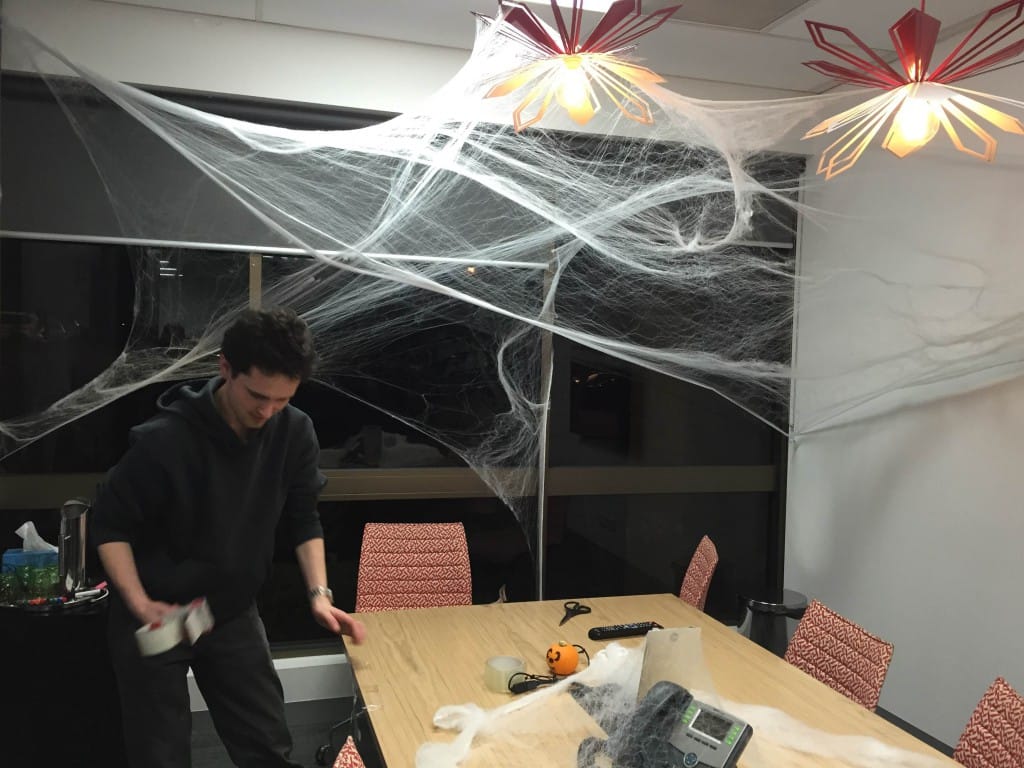 Another day in the office, getting ready for Halloween.
A move to the big city
PaperCut was my first full time role and required me to move out of home from the country to Melbourne two hours away. As you could imagine this came with some very new and interesting challenges. With no two hour commute to uni every day and little to no homework, I was left with a lot of free time. I was finally able to pursue some of my hobbies that I'd put on hold for a while like playing guitar and Magic the Gathering(it's a trading card game). I'm also a bit of a gamer and got to play some indy titles like Shovel Knight, Faster than Light, some awesome AAA titles like Elder's Scrolls Online and Monster Hunter 4 Ultimate. I also got to revisit some classics like Baulder's Gate and the Legend of Zelda: Majorah's Mask and in my new spare time, had the opportunity to catch up on TV shows like Adventure Time and Dragon Ball Z, which have been awesome.
A foodies tour
As a student who grew up in the country I was never really adventurous when it came to food options. This all changed when I joined PaperCut. Travis my awesome team lead encouraged me to try new things. This lead me to making some amazing food discoveries like Korean BBQ and Japanese ramen. I also now have a new appreciation for burgers. Despite all of this, PaperCut still hasn't converted me into a coffee addict, at the time of writing I have only had 3 coffees since I've been here. (including the Barista training I went to, hey at least I can make you one if you're ever in Melbourne).
It's not just coding
Anyway, about the work. I started on a curve of huge growth this year and as a result, we have overhauled the development process by introducing Scrum based workflows. This has been amazing as it's given me an opportunity to be apart of the successes and failures and really cement some really handy knowledge through first hand experience. My coding chops have also increased and I have gained a new appreciation for writing unit tests and functional programming.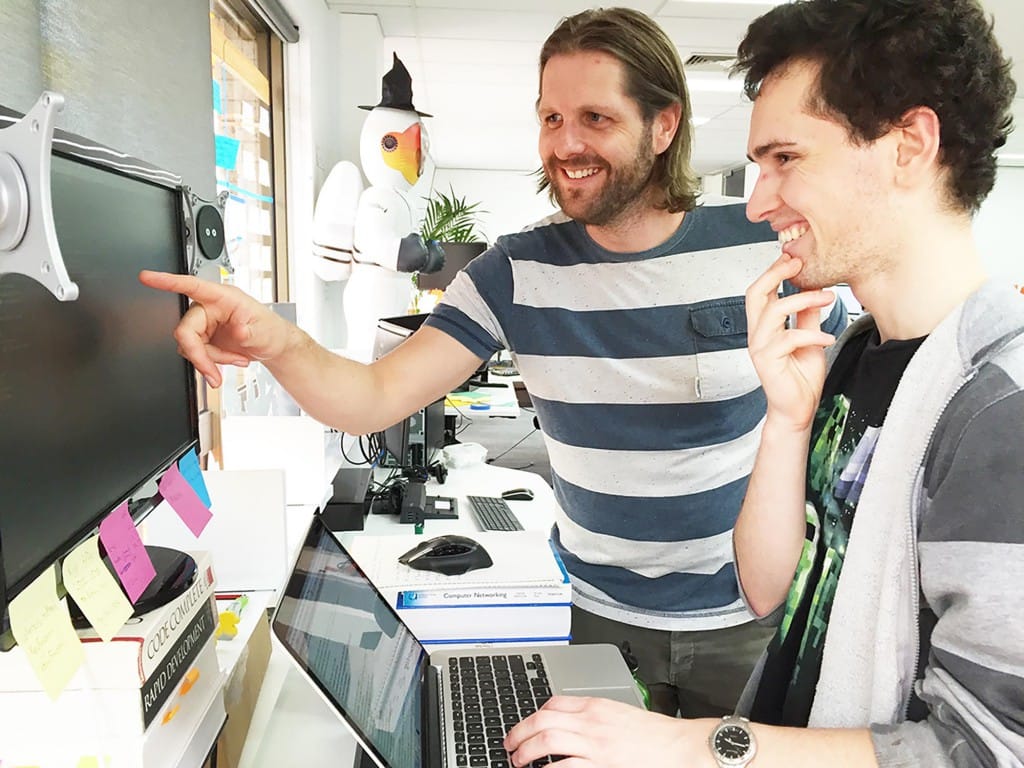 Hard at work with my mentor Travis Baker.
PaperCut has also taught me some very useful life skills. Like how you shouldn't bring a slinky to a global meeting (with everyone in the company) if you want people to take you seriously. Another big lesson for me was learning how to accept that sometimes I actually don't know everything noob and I should take ownership of this and focus on personally growing in those situations rather than getting all defensive and egotistical about it. Hey I'm Gen Y after all!
The finale
So… this is starting to drag on so I'll leave you here with a nice fun story of how I:
left my mark on the company
up set my boss, and finally
became the laughing stock of the Melbourne office and earned the nickname "deuce".
So to set the scene I was in the global meeting which is usually held at 9.30AM on a Wednesday every other week. I had literally just arrived at the office and walked straight into the meeting room. The meeting went really well by the way, it involved Chris and our other co-founder Matt talking about the company's short and long term plans, and really defining our vision and identity - really inspiring stuff I might add. I was so in awe that I didn't even notice that I had a massive dog turd stuck to my shoe (well at least I hope it was a dog turd). Anyway moving on. So I left global and made it all the way back to my desk and started having a design discussion with Daniel (another awesome dude on the Espresso team). It was about this time that Travis discovered that it was me that brought the turd into the global meeting room that he stood in. At that moment I became the victim and the criminal. I was made to clean the shoes, and also make a map of the office that identified where all of the poo stains in the carpet were located for the cleaners. Ha, a day in the life of an intern!
Regards,
Zak (AKA DEUCE)