We have announced the winners of the Edugeek competition ; a competition to come up with the most creative use of PaperCut's print scripting.
I have not seen a more comprehensive winner since the All Blacks won the 2011 Rugby World Cup. Much like the final, there were only two major players; one of them had to win. Jack from Melbourne did an amazing job at making a script, even included a JSON Library!
Jack even commented "It's a bit over engineered, but it wanted to play with JSON". With the geekiest script I've seen in a while, it had to be the Edugeek winner.
Michael on the other hand, had a rather devious script that was used on unsuspecting students which made students guess a number out of 10. If they get the wrong number, their print job is redirected to a random printer in the school and they're told to go find it…Evil person…I wonder what he could do with Raspberry Pi….
[caption id="attachment_2362" align="aligncenter" width="394"]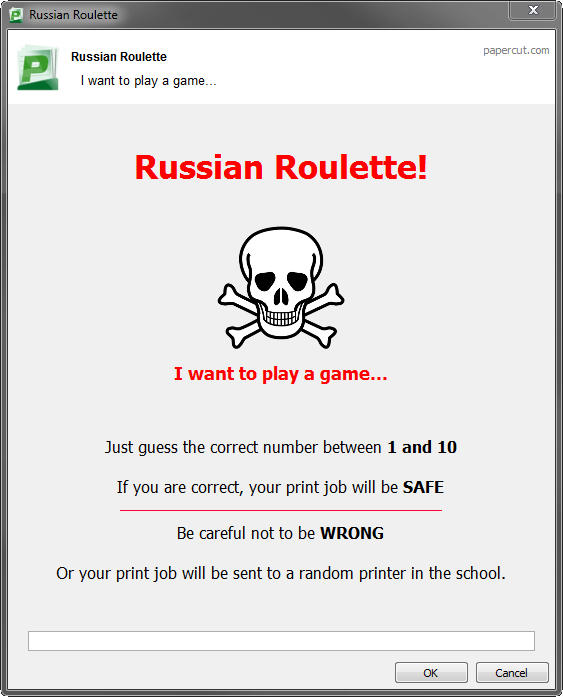 There is a one in ten chance you will see this screen.[/caption]
Now the next problem is what we're going to do with our third Raspberry Pi!…After carefully consideration, we've decided to give it away to a good cause. We found a group in Sydney that is looking at educating students on the uses of Raspberry Pis. Feel free to have a look at their website here: OzBerryPi . It looks like it will make it to a good home.
1st place: Jack
2nd place: Michael
3rd place: OzBerryPi
Thanks for all the fun. We would like to thank the Edugeek community and sorry about the Rugby World Cup joke, I'm sure England will do better in 2015 :)