[caption id="attachment_3305" align="aligncenter" width="800"]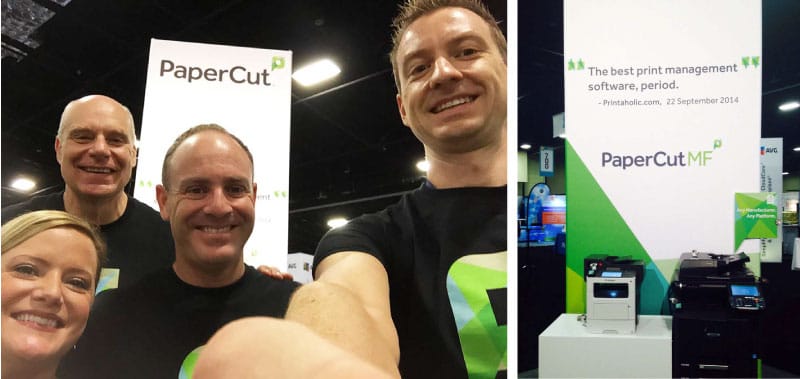 That's the team, pictured left to right: me (Desha), Joe, Chris, Damien.[/caption]
Just back in the Portland office from a whirlwind week at ITEX 2015 in Fort Lauderdale, my first trade show for PaperCut.
I'm used to communicating with our partners and potential customers, responding to sales questions is a big part of my day, we have a lot of moving parts. So how different can a trade show be?
I've been asked to write down some thoughts under the title of "Diary of a Trade Show"! I can't help but liken it to Diary of a Wimpy Kid, so will have to throw in some comic relief at the end.
What is ITEX?
So ITEX isn't for everyone.  And I'm not talking about personal taste here, you actually need to be an Office IT equipment dealer, reseller or manufacturer to attend.
Being able to talk to everyone involved in our channel Ecosystem in person is completely different than conversing over the phone or email. We had our  Authorized Solution Center  (ASC) partners from North and South America and resellers from all over - even Australia!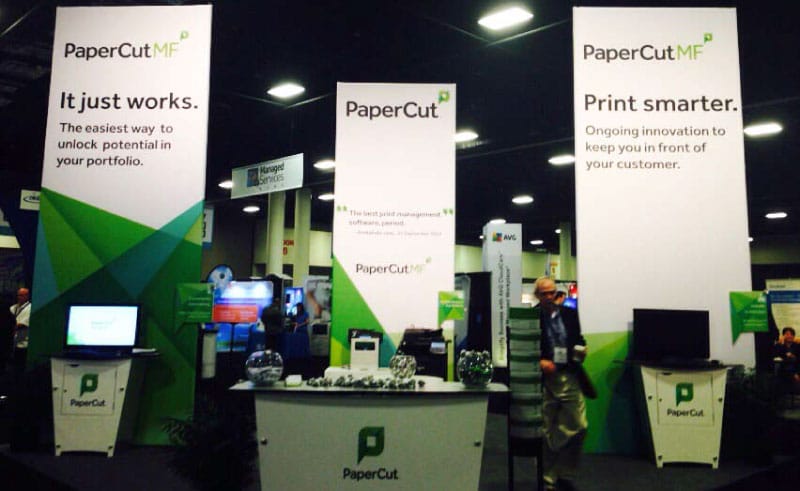 The booth: 400 square feet with 16 foot high walls
Not quite 26 hours travel time but…
Traveling to Fort Lauderdale in Florida took a long time, about 8 hours total travel, with 2 planes and a taxi ride (although I'm sure the Australian contingent of Chris and Damien won't feel too sorry for me, 26 hours from Melbourne!). On the show days, I managed to soak up the Florida sun by walking the short distance from our hotel to the conference center.
Setup, the day prior
As you can see, the booth was no mean feat, 400 square feet of space with 16 foot high walls, ably put together by [Mostre Design]() who developed and delivered our booth concept. Luckily the guys from Aus landed the night before. We got together at our hotel in the morning to chat about the show and the setup schedule. Thankfully, Maria in our marketing team back in Melbourne had pulled it all together. She took care of just about everything! I just had to keep track of the delivery of our booth items once I arrived at the conference center. Damien got busy and setup the PaperCut MF demonstrations with the [Kyocera]() and [Lexmark]() multi-function printers supplied by two of our ASC partners, [ecoprintQ]() and [ACDI]().
The day ended with a lovely cruise along Fort Lauderdale's beautiful Intracoastal Waterway, where we almost spotted some Hollywood royalty, sailing past one of Steven Spielberg's homes!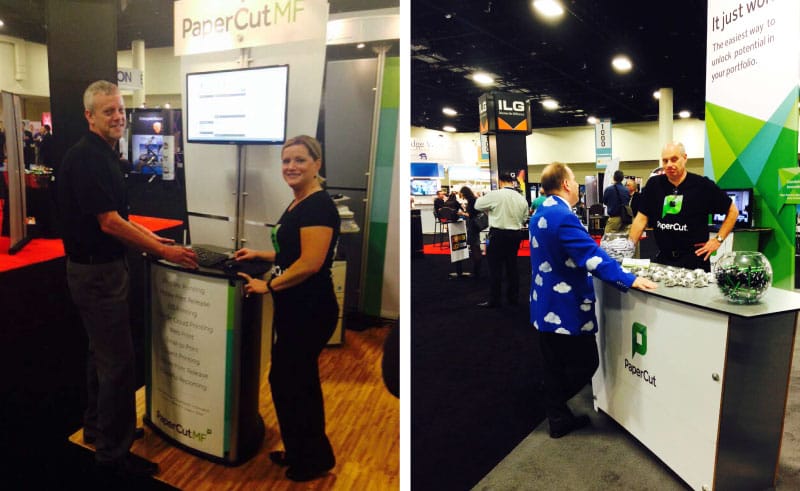 Talking to partners and other exhibitors. At right, they win the cake for loudest jackets!
Opening day - energy to burn
People were so excited to be there, it was electrifying, and busy! Damien and Chris were charged with tech talk, while Joe and I provided sales support, and the meet and greet 'entertainment'.
Our event space really stood out, coupled with many of our channel partners representing us on their own booths. One reseller commented that the entire event looked like a PaperCut show!  We felt like celebrities, everyone noticed the shirts and recognized where we were from.
Resellers who currently don't have PaperCut in their portfolio were interested in how they join us . We spoke to lots of partners about our channel model and software and how it just works.
Day 2 - almost the end of the journey
Being an Australian based company, we had some very cute koala soft toy giveaways - they're always popular, with resellers grabbing bunches for their offices and kids! Everyone loved them. Prospective new resellers were pleased to receive USB flash drives with our free 40-day trial of PaperCut NG.
There was so much going on at the show. The most noticeable aspect was what people were wearing at some of the booths. We had some envious looks at our cool t-shirts, I even had a few cash offers to buy mine! There was a magician and his booth mate dressed up in a sunshine costume, and the most standouts were blue jackets with white clouds painted all over them.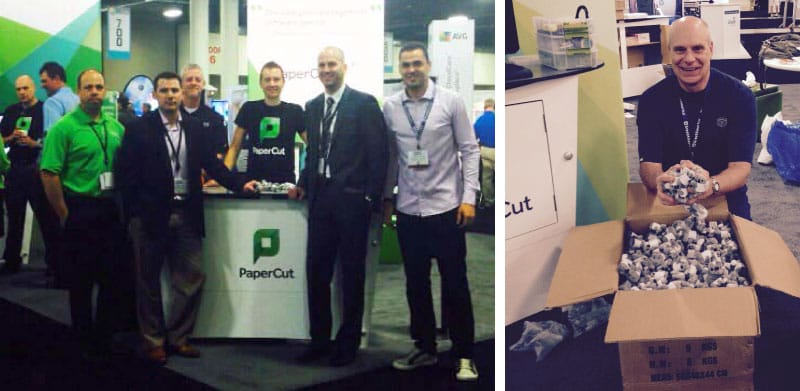 Left: Some of our Americas ASC partners. Right: Joe and our koalas
It's a wrap
Overall, I'd say that resellers were very impressed at the resources and knowledge sharing on our stand. Demonstrating the newly released PaperCut MF v15.1 made everyone who saw it eager to try it. The power of the free  40-day free trial can't be dismissed!
We were fortunate to have our CEO and Co-Founder, Chris along with Damien, one of our Application Engineers over from our Australian HQ, making our tech expertise second to none. Combine that expertise with Joe and myself, who know the Americas market and channel, connected all the dots for resellers.
I'm looking forward to the next event in the US that I can be a part of. If you missed us at ITEX and are interesting in becoming a PaperCut Reseller, visit our ITEX 2015 site .
And a little fun…
The funniest moment would have to have been watching Damien try to order coffee in an American coffee shop on the first show morning (they just don't do Starbucks in our Australian office as they have the luxury of an in-house espresso machine and everyone being trained baristas!). As most American's know, you can customize everything when you order.
I stayed at a table to keep an eye on our things and Damien attempted to order coffee for us. He wasn't prepared for a simple order turning into questions about sweeteners, milk choices, and all sorts of other things. Yelling out across Starbuck's didn't help so I came to his aid and talked the 'local language'.
Guest author: Desha Sorlien, Americas Pre-Sales Specialist