If I think about what really drew me to PaperCut, it'd have to be our software's awesome potential to reduce waste globally.
So discovering that our earth-loving values extend to sustainable practices was terrific – and a real motivator to do my part locally.
That's why I started up composting, right here in Portland!
Getting the sustainable ball rolling
As a certified Master Recycler in Portland, I'm always interested in looking for ways to manage resources and cut waste.
We take part in the city recycling program, and our office does a great job collecting and recycling all glass, aluminium, paper, and (allowed) plastics – like milk jugs, which we burn through thanks to our espresso bar!
But I was bummed out to see coffee grounds go into garbage bins, and fruit scraps/lunch leftovers sent to landfill.
Our city provides residential composting pick up, and I know many Portland businesses participate in the commercial collection program. So why couldn't we do the same?
I set out talking to the other tenants in the building, and it turns out they were really excited about us looking into composting. We were on!
Portland City + PaperCut = results!
With our roomies more than on board, I put the idea to our office admin, who suggested I get in touch with the property manager directly.
But first, I decided to check in with the City of Portland's Bureau of Planning & Sustainability to see if they had any hot tips. Not only did they have heaps – they were all for it.
Their super informative website helped me draft a message to the property manager and sell in just how easy – and beneficial – composting would be. Fast forward six weeks, and our compost bins were delivered!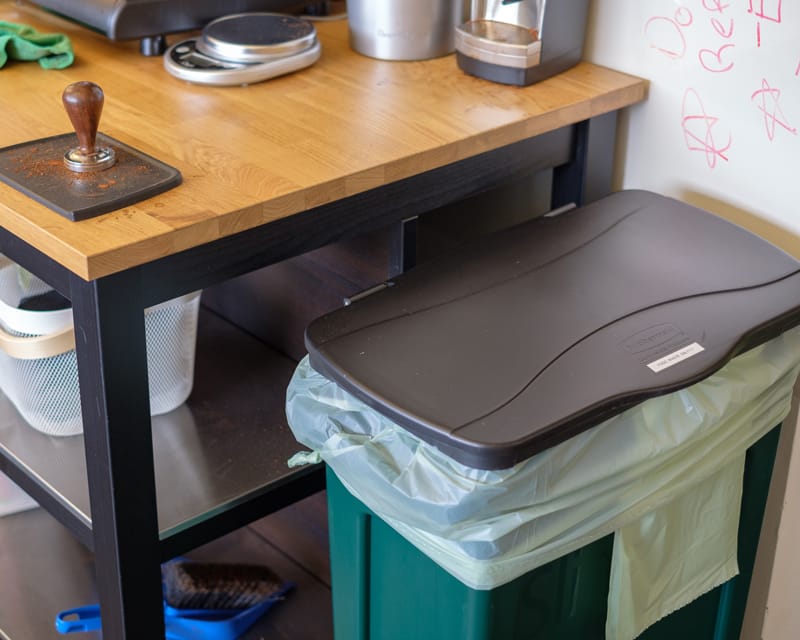 Where we're at now
We've been composting for a month now, and it's going beautifully. It's also empowered us to re-educate on recycling dos and don'ts, like what's allowed in each bin, etc.
We've even had interest from one of our devs who's dying to get those coffee grounds into his home garden. With any luck, we'll be enjoying some of his compost-enhanced veggies at our company picnic!
My top five tips for composting at work
1. Get the green light
Before getting compost-happy, talk to your management to make sure they're open to the idea!
2. Collaborate on collections
See if your property manager can add compost pickup to garbage collection, and pull some quotes together to get internal approval for any extra charges. Speak with neighbouring food businesses to see if they're willing to share their pickup, too.
3. Leverage having less waste
If other tenants are composting, think about ways to take advantage of your reduced garbage output, like getting a smaller bin or having less frequent collections.
4. Label all the things
Make sure all containers – compost, recycling and garbage – in your main collection area are labeled, and clearly outline what can and can't go in. Be sure to put lidded, labeled containers in your kitchen space as well.
5. Educate, monitor, and appreciate
Provide information about the benefits of composting, discuss the compost collection plan with your janitorial staff, and thank everyone involved for their efforts!