PRINT DEPLOY
Print queues

made easy
Get the right print driver and right print queue to the right person in the right location, every single time.
TRY FOR FREE
Life's too short to set up print queues
With Print Deploy for PaperCut MF and NG, installing print queues and drivers goes from time-consuming and tedious to lightning-fast and fully automated.
And that means more time for you to focus on the important stuff.
Plus, because it's a PaperCut innovation, everything happens in the user-friendliest way imaginable.
Easier queues, better business
* Linux and Chromebook support coming soon.
Piece-of-cake print queues for all
The ultimate time saver and productivity booster, Print Deploy is a must-have for print environments with any of the following features:
Multiple locations like branch offices and campuses with limited IT resources.
Mobile users who move between locations and need on-demand access to printers.
Serverless (direct) printing and you want an easy way to deploy print drivers and queues to users.
Mixed fleets of managed PCs and you want an easy way to make them print-ready, no matter the OS or user permission level.
PCs not connected to a local domain like G Suite or Microsoft Azure Active Directory.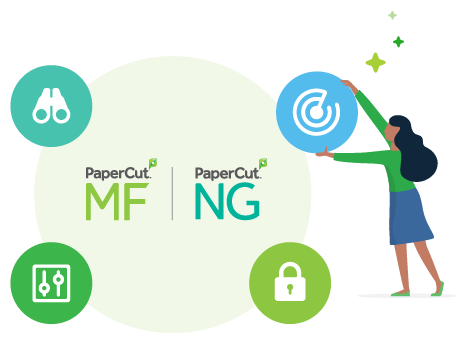 Print management and enablement in one package
Print Deploy sees PaperCut MF and NG add easy print queue deployment to an unrivaled print management feature set.
Now you only need one solution to set up and manage printing, copying, and scanning in your workplace.
PAPERCUT MF
PAPERCUT NG
Like magic for print networks
Drivers install with default settings and capabilities; users sync and authenticate against your databases...
You sit back and watch queues deploy dynamically.
It's enchantingly simple.
VIEW THE MANUAL

Print Deploy with Group Policy

Print Deploy with Intune

Print Deploy with Jamf
More on Print Deploy
Keen to continue learning? Dive into the latest tales, tell-alls, and tidbits in the PaperCut Blog.