PaperCut MF for Lexmark
Take control and manage printing on Lexmark multifunction devices.
Fully featured print management
Calculate, recover and reduce print output costs across your organization with PaperCut MF on Lexmark printers and multifunction devices.
Rules aren't made to be broken
Need to reduce cost and waste in your business? No matter what your network size, it's simple with print policies and rules-based printing to define what is printed, how it is printed and where it is printed.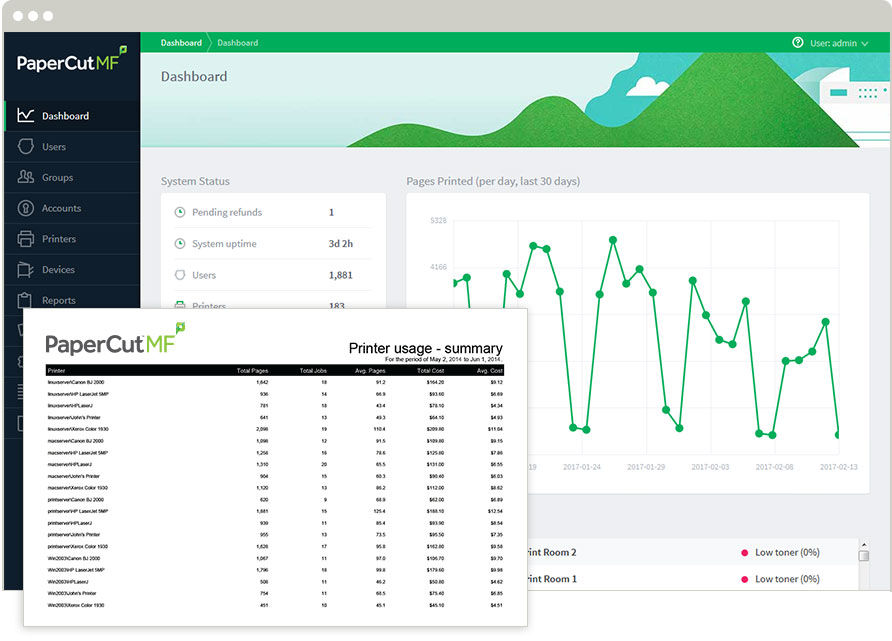 Report usage and costs by page, user, cost center/department, device and function.
Protect sensitive information
Leverage your existing sign-on infrastructure and put users in charge of their own documents with Find-Me printing. Set up printer job authentication for Lexmark login using Microsoft Active Directory, LDAP, or other authentication sources and enable Secure Print Release via username and password, ID numbers and PINs, proximity or swipe card.
Scanning on Lexmark devices
As of release 17.3, PaperCut MF for Lexmark MFPs now offers users an integrated experience with the Lexmark Scan Center solution through the use of a Single Sign On (SSO) process. Once a user logs into PaperCut MF at the MFD and is authenticated, they will be automatically logged into the Lexmark Scan Center to ensure all scan jobs are tracked and costed in one easy process.
Want to experience PaperCut MF?
We'll put you in touch with our awesome partners who help set up and support your unique PaperCut MF configuration. Want a taster of PaperCut right now? Head through to download a trial of PaperCut NG for 40 days, completely free.
Get started
What customers say about PaperCut MF and Lexmark
Sustainability core to University of Regina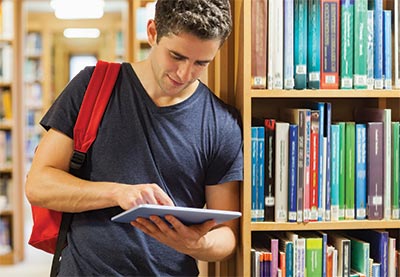 Chargeback printing made easy through the tablet like e-Task™ touch screen panel on each Lexmark device.
"It forces people to rethink printing, and that is reducing paper consumption."
Find your Lexmark MFD model
The following table is an indication of supported models of Lexmark, although newer models may not be listed here. If you are unsure as to whether PaperCut MF is supported on your model, please ask your Lexmark representative or reseller.
Devices supporting LeSF 5.0
Printers
CS921de
CS923de
MS822de, MS824de, MS826de
M5255, M5265
M5270
M622de
M3250
CS622de
C2240
CS720de, CS720dte
CS725de, CS725dte
CS820de, CS820dte, CS820dtfe
C4150, C6160
MS510de, MS811de, M5163
Multifunction Device
CX921de
CX922de
CX923dte
CX923dxe
CX924dte
CX924dxe
MX721ade, MX721adhe, MX722ade, MX722adhe, MX725adve
MB2770adwhe
XM5370
MX822ade, MX822adxe
MX824ade, MX824adxe
MX826ade, MX826adxe
XM7355, XM7365, XM7370
MX822adtfe, MX824adtfe, MX826adtfe
XM1246
MB2650ade, MB2650adwe
MX622ade, XM622ade, XM622adhe
XM3250
MC2535dwe
CX522ade
XC2235
MC2640adwe
CX622ade, CX622adhe
XC2240
CX625ade, CX625adhe
XC4240
CX725de, CX725dhe, CX725dthe
CX820de, CX820dtfe
CX825de, CX825dte, CX825dtfe
CX860de, CX860dte, CX860dtfe
XC4140, XC4150, XC6152, XC8155, XC8160
Devices supporting LeSF 4.1
CS510
CS725, CS820
CX410, CX510de, XC2132
CX725, CX825, CX860
MS610de, MS810de, MS812de, MS910, M3150, M5155, M5170
MX410, MX510de, MX511de/dhe, MX610, MX611de, MX6500, MX710de
MX711de
MX810, MX811de, MX812de
MX910de, MX911de, MX912dxe
XM1140, XM1145, XM3150, XM5163, XM5170, XM7155, XM7163, XM7170, XM5263, XM5270, XM7263, XM7270, XM9145, XM9155, XM9165
W850
Devices supporting LeSF 3.1
C734, C736
C746, C748, CS748
C792, CS796
X792
X925de, XS925de, C920, C925
C950
X543, X544, X546, XS548
X746, X748
X950, X952, X954, XS950, X955dhe, XS955dhe
6500e
Devices supporting LeSF 2.1
X463, X464, X466
X651, X652, X654, X656, X658
X734, X736, X738
X860, X862, X864
T656, T654 (print release only)
Devices supporting LeSF 1.2
X644e, X646e, X646dte
X772e, X782e, X940e, X945e, XC940e, XC945e
X854e, X852e, X8505e
T64x+4600/X646ef
PaperCut makes all attempts to keep the product compatibility information on this website current. However, we make no warranties, express or implied, with respect to manufacturer's products or the interoperation with the listed PaperCut product(s). We offer 40 day trial versions of PaperCut software to assist you with compatibility testing with your network setup.
Take the whole tour
Cool stuff for admins
Cool stuff for end-users
Cool on-device stuff
Embedded MFD Applications