Interactive Scan Destinations
More choice for scanning
Ever wanted your users to enter the destination email address while scanning?
Need your users to enter a fax number, so you can deliver scans through an email-to-fax gateway service?
Want to create fewer scan actions, and empower your users to do things for themselves?
Well, now you can.
We're making the MFD user experience more interactive, saving you time and effort on the back end by giving users more choice on the front end when scanning.
How does it work?
Users can now populate fields within the scanning interface at the MFD touch screen as part of their scan action. The values entered are then used to configure the scan delivery settings.
Want users to enter a fax number, and use it to form an email address for your email-to-fax gateway service? Do it like this: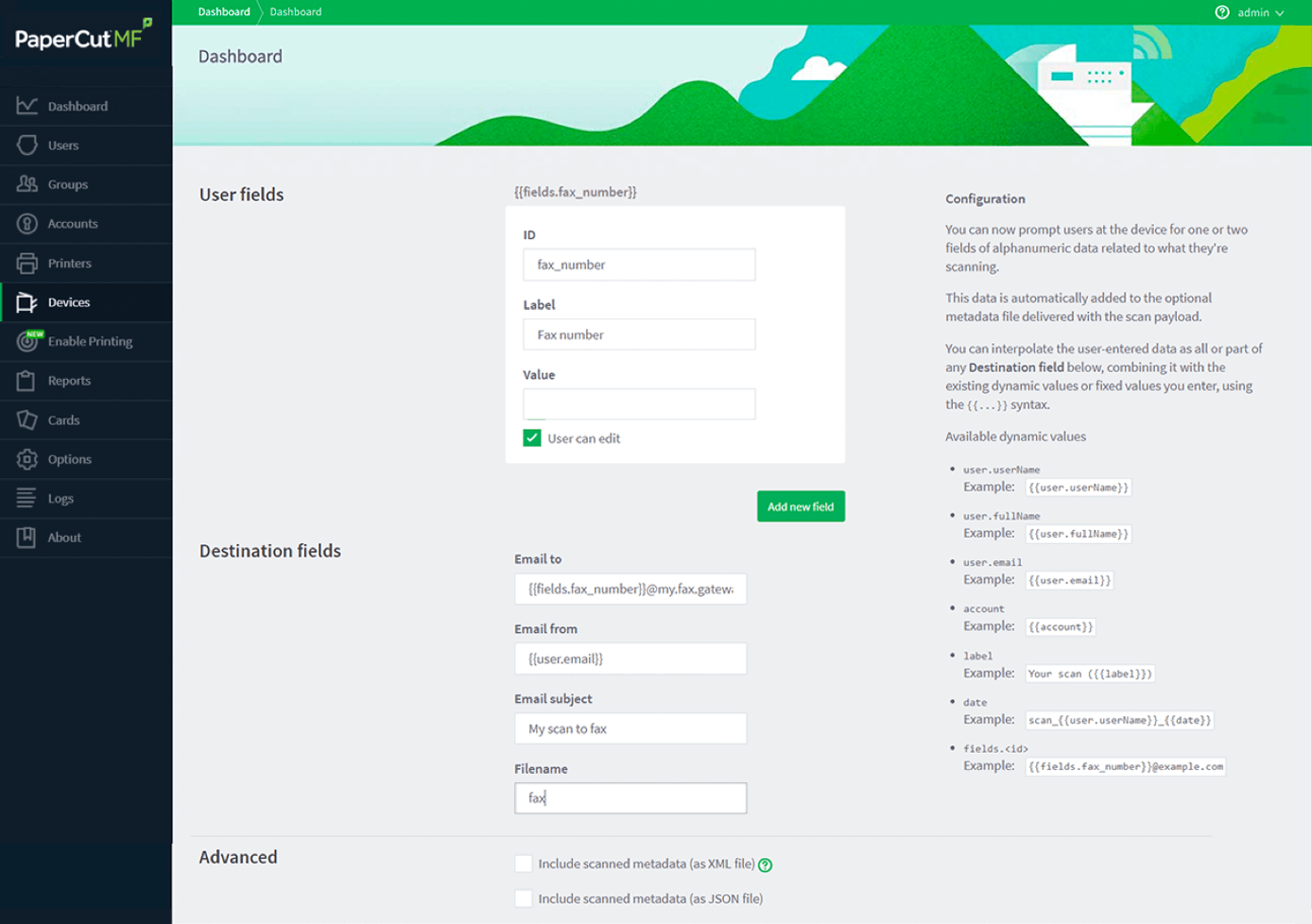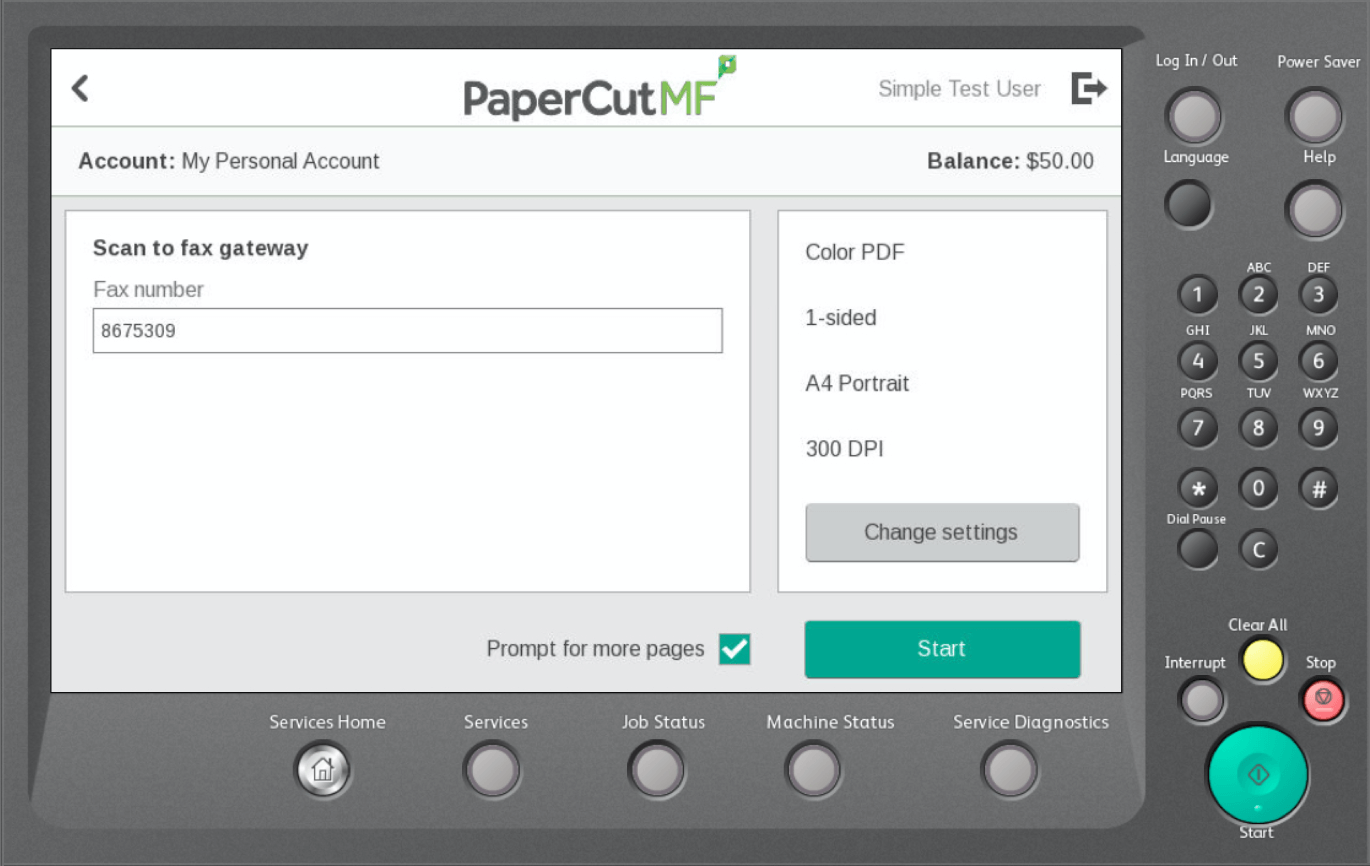 Need to control the sending of email scans to people (in or outside your organization)? You can set set the address domain suffix like this: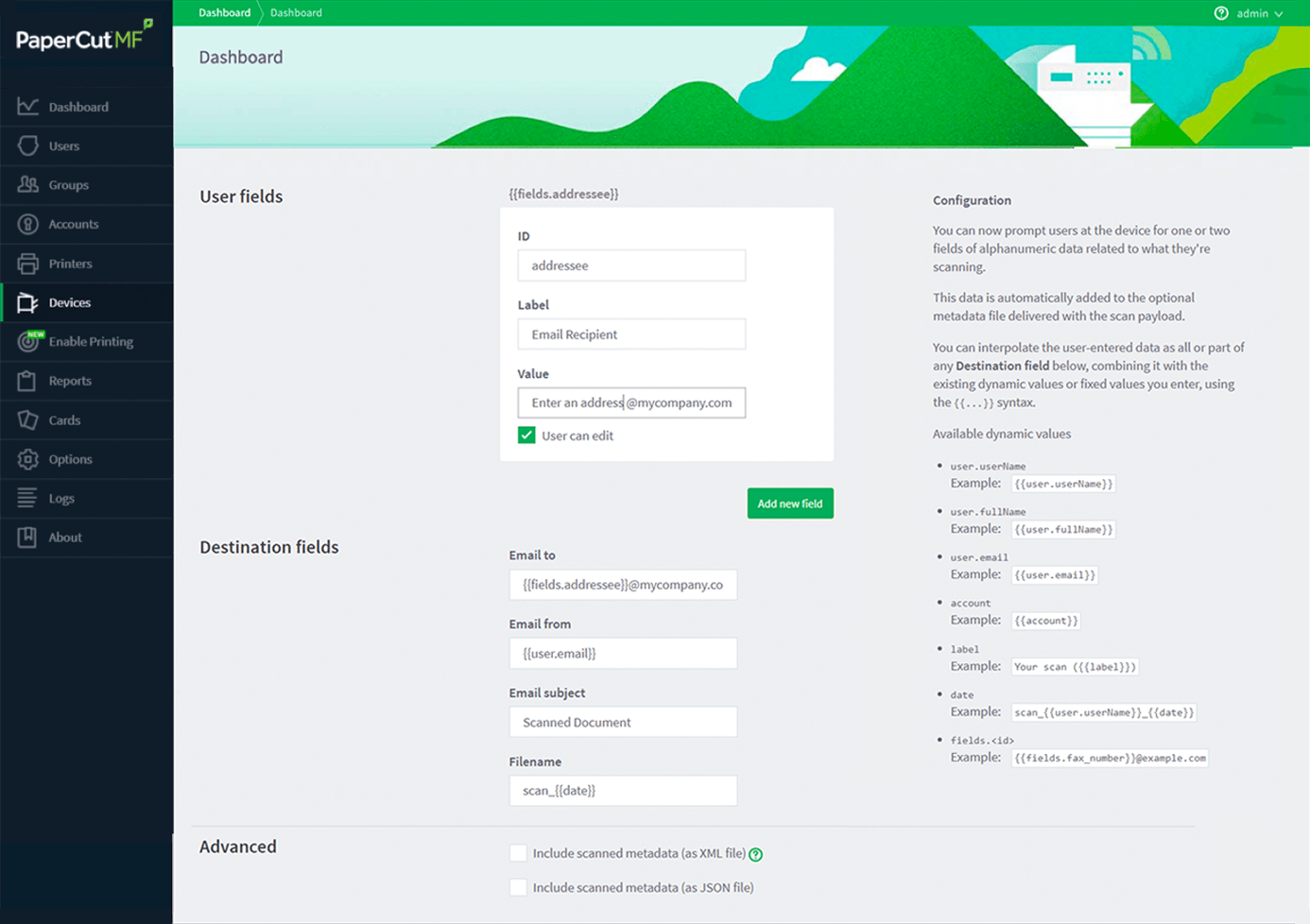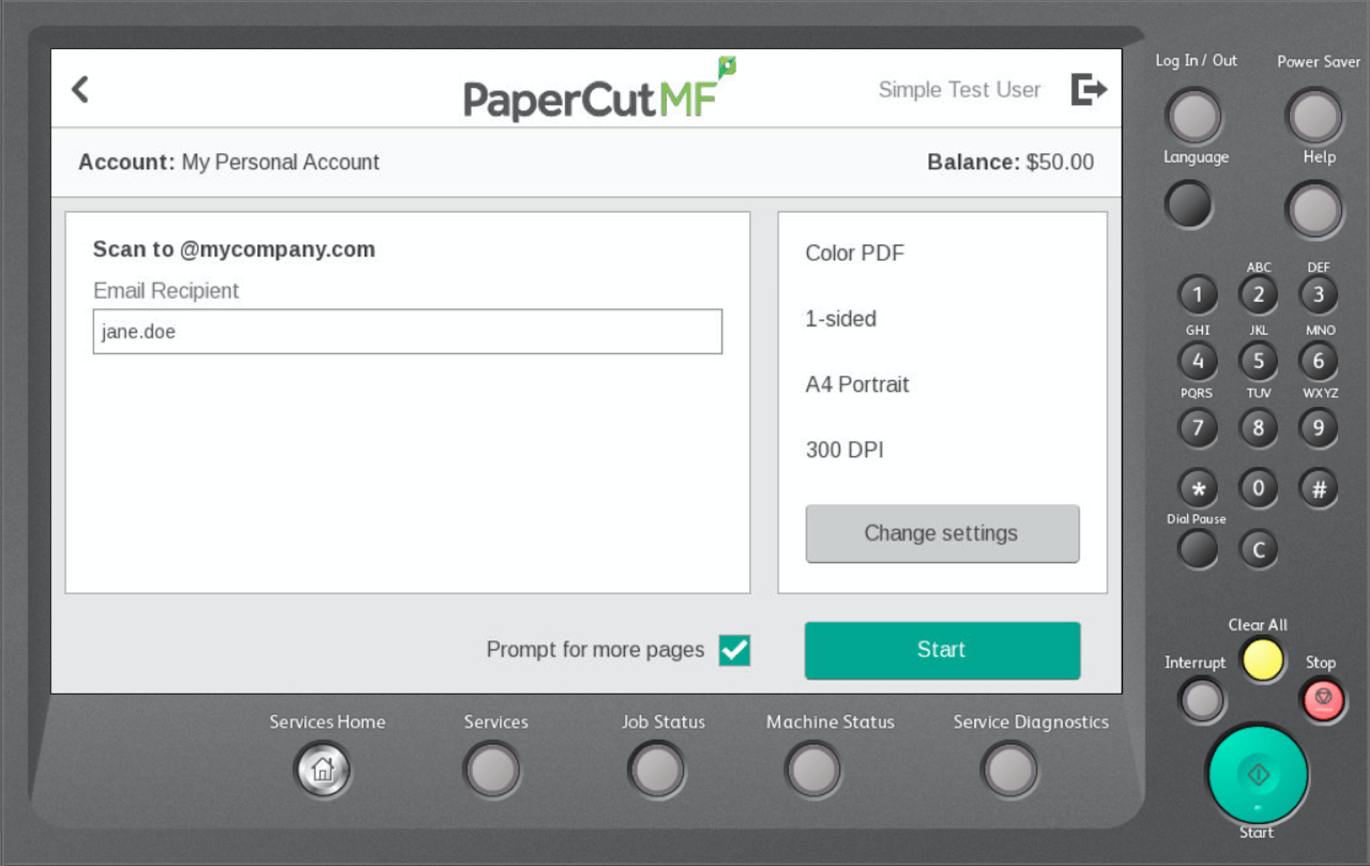 Want to give your users the power to email a scan to anyone? It's simple: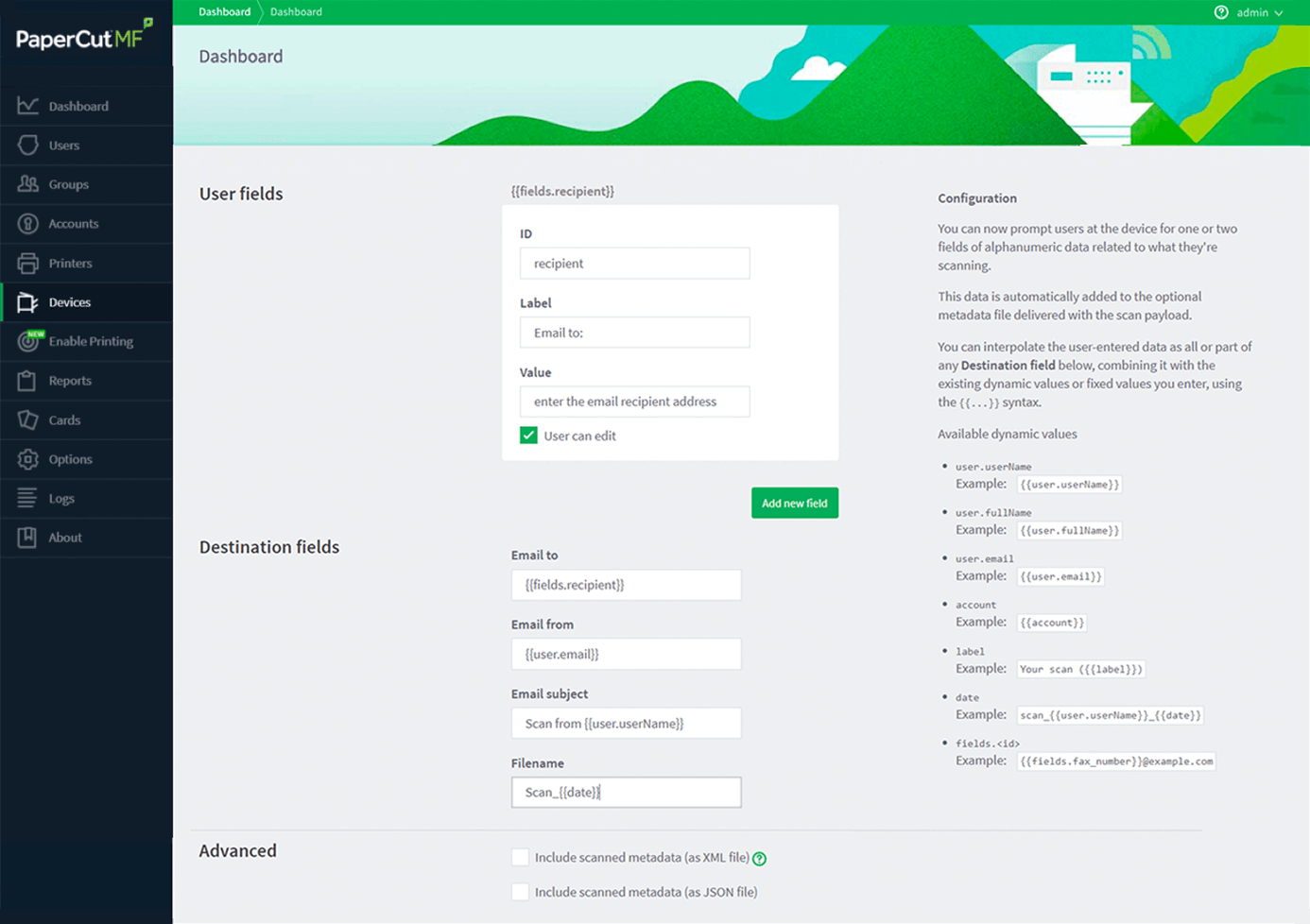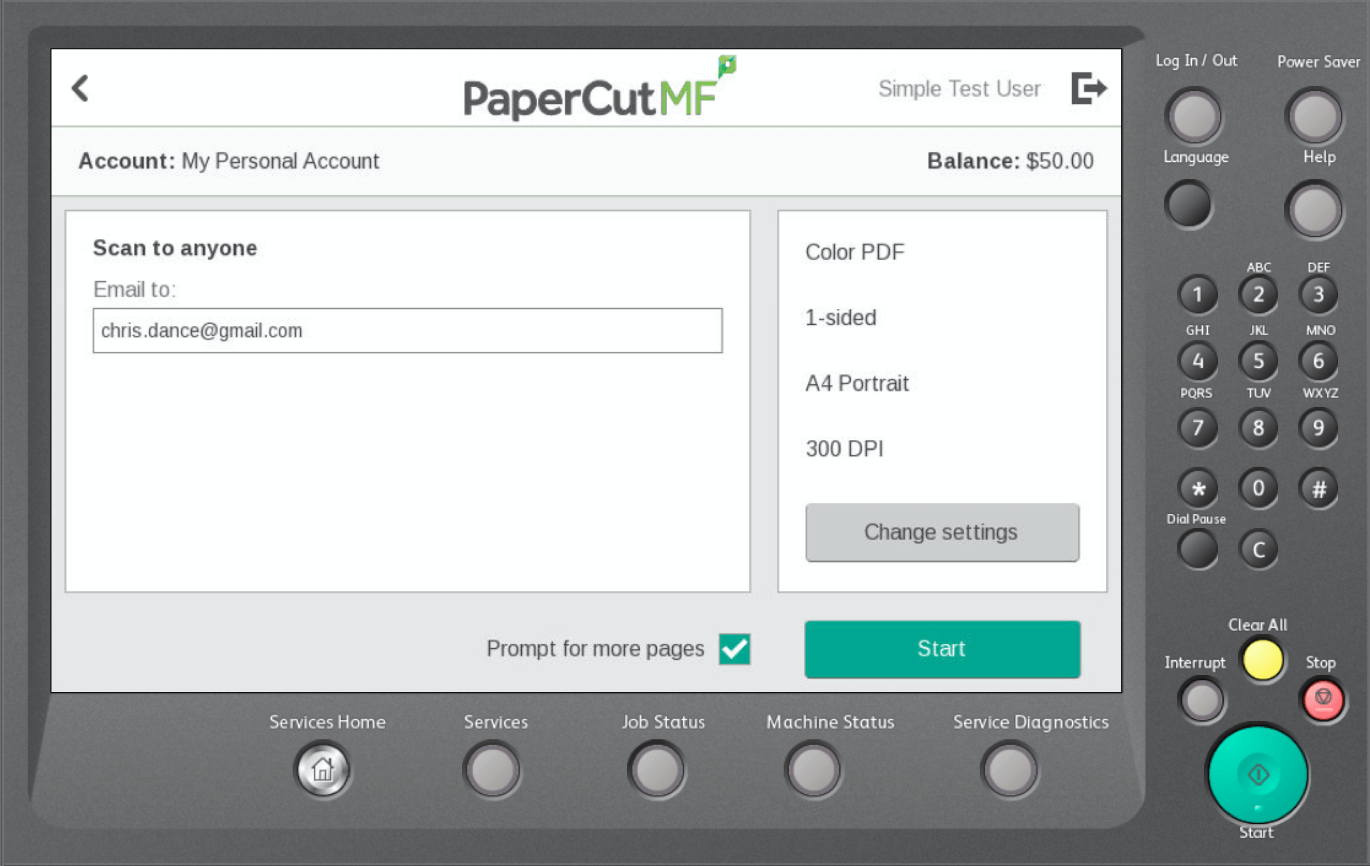 FAQs
You've probably got a couple of questions on your mind right about now. We've done our best to answer the more common ones right here
This is amazing! Why isn't it part of the full product already?
Woah there, cowboy. We know this is exciting, but it does have some limitations that keep it in Percolator for now:
Field validation at the device. We're still working on better ways to handle user mistakes, like putting letters in a fax number field.
Email delivery only. What about network folders and all PaperCut's cloud destinations? Yep, still working on those.
Free text entry only, no sets or lists to choose from. Wouldn't that be handy? Like the middle ground between the admin setting everything and the user having to type everything.
What about security?
The power is in your hands. Users get only as much control as you think they can handle.
Think it's too risky to let users email scans to absolutely anyone? Restrict them to addresses in your own email domain.
Don't want them changing anything about the destination address, but want to have them change the email subject or file name? Cool, you can do that too.
This isn't about taking away control from administrators, it's about giving you the choice to make users do some of the legwork when scanning.
What about site servers?
Currently, the application server directly controls any interactive fields on the MFD.
This means site servers aren't currently supported. Any devices connected through a site server won't be able to display the new interactive fields - yet.
What's up next for Interactive Scan Destinations?
DEC 2019 - YOU ARE HERE
Interactive Destinations for Scan to Email
Give it a try in PaperCut MF 19.2, availble now.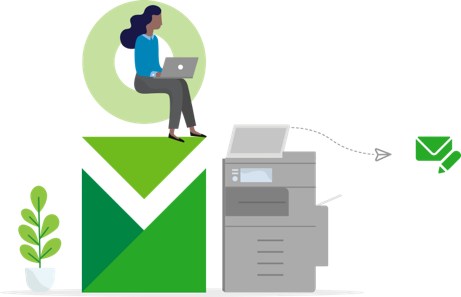 TBA DATE - SCAN TO FOLDER
Interactive Destinations for Scan to Folder
You want folder browsing at the device? This is how you get folder browsing at the device!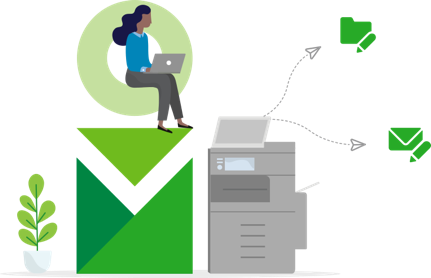 TBA DATE - SCAN TO CLOUD
Interactive Destinations for Scan to Cloud
The power of destination folder browsing for connected cloud services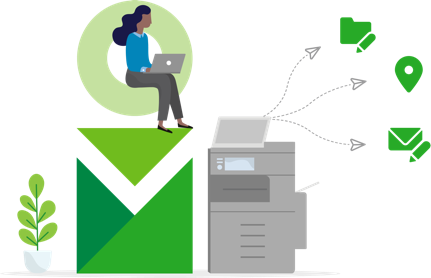 TBA DATE - WORKFLOW
Help us shape where else you want interactive scans to be delivered.
This is a question, not a promise :)
Document management systems?
Workflow engines like Zapier or IFTTT?
School or learning management systems like Schoolbox or Compass?
Legal practice management software like LEAP or iManage?
Somewhere else we haven't even thought of yet?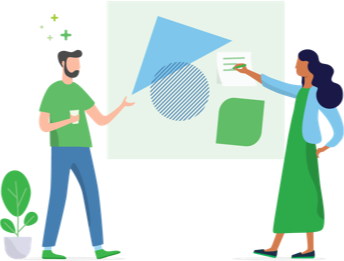 Let us know what you think
Love it? Hate it? Think we're idiots and doing this all wrong? Tell us!
Email us with the form, (no, you don't get to interactively set this destination ;-p) or use the comments section below to tell us how you're using interactive destinations, and what your users think of it. Tell us what you think about the roadmap, folder browsing and potential new scan destinations.
Your feedback will help us iterate and improve on the user experience and functionality, prioritize what we work on next, and help decide if Interactive Scan Destinations is worthy to become a real PaperCut MF feature.

© PaperCut Software International Pty Ltd