PaperCut Hive Reports
Pop on your lab coat and help us bring more valuable print, copy and scan insights into your fingertips.
Have you got MFPs floating around? Want to keep up to date with progress on PaperCut Hive? Interested in being one of the first to try PaperCut Hive reports? Read on to find out about this brew and how to start brewing with us.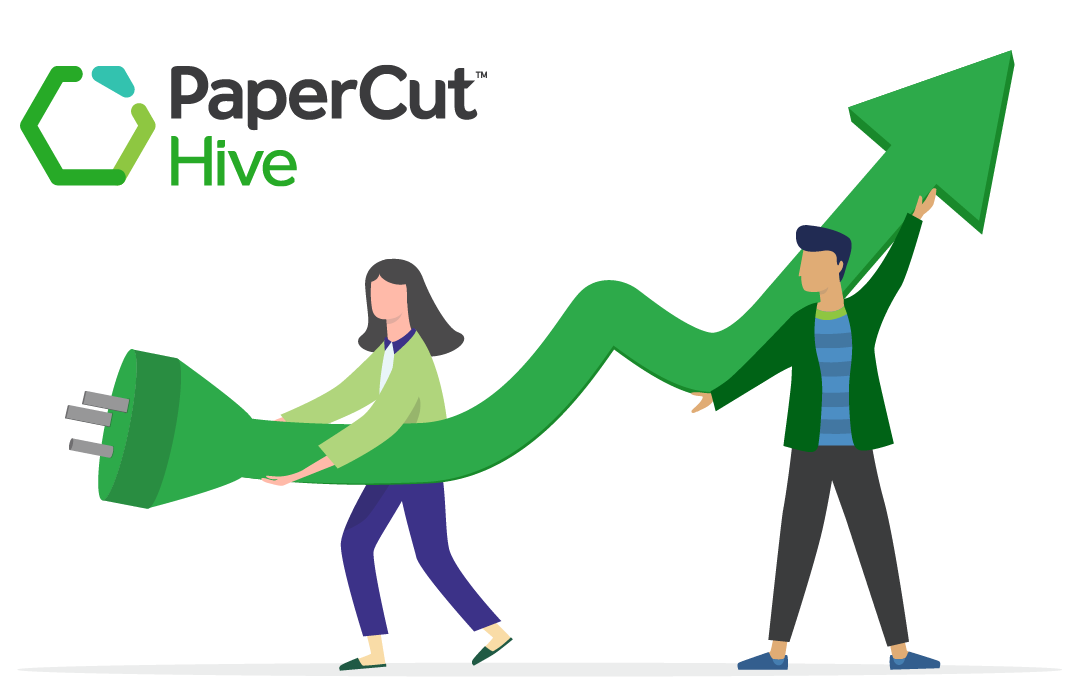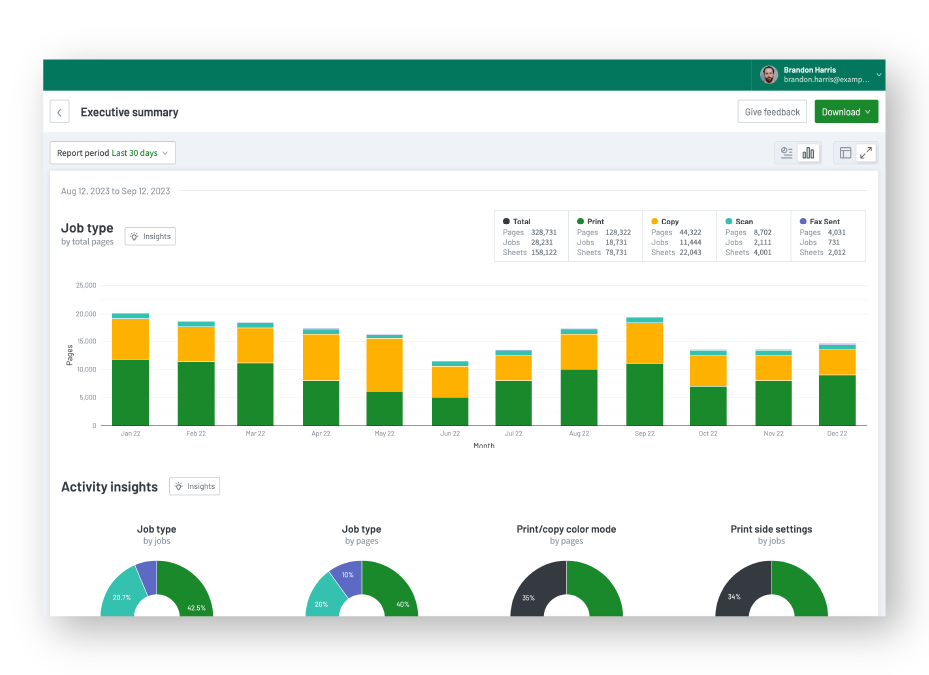 Insightful reports that help save paper and money
Costs associated with print typically represent a significant portion of organizational facilities or IT budget, but it doesn't have to be this way.
PaperCut Hive Reports arms organizations with visualized data and insights to reduce print costs, eliminate waste, change behaviors and maximize return on investment from printer fleets.
| | |
| --- | --- |
| PaperCut Hive Reports | Insights |
| Executive Summary | Monitor the overall printing situation with this quick snapshot of job types, colour mode, paper side settings, user activity, and printer use. |
| Executive summary + insights | All the goodness of the Executive Summary Report with extra insights and tips. Use this version to understand how to use and apply the data to help manage printing at your organization. |
| Job Size | All the information you need about a print job, scan, or copy job - including who, when, and where. |
| Top Users | Understand your users, their activity, and who prints what. |
Are you a passionate person/customer/reseller who is keen to be involved?
Join the beta and be a part of the journey.
Many of you will be happy just reading this page then following the progress. But may be you're in the group that loves new tech, who wants to get a little more hands-on and become part of the team?
Thank you for becoming a part of the team and helping more businesses benefit from print management.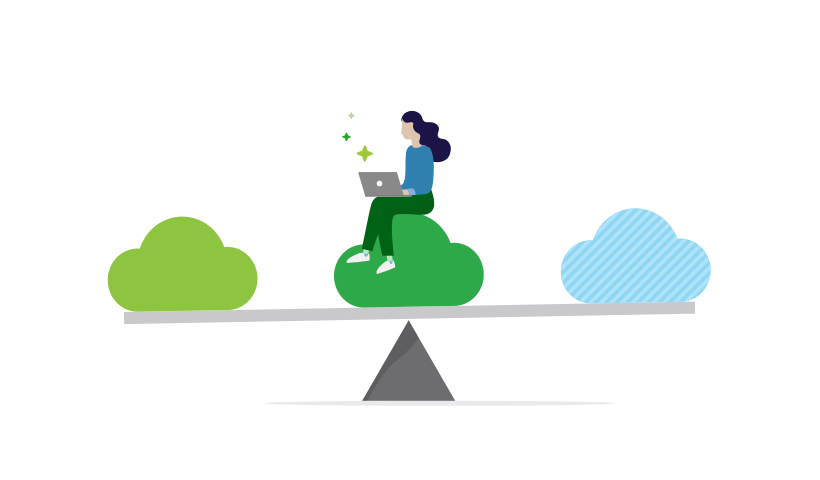 How to join this brew
New to PaperCut Hive? Sign up and a PaperCut partner in your region will get in touch to arrange a PaperCut Hive trial account for you.
Have a PaperCut Hive subscription? PaperCut Hive Report is already at your fingertips. Reach out to your Authorized Reseller to express your interest and we will enable this feature for you in the PaperCut Hive admin console.
I'm a PaperCut partner Use your PaperCut Hive NFR (not for release) account or arrange an NFR with your local ASC.
FAQs
You've probably got a couple of questions on your mind right about now. We've done our best to answer the most common ones right here.
Who can access the beta?
Everyone can! And if you aren't an existing PaperCut Hive customer, you can easily get in touch with a PaperCut Reseller in your region and get started with a PaperCut Hive trial.
What happens after I request to join the beta?
PaperCut will arrange for a PaperCut partner in your region to contact you and set up a PaperCut Hive trial account. If you already have a PaperCut Hive account we will enable this new feature for you. Expect to see a new "Reports" section in the admin online dashboard after you submit your request to join the Beta.
When will the beta end?
The initial plan for the beta period is to run for 1 month starting on 18th of October 2023.
How do I give feedback during this Beta program?
Whether you are new to PaperCut Hive or already have an account, share your experience with PaperCut Hive Reports with this 2 minute Hive Reports Feedback.
What about PaperCut Pocket Reporting?
Both products, PaperCut Pocket and PaperCut Hive, are built on PaperCut cloud-native platform. However, PaperCut HIve brings more value not only with print, but also copy, scan, and fax tracking. So you will find PaperCut Pocket Reports very similar to those in PaperCut Hive except for copy, fax, and scan data.
If I have a technical issue with PaperCut Hive and Reports, what do I do?
In the PaperCut Hive admin console, in the top-right menu select Contact Support. Or you can email us directly at support@PaperCut.com.
I currently use PaperCut MF. Can I run PaperCut Hive at the same time?
Yes. But you need to ensure at least one of your MFP devices can be switched over to PaperCut Hive to help with testing. An MFD can't run PaperCut MF and PaperCut Hive at the same time. Maybe use the IT department's device?
Do I need a dedicated print server for this?
PaperCut Hive is a cloud-native product, and a dedicated print server is not required. You can run this as a true serverless printing environment, and your documents remain local for maximum privacy and security.
I've only just seen this page. Are there any spots left?
We're limited in how many customers/resellers we can take on at the start and high-demand projects mean spots fill quickly. If you apply and our coffee cups are already full, you might miss out. All is not lost though! There's always a chance that "we might need more droids along the way". Just keep an eye on what's brewing in the Percolator.
Can I set up the PaperCut Hive App myself?
Who is best to set it up is ideally discussed between you and your PaperCut Hive provider. The process is relatively straightforward as long as the right options are enabled on the MFD.
Recommendations, complaints, questions – we want it all!