OCR Add-on for PaperCut Hive
Pop on your lab coat and help us brew cloud tech.
Perhaps you need to quickly search for and retrieve documents based on their content, rather than just their name. Or you might be struggling with cloud storage file sizes. Or perhaps you're wasting valuable time manually splitting up your documents.
This Beta may be perfect for you.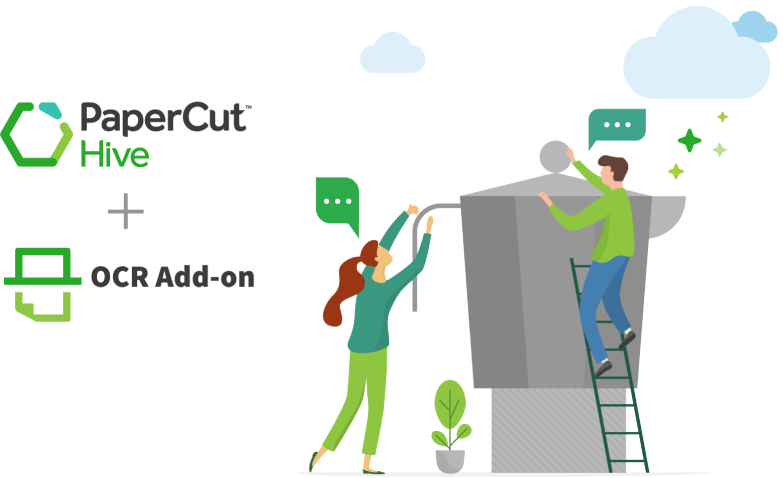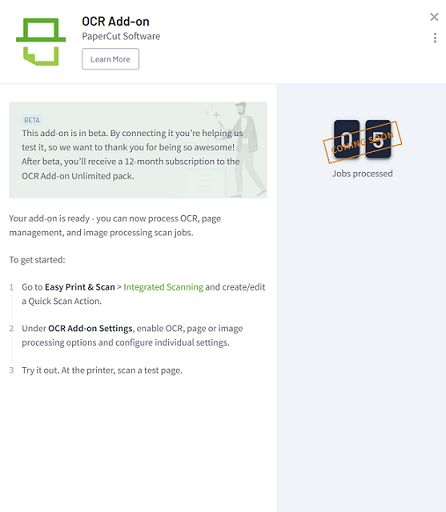 We've been hard at work building a new add-on for PaperCut Hive Integrated Scanning.
This add-on uses OCR (Optical Character Recognition) to turn your raw scans into useful, text-searchable PDFs.
It's so much more than just OCR though. It includes:
OCR (Optical Character Recognition)
PDF/A
PDF compression levels
Blank page removal
Batch splitting after blank page
Batch splitting on page number
Deskew
Despeckle
Under the hood it's more than OCR
Want more details about OCR and the document processing features?
Look no further.
| Feature | What it does |
| --- | --- |
| OCR | Optical Character Recognition adds a transparent layer of text to PDF files to make its text contents searchable. |
| PDF/A | Ensures your scanned documents have long-term archival support in compliance with ISO standards. |
| PDF compression | Provides 3 levels of compression to ensure organizations can find the right balance between file size and image quality. |
| Blank page removal | Automatically excludes blank pages from your scanned document. |
| Batch split after blank page | Insert blank sheets in a batch of documents to output separate PDFs from the same scan job. Great when, for example, a teacher scans school exams for a whole class. |
| Batch split on page # | Takes a batch of documents and creates multiple PDFs according to a specified page count. |
| Despeckle | Removes fine dust particles from the scan file. |
| Deskew | Straightens angled pages for a better reading experience. |
Are you a passionate person/customer/reseller who is keen to be involved?
Join the beta and be a part of the journey.
A good brewer:
is one part geek, two parts friendly and inquisitive, and three parts coffee
likes to talk with engineers on video chats
is happy to test and mix "constructive feedback" with some positive encouragement and fun
Thank you for becoming a part of the team and helping more businesses benefit from print management.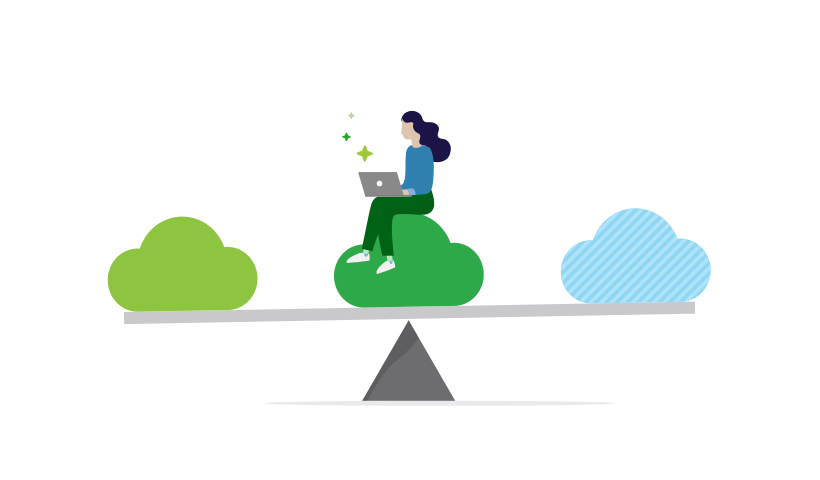 How to join this brew
New to PaperCut Hive? Sign up and a PaperCut partner in your region will get in touch via email to arrange a PaperCut Hive trial account for you.
Have a PaperCut Hive subscription? The OCR Add-on is already at your fingertips. Just enable it in the Add-ons section of the PaperCut Hive admin console.
I'm a PaperCut partner - Use your PaperCut Hive NFR (not for release) account or arrange an NFR with your local ASC.
FAQs
You've probably got a couple of questions on your mind right about now. We've done our best to answer the most common ones right here.
Who can access the beta?
Everyone can! And if you're an existing PaperCut Hive customer, you can easily enable it via the PaperCut Hive admin console in the Add-ons section.
If you don't have a PaperCut Hive account, submit your interest and a PaperCut partner in your country will get in touch to get you started with PaperCut Hive.
What happens after I request to join the beta?
PaperCut will arrange for a PaperCut partner in your region to contact you and set up a PaperCut Hive trial account.
When will the free beta end?
The initial plan for the beta period is to run for 6 months starting in April 2022. Based on the feedback we get from customers and channel partners, we might extend it.
What happens with my trial after beta?
When the beta period ends, all organizations that enabled the OCR Add-on during beta will continue to enjoy the features for an additional 12 months at no charge.
Which brands is the OCR Add-on available for?
All brands that have PaperCut Hive Integrated Scanning will benefit from the OCR Add-on's powerful features: Ricoh, Sharp, HP OXPd, Konica Minolta.
If I have feedback, a question, or an issue with the OCR Add-on, what do I do?
In the PaperCut Hive admin console, in the top-right menu select Contact Support. Or you can email us directly at support@PaperCut.com.
Is this a paid add-on?
During Beta, no.
After Beta, for organizations that used the add-on during Beta, it will be free for an additional 12 months. Then it will be a paid add-on.
After Beta, for new organizations, yes, it will be a paid add-on.
Is there anything else I can get involved with?
We're always building new features and addng more embedded apps for PaperCut Hive, so if you can't join us on this particular journey, don't worry – there are more to come. Keep an eye on the Percolator projects and if you can help us with any, please get in touch.
Recommendations, complaints, questions – we want it all!