There is a new version of PaperCut MF available!
For information about what has changed in PaperCut MF 21.2.10, see the release history and news pages.
For customers using Online Payment Gateways, when upgrading to PaperCut MF 21.2 from a version previous to 16.2, you must also upgrade the Payment Gateway module. For more information see our Upgrading Knowledge Base article.
When should I upgrade?
We recommend considering the available upgrade if you:
Can see the benefits of the new features or functionality, including security and performance improvements,
Can schedule an appropriate outage of services,
Have consulted with your reseller about the specifics of your environment,
and
Are eligible for this upgrade.
Am I eligible for this upgrade?
All PaperCut MF customers have access to upgrades issued in the first 12 months from initial purchase. Your PaperCut MF license must have current Maintenance & Support to apply the upgrade.
You can check your Maintenance & Support status in the PaperCut web administration interface, under the About tab. In the License Information section you will find a 'Software updates available until' date. If the date is after the x.0 release (eg. 16.0 was released on March 15, 2016), you can install the new version. Please see the screenshot below for an example of a license with current Maintenance & Support.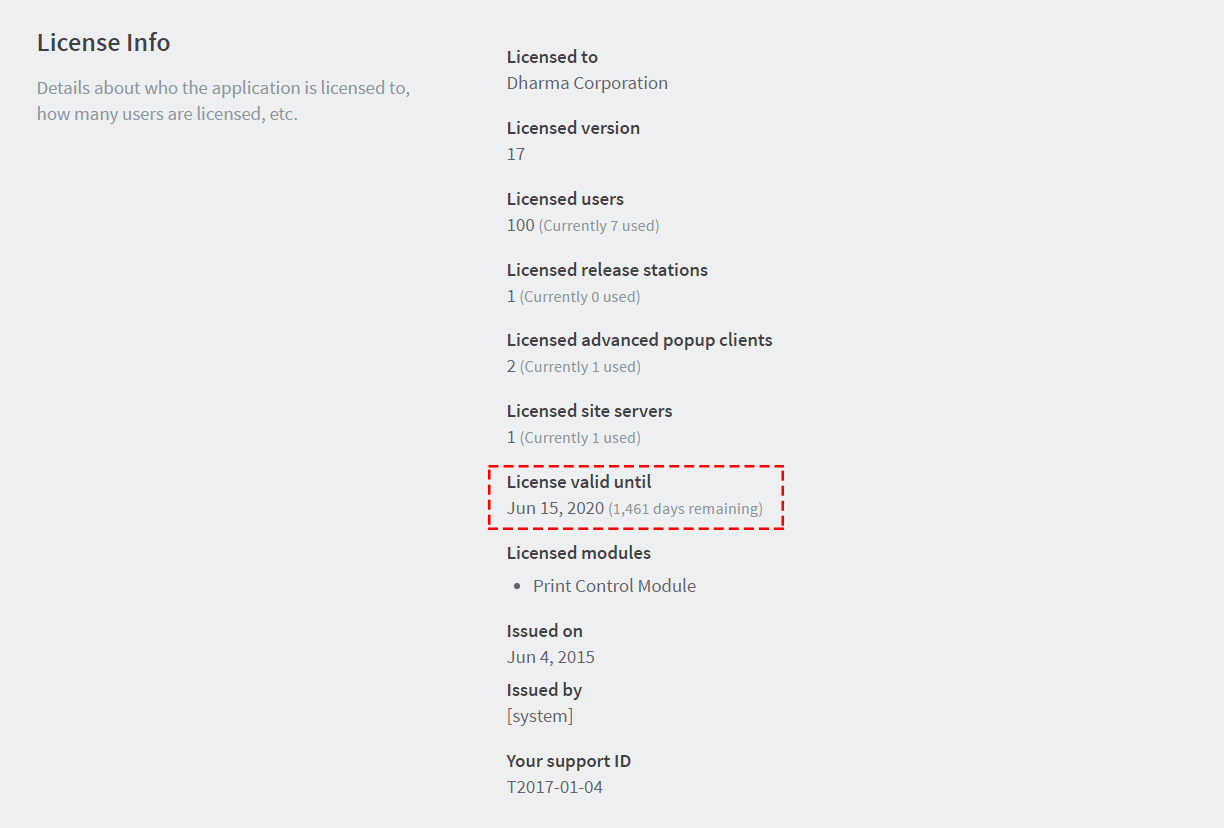 If your Maintenance & Support has expired, please consult with your PaperCut MF Reseller when discussing your planned upgrade.
What will this upgrade involve?
A complete upgrade of PaperCut MF involves:
Installation on IT infrastructure such as server and workstations, which can be carried out by a system administrator or technician, and
Installation of MFD embedded applications, which, if required, needs to be performed by an MFD reseller.
Due to the complexities of embedded solutions on copiers, installing or upgrading these components needs to be performed in conjunction with your reseller. Your reseller will be aware of any firmware-level or on-device changes that are required, as well as the brand- and model-specific upgrade process. They will also be able to assist with the IT infrastructure upgrade process in complex environments.
I am now ready to schedule the upgrade
Please check that you have completed the following:
Consulted with your reseller, especially around firmware compatibility.
Reviewed the release notes
Reviewed the Known Issues page
Planned the implementation of new features
Performed necessary testing in a non-production environment
Scheduled an appropriate outage window and notified key stakeholders
Confirmed that your license is valid for the planned upgrade version
Prepared backups