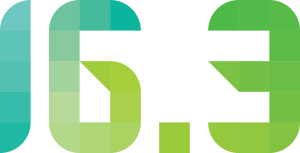 ---
Konica Minolta now with Integrated Scanning
Extend the power of Konica Minolta bizhub MFDs with PaperCut MF.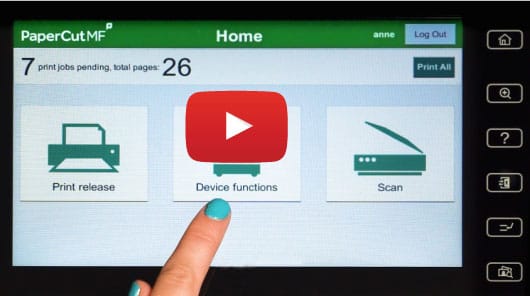 Watch how easy it is to release printing and access scanning and device functions from the new PaperCut MF interface. Shown here on Konica Minolta.
The new Konica Minolta bEST certified PaperCut MF embedded app provides an intuitive end user experience at the MFD panel, including Integrated Scanning .
PaperCut MF for Konica Minolta is easy to install and use, and packed with features to reduce waste and secure sensitive documents. New pre-configured Scan Actions ensure secure document scanning on Konica Minolta bizhubs to integrate into existing business processes.
For more on Konica Minolta with Integrated Scanning, visit the Tour .
---
Konica Minolta enhanced card reader support
Got a new Konica Minolta bizhub multifunction device with the latest HID Omnikey 5427 CK (AU-205H) card readers?
Now you can configure the AU-205H card reader in either CCID or keyboard wedge mode and produce the same card number output for existing deployments.
For more on Konica Minolta, visit the Tour or contact your Reseller for configuration.
---
At a glance system overview in the About tab
To make diagnostics easier, the About tab now shows details of the operating system, server specifications, and database.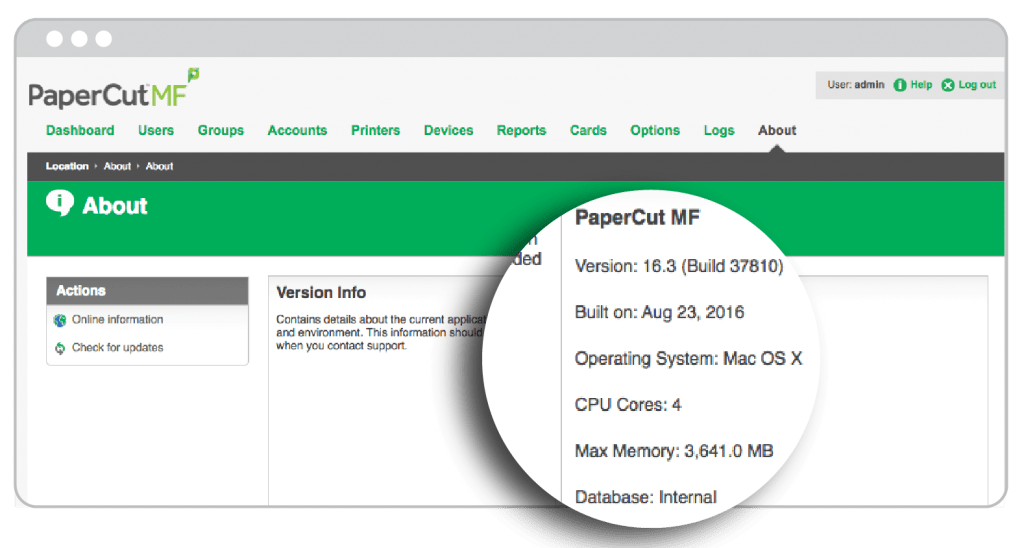 ---
Printer/Device Groups filter added to some Ad-hoc reports
PaperCut administrators will find reporting easier with new filters to allow selection by Printer/Device Groups in these reports:
User -> Department print/copy/scan/fax - breakdown
Printer -> Printer attributes
Printer -> Device copy/scan/fax - breakdown
Account -> Shared account printing invoice - job type summary (Invoice Reports)
---
Early Access for PaperCut MF 16.3
PaperCut MF is a more advanced product than PaperCut NG, due to the addition of embedded hardware functionality. When new versions of PaperCut MF are released to market, they are in Early Access.
The Early Access build is market ready, it is not a BETA or pilot phase. It is an opportunity for you to get your hands on the latest release and provide feedback.
It's your choice, if you don't have an immediate need for the latest features, enhancements or fixes, remain with the current build.
If you choose to download the Early Access build, during Early Access you receive:
Premium support
Proactive messaging about any issues
Feedback to PaperCut on your installation, keeping you on the front foot
All through a dedicated email address available after registration.
Read more and sign up for Early Access here .
---
Want to know more?
To help you digest all the updates, we've detailed all features, enhancements and fixes, in the 16.3 Release Notes for PaperCut NG and PaperCut MF .