[caption id="attachment_3830" align="aligncenter" width="256"]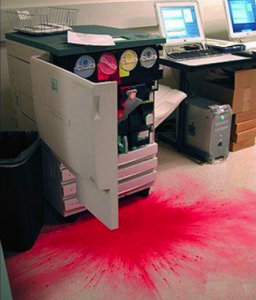 Picture source: 180 Printer and Toner Management[/caption]
As network techies or SysAdmins, we usually have hundreds of balls in the air at any one time. We often end up postponing the planned work when putting out relentless spot fires. Print servers are usually at the end of the line and become one of the easiest systems to leave for another day, that is until something goes bang!
I know this all too well with a long history in IT, starting as a school admin, then into corporate as an email and System Engineer, Regional Team Lead then on the other side, helping to sell copier solutions in pre-sales.
Now that I support PaperCut and listen to your stories, I wanted to share my top 5 tips for a smooth running print system, combined with my own network admin experience of course.
Tip 1: Print 101 - Don't forget the basics
Tip 2: Manage driver deployment
Tip 3: Beware the "untrusted printer"
Tip 4: Backup your print server
Tip 5: Monitor print system health
Tip 1: Print 101 - Don't forget the basics
The support team are usually immersed in the 1's and 0's of programs and systems, and can sometimes forget the basics.
As pointed out by a customer on Facebook , it's often the simple things that get in the way of users.
Make sure you don't run out of paper (embarrassing)
Make sure a few sensible people know where the toner is kept!
Make sure your users have a basic understanding of how the printer works.
A tale as old as time:
A teacher kept complaining that the printer had no paper in the tray and was adamant that it had enough in it. I went to the printer room and found 200 sheets of 'paper' was sitting in the output tray on the top of the MFP, and the A4 tray was in fact empty, to which the teacher remarked "I told you it has plenty of paper". :( and breathe…………………..Scott Hudson, a tolerant admin in the UK.
Tip 2: Manage print driver deployment
A print driver is just like any other piece of infrastructure software and should be managed with the same degree of importance. In fact, as it's an OS level program, it's probably even more important. Consider testing thoroughly before rollout.
A corporate retailer story:
A large retail company (name withheld to protect the implementation team) deployed a new print driver as part of a rollout. Users reported that print jobs were 'sent' but never came out of the machine, to the point where the printer would start to make the right noises and then just…stop. However, when IT installed the print drivers directly on a user's desktop, the problem vanished. It turned out that deploying the driver through Group Policy caused a few dll's not to be overwritten correctly, and yes they wound up in dll hell.
Tip 3: Beware the "untrusted" printer
Is there a problem printer sitting somewhere in your organization that users have just decided to avoid and not tell you about? Maybe it's been quite literally dropped off the back of a truck during delivery and is now out of alignment, you know…the one where paper jams all the time and frustrates users, or people print to it and nothing comes out.
[caption id="attachment_3831" align="aligncenter" width="300"]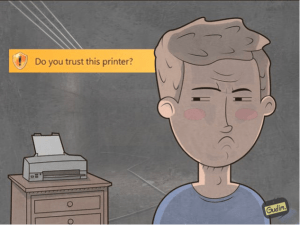 Picture source: Gudim[/caption]
Queues aren't just for school cafeterias:
If students printed to a particular copier at our school from a Mac workstation, the job wouldn't be released even though they could see it on the release screen, nothing came out of the copier. Windows users could print fine. Hmm, let's eliminate the possibilities:
We have a Windows and Mac print server, and the issue only occurred from the Mac server.
All students print to the virtual queue and then log into the copier to release their job. A Mac user would print to the virtual and walk up to any of the copiers to release their print job, except this one.
Looking at PaperCut NG, the virtual queue and device are configured correctly to release jobs.
This worked last year, however, there were only a few users who'd print from a Mac and then it stopped working for this one copier.
The copier hasn't been touched until now and the school want to implement BYOD which means more Macs in the environment.
After logging into the CUPS interface , we noticed there was a job in the queue from 2015 that was in error state! Once this job was deleted from the queue, the problem was resolved, Mac users can now print to this copier. Jason, Victorian school tech.
Tip 4: Backup your print server
That initial print server setup may only take minutes using a virtual machine, but if something goes wrong, restoring a print server that's had constant new drivers and hundreds of IT hours re-configuring could be a disaster.
The reality is that print servers are always changing, so make sure your print server is backed up !
Disaster strikes an Ivy League university server room:
A large university customer (who asked to remain nameless) had a power supply catch fire in their server room and lost their print server. You'd be correct in thinking that hardware would become the focus of this recovery, but no. A mere three days later, the servers were up and running. But, it did take them days to find the right print driver version combinations that actually worked as they did before! Make sure that your print system is part of your disaster recovery plan.
Tip 5: Monitor print system health
You probably already monitor your network, uptime and other app servers, so why not monitor your print server and print management infrastructure? Print System Health Monitoring , a feature standard in PaperCut NG and PaperCut MF allows IT departments to monitor their entire print environment using industry standard monitoring tools, such as PRTG and Zabbix .
Large print environments can be complex, Chris Maclachlan from Melbourne University talks about their challenges.
It is important to monitor the health and trends of your print environment, especially in a large complex environment. Do not underestimate making small changes, keep a close eye on your environment over the next 24 hours, especially disk I/O and sudden changes in printing and error trends. We have seen large spikes after seemingly small changes, and if we were not monitoring our environment it would have led to outages and long wait times for our users.
We also had an issue once, where we had a high number of errors at exactly 24 hour intervals. We found that an expensive job was running every 24 hours, which happened during peak times in our environment. After changing the interval time of the job, we resolved the errors.
Monitoring our environment has led to a vastly improved experience for our students and staff during these times.
These are just a couple of my own experiences, battle scars I wear, some proudly. I'd love to hear your stories around printing, feel free to add to our stories below, we can only learn from our experiences!
And, if you're keen to get monitoring to make sure these stories don't happen to you? Try PaperCut NG free for 40-days, or upgrade to 16.1 through the Administration page of your PaperCut NG or MF instance. For local configuration and support contact a PaperCut Authorized Solution Center in your region.