You're the new tech journalist at PaperCut and it's time for your first post. What do you do?
Well, before you can open up a fresh Google Doc or dazzle your boss with sparkly content pitches, you just need to read a lot. Then, after you've trawled through years of blog posts, you literally just squint and pray for an idea… Bupkis!
Crestfallen, you continue to scroll back through the blog archive and bide your time. In steps fate, your boss is away during a team meeting and your boss's boss wants a post written. The whole team looks to you… You reply, "Sure, I can write about PaperCut winning 5 BLI Pick Awards in 5 years."
It's actually an ample opportunity to prove that you've done your homework. And, if you're gonna be a new voice on the blog, you should have some historical appreciation of how PaperCut NG and MF has evolved over the past five years.
So strap yourself in, to quote the immortal words of Huey Lewis & the News, we're going back in tiiiiiiiiiiiiiiiiime!
Wait, what's a BLI Pick Award and why do we give a hoot?
The [Keypoint Intelligent Buyer's Lab (BLI)]() is the world's leading independent evaluator of document imaging software. The depth of the Buyers Lab testing and feedback is invaluable and truly humbling.
Beyond industry recognition, it's our chance to share PaperCut's continued growth and innovation with all of you who continue to advance the capabilities of PaperCut NG and MF software solutions.
So we just wanted to take a moment to chart that evolution over the past five years, to highlight the key developments in each release which tell the story of how the PaperCut community continues to innovate.
PaperCut 15 - Outstanding SMB Print Management Solution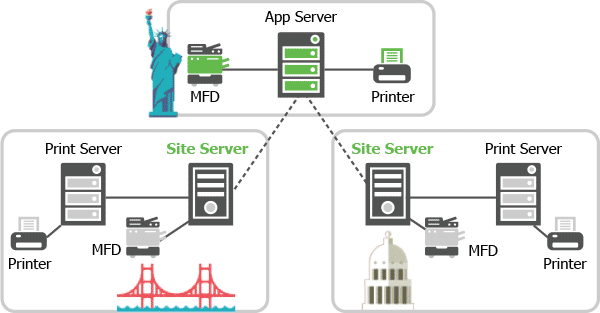 Multi-site, multi-server resilient deployment with Site Server.
PaperCut won its first BLI Pick Award in 2015.
What we did
Version 15.0 unveiled:
site server resiliency to continue delivery during network dropouts
enhanced card reader support for HP MFDs
easier transition from NG to MF without uninstalling or re-importing.
What they said
"PaperCut facilitates usage tracking and charging for output when appropriate, and includes convenient, money-saving features such as secure print release, rerouting of files to lower-cost devices, and the ability to enforce duplex printing or restrict output by application type."
PaperCut 16 - Outstanding SMB Print Management Solution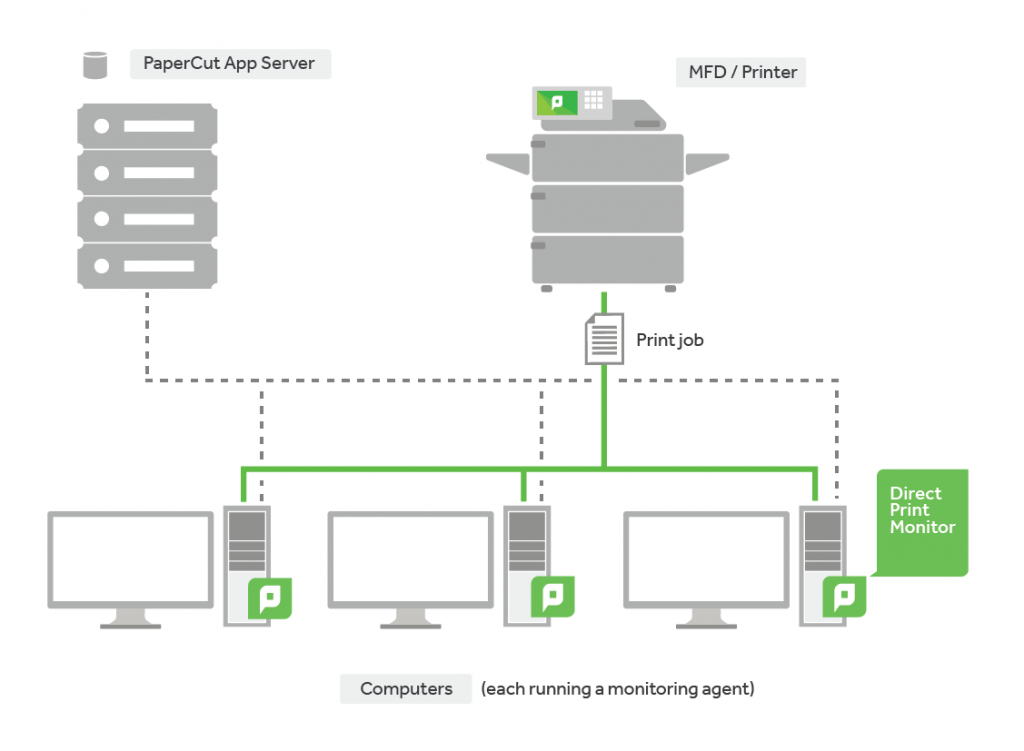 A simple SMB configuration with computers and an App server.
2016 was the year of customer choice and enablement.
What we did
Version 16.0 heralded integration with PaperCut MF on Epson, Muratec, OKI and Sindoh MFDs, as well as accessibility improvements for Canon embedded.
These initiatives were accompanied by our flexible printer setup, Direct Printing, along with notifications for printer groups, and easier mail server setup.
Perhaps most excitingly we launched our new look manuals, ditching standard IT chic for the beginning of our much sleeker design.
What they said
Drats, don't tell the boss, but couldn't find a quote in the press release. They must have been too busy playing with the new features!
PaperCut 17 - Outstanding Cost Accounting & Cost Control Solution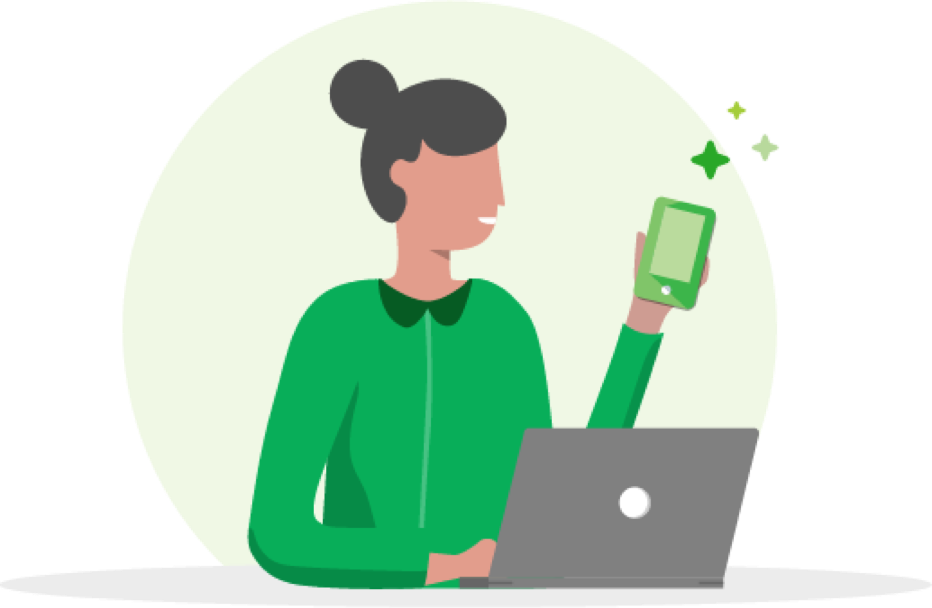 17.0 can be summed up with one word: ease.
What we did
Our developers focused on making print management simpler for SysAdmins and end-users alike with this release.
Major features included:
simplified BYOD printing with Mobility Print
an updated UI design
integrated scanning for Toshiba and Epson MFDs
direct copier access for guests on Sharp and Kyocera devices.
We also streamlined our Quick Start Guides and released a Security Whitepaper on Print Management security.
Not only did Mobility Print win us our third BLI Pick Award in 2017, but in November last year, Google recommended it as one of its [official alternatives to Google Cloud Print](), which has now entered deprecation.
What they said
"The solution supports departmental, user, and client usage-accounting features that let organizations bill internally or externally for output as appropriate, along with customizable print rules that encourage more cost-efficient printing and reduce an organization's hardcopy output costs."
PaperCut 18 - Outstanding Cost Accounting & Recovery Solution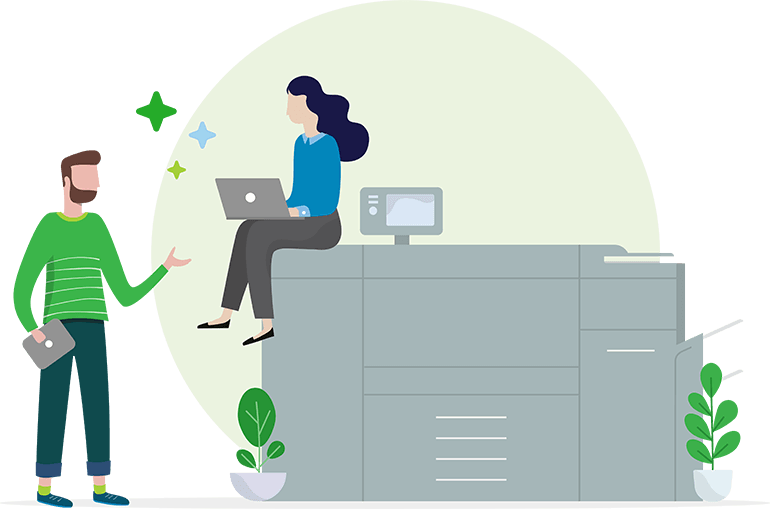 Fresh on the heels of 17.0's innovations entered 18.0's gamechanger: Job Ticketing.
What we did
For the first time ever, Version 18.0 saw PaperCut MF enable tracking and controlling of ALL print devices for print rooms and FabLabs. Production printing, 3D printing, and laser cutting were now all trackable with the new Job Ticketing feature.
Other release highlights included a new multi-function application with an updated user interface for HPOXP devices and new GDPR compliant security updates.
What they said
"New in version 18 is the optional Job Ticketing module, with support for assigning costs to print room and FabLab devices such as high-speed printers/copiers, wide format plotters, 3D printers, laser cutters, and so on.
End users can submit jobs to the print room via an online portal, see how much will be charged against their personal or departmental budget, and track the status of the job as it wends its way through production."
PaperCut 19 - Outstanding Cost Accounting & Recovery Solution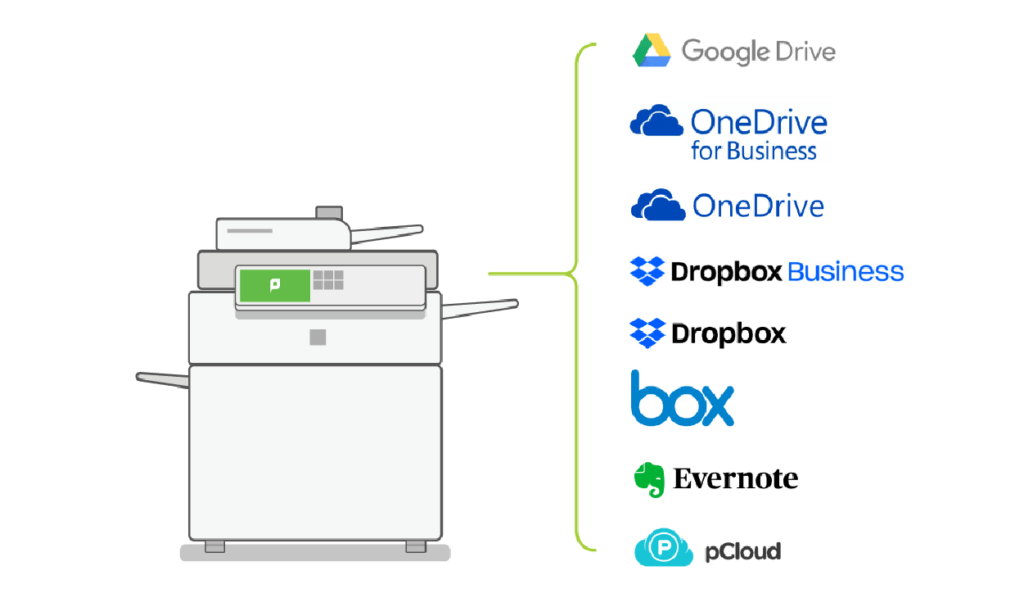 Last year's release and the most recent recipient of our fifth BLI Pick Award continued to simplify scanning and BYOD.
What we did
Not only did 19.0 herald the most comprehensive list of Scan to Cloud connectors, but OCR in the cloud was also in-built as a standard feature in PaperCut MF.
This release also simplified BYOD and MFD by streamlining account and language selection and Integrated Scanning.
Aside from the initial "dot-oh" release, our first minor-build launched our most recent major feature Print Deploy into the ecosystem. Removing the complexity of print queue deployment saw PaperCut reaching beyond print management and officially tackling the print enablement part of the whole operation.
What they said
"The PaperCut family of print management solutions continues to grow more impressive with each iteration … Version 19 improves on that strong base with improved integrated scanning features and expanded device support, but the marquis addition is the PaperCut MF Cloud Services: A suite of services that run on the Google Cloud platform to deliver OCR processing and document delivery."
So, why look back at all this?
Stacking the past five years of PaperCut NG and MF against one another demonstrates the huge difference between each release. Also, as PaperCut 17.0 heads toward EOL , it's a timely reminder of what you can find in each new flagship release as well as the minor-builds.
If you want more information on the BLI Pick Awards you can visit the [Keypoint Intelligence site](), or you can take a trip through memory lane in more detail with each year's press release:
As you can tell, we're pretty chuffed with our five-year BLI Award streak. But it wouldn't happen without you. All these features and improvements happen because of your continued support. It's why we're hard at work on our big 20.0 release as we begin this new decade.
Above all though, this humble tech journalist can now officially scratch that first article off the to-do list. How's that, boss?