It's hard to believe it's been over five months since we made the difficult decision to close our London, Melbourne, and Portland offices . Like so many others, we figured it would be a few weeks of remote work followed by a quick return to routine life. We kind of got that one wrong.
Here's what we've been up to during the lockdown, and what it means for the future of printing.
Working from home as the new normal
For us PaperCutters, working remotely has become the new normal (despite the occasional daydream of smelling the Stumptown roasted beans next to the office coffee machine and chatting with PaperCutters about the weekend camping trip).
One constant that has helped us get through 2020 is the pursuit of relevance with our customers and channel partners.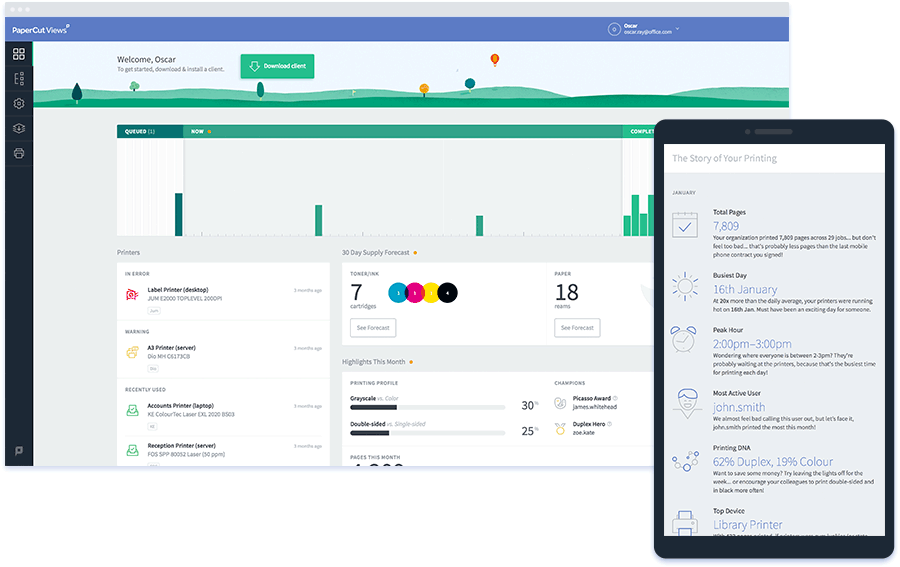 PaperCut Views dashboard on desktop and mobile
Enjoying the Views from home
In the early days of remote working and schooling, everyone including their family pet resurrected the home printer. As a result, we saw an uptake in the use of our free print tracking tool PaperCut Views .
PaperCut Views gives at-home workers an inside look at the story of their printing. We've seen usage take off like crazy and it's been very helpful in understanding which parts of the world are returning to normality. Check out the following guide to contactless printing for more .
Some have even used this tool to bill back companies for print supplies. You can download a copy of PaperCut Views here . It's free, so that's no shameless plug for money.
Our partners got stuck into training
Our channel partners went from road warriors to desk jockeys overnight. We took this opportunity to completely overhaul our sales and technical certifications training for a remote audience.
We've seen enrollment and pass rates around the globe increase by a factor of 3 compared to the prior year. In the end, this increased knowledge will help our end users tremendously.
Many thanks to our channel partners who have successfully completed sales and technical certifications!
We built (more) things for hybrid working
The hybrid home/office world officially emerged. Here's what we've been doing about it.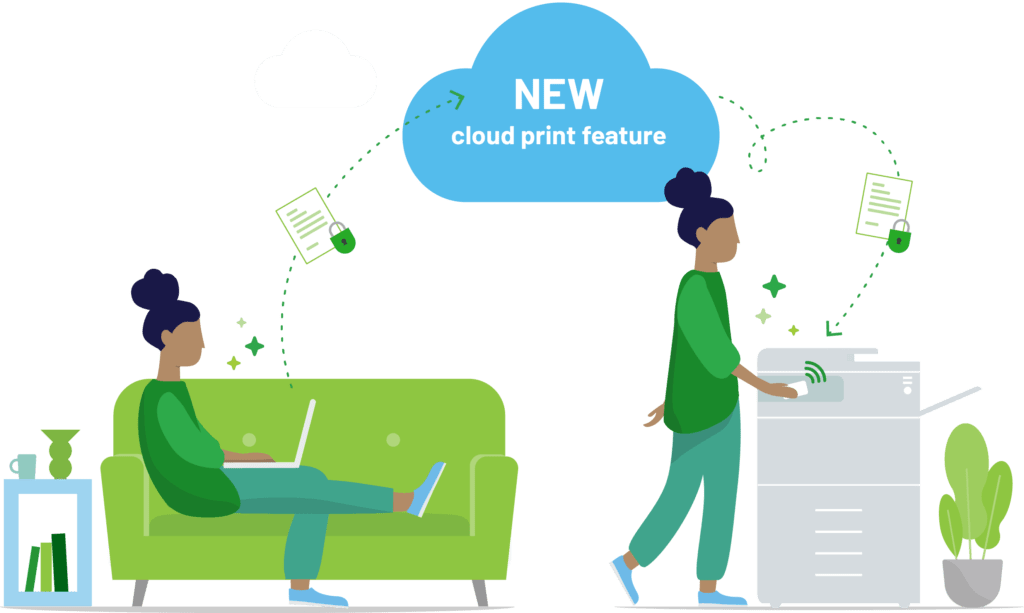 Print over the internet with Mobility Print's NEW Cloud Print feature
Mobility Print gets Cloud Print
We added Cloud Print to our Mobility Print solution, allowing users to print over the internet. Initiate print jobs from the comfort of your favorite reclining chair and release them at your office printer of choice. Work from home on a Monday and pick up your print job on a Tuesday. Decide you no longer want to read it… just delete it at the printer.
We've seen a lot of companies and educational institutions deploy this hybrid model. Mobility Print recently launched Cloud Print for Chromebook clients, with Windows and Mac coming soon.
You can learn more about the new Cloud Print feature in Mobility Print if you like (it's also free when used as a standalone BYOD print solution, or a Google Cloud Print alternative).
For Partners: Remote management with PaperCut Multiverse
Ok, this one's for all you PaperCut partners out there! We've been building a brand new cloud platform to enable you to provide a better remote customer service experience.
PaperCut Multiverse helps you proactively support customers, manage licenses, and help your customers experience improvements in their print management goals.
The platform's been in private Beta for the past few months. If you're a partner in our ecosystem and would like to know more about the PaperCut Multiverse beta program, have a quick word with your PaperCut ASC (Authorized Solution Center) .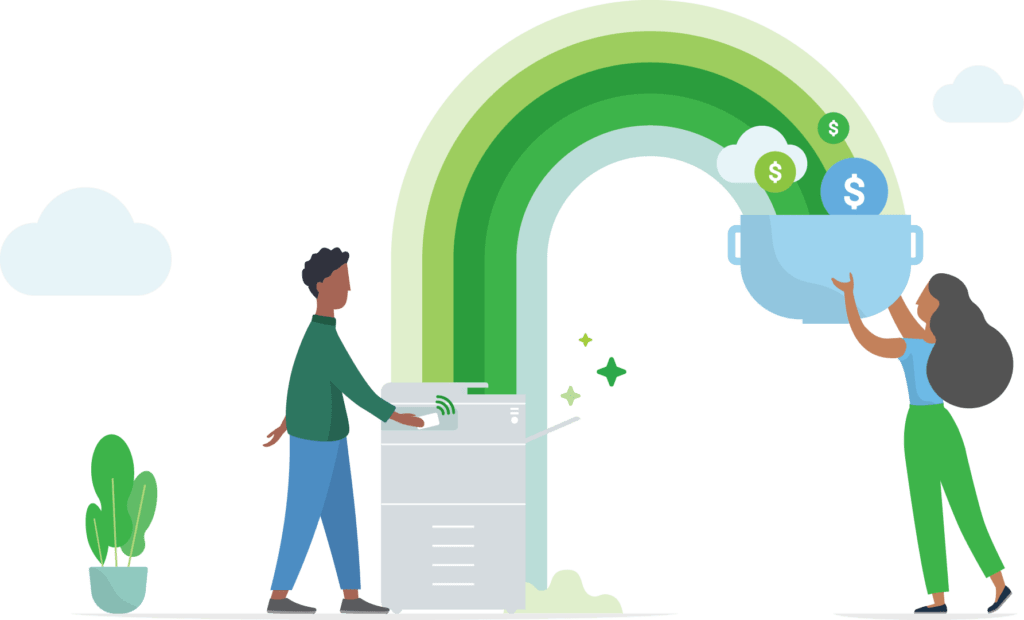 Find better ways to print today at our Better Ways print hub
'Better ways to print' hub launched
We've had a number of prospective customers ask us how PaperCut MF can assist with print cost savings and cost recovery.
As you know, many businesses are struggling to make ends meet at the moment across the globe. Fortunately, this is one of the core attributes of PaperCut's print management products.
We've built a hub that highlights ways to reduce costs, enable more flexible printing, and ensure your workplace is safe for returning team members.
You can check it out at our Better Ways to print hub .
The new cloud-native platform is coming
We've heard loud and clear that many customers want to leverage Cloud offerings to eliminate onsite print infrastructure. After all, servers are expensive to maintain and IT priorities are shifting towards other areas of the business.
The cloud is an area where PaperCut pivoted the business well in advance of COVID-19. In fact, we released our first cloud solution - PaperCut Views - a number of years ago.
Since then, we've brought a number of cloud features to market, including scan to cloud storage, OCR in the cloud, and private cloud hosting of our flagship solution PaperCut MF to name a handful.
One more thing…
Our cloud-native print management platform received a lot of love from our developers in this lockdown period. A lot of love! So much so that the first two products off the platform, Papercut Pocket and PaperCut Hive , are now in beta!
I'm amazed at the efforts of the entire PaperCut development team this year. To bring the platform this far while working from home is phenomenal.
But product lead Atiquar Rahman says it better than I ever could:
"Building a software platform while working remotely from home wasn't easy. We had our challenges. But on the positive side, it really helped us to focus, accelerate our productivity, and experience the same needs as users who also moved to working from home. This drives us to shape a true cloud product that enables people to print from everywhere, to any printer, at any time."
Perhaps you'd like to register your interest in joining the PaperCut Pocket Beta .
A new private cloud certification program for partners
We've mentioned above PaperCut MF in the cloud. We've also been working with our channel partners and customers to simplify the hosting of our flagship product PaperCut MF in private and hybrid cloud environments e.g. Azure, AWS, GCP.
With more and more customers deploying PaperCut MF in the cloud, we think it's super important that our partners are there to help accelerate customer's cloud goals.
To that end, we've launched a PaperCut Private Cloud Certified Partner program, which provides peace of mind to customers that their partners have the required skills and expertise to design, install, and manage PaperCut on Private Cloud architectures.
---
PaperCut in 2020 and beyond
This pandemic has changed the way we work, and while we miss the old days, it hasn't slowed us down.
The steps we've taken during this pandemic have resulted in milestones that will define PaperCut in 2020 and beyond.
We're proud of the work we've achieved this year and we look forward to sharing more of the story with you soon.
UPDATE: PaperCut Hive, PaperCut Multiverse, and PaperCut Pocket are out of beta and now available.