On Monday 16 March, PaperCut offices shifted to a " Distributed Working " model. Yes, these very words were typed from the comfort of my home office.
Today (and for the foreseeable future), all PaperCutters across the globe are answering support tickets, attending Google Hangouts, and continuing product development from their designated remote locations.
PaperCut decided to shift to working from home for two primary reasons: to keep PaperCutters, their friends, family and loved ones safe; and to do our bit as a business to "flatten the curve" of COVID-19.
That being said, working from home is actually nothing new at PaperCut. We're blessed to work for a business that provides ongoing flexible WFH arrangements, and we have a vast array of remote team members operating all year round.
We're doing what we can
Our collective heart goes out to the families, communities, and businesses being affected by COVID-19 right now.
We're committed to providing continued support to all customers during this time, particularly those involved in community resources such as our healthcare and government customers. We made immediate decisions to ensure we can do our best to maintain our usual level of service during these challenging times.
How PaperCut prepared
In regards to a possible lockdown, the writing has been on the wall for some time. But it wasn't the media that prepared us - it was a software engineer.
The first we heard about COVID-19 was very early this year. One of our software engineers from the Melbourne office went back to Wuhan, China to visit his parents over the holiday period. Shortly before he was due to return, Wuhan was locked down because of the virus.
We put in place some team and system changes to support him to work remotely until he could touch ground back in Melbourne. "Let's give it a couple of weeks," we thought.
Little did we expect at the time that this situation in Wuhan would become such a global problem so quickly. Mike continues to work from the comfort of his family home in Wuhan!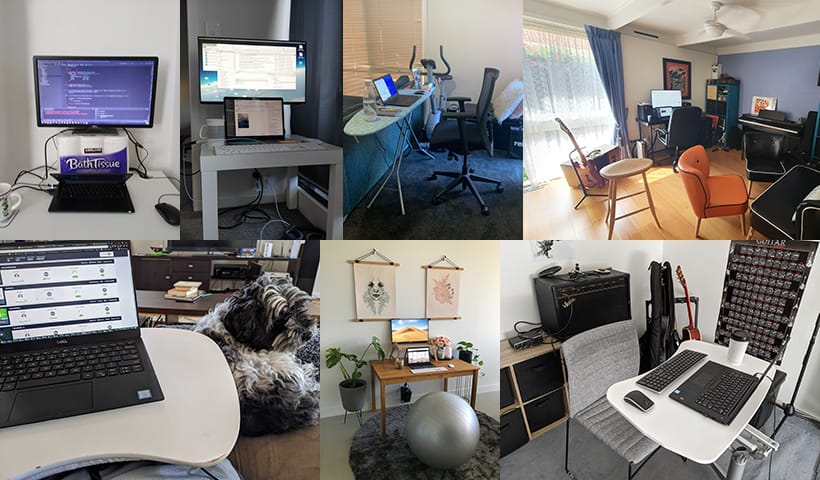 Some of our PaperCutter's ingenious Distributed Working stations
Practising distributed working
Amidst increased cases of COVID-19 worldwide, last week all of our offices (MEL, PDX, and LHR) trialed office-wide distributed working days. Many team meeting pet cameos later, the demo was deemed a success. There were still kinks to iron out, but we were well-positioned for a lockdown if the spread of COVID-19 persisted.
On Sunday evening, after a weekend of rapidly evolving infection, the decision was made for all PaperCut offices to immediately enter a distributed working model.
Monday served as a transition period where our staff was given the day to arrange any equipment or materials from the office for their home set-up. Thanks to our incredible team rallying together (our IT departments were the real MVPs) the day was spent dropping off desks, stands, ergonomic chairs, and even employees to their respective home offices.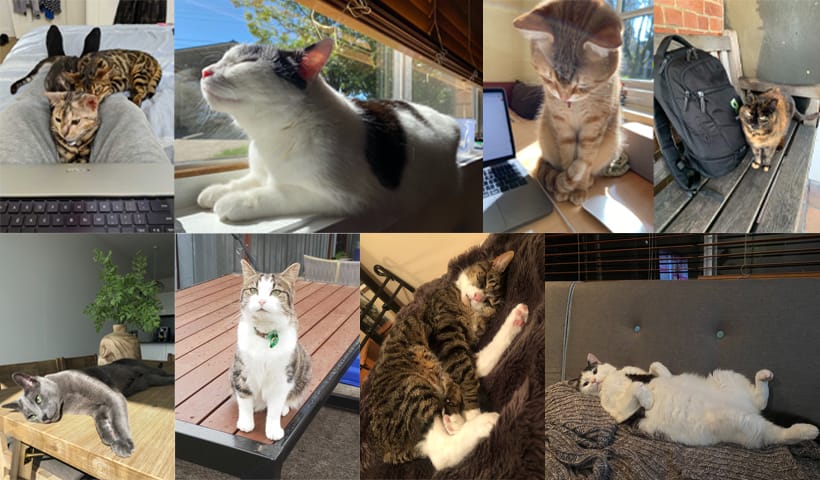 PaperCut kitties providing moral support and demanding tummy rubs
As a software company, one would think that the transition of working online and from home would be easy. It's a little more challenging though because some of our development, testing, and support are done on MFDs. So we do have some staff (limited and access is managed) that are still able to work in the office to help out with anything urgent.
While this is still a period of transition and change, we're thankful to our board and leadership that it wasn't a surprise, nor were we ill-equipped.
"Be prepared"
We've had a dedicated COVID-19 response team monitoring the pandemic for the past few weeks. This group was made up of members from our People Experience team and representatives from each of our offices in Melbourne, Portland, and London.
As part of this team's efforts, our offices were adorned with handwashing posters, social distancing was promoted, and traveling PaperCutters were observing self-isolation steps.
Multiple reviews of the COVID-19 situation were held daily by our response working group before they reached their decision on Sunday night.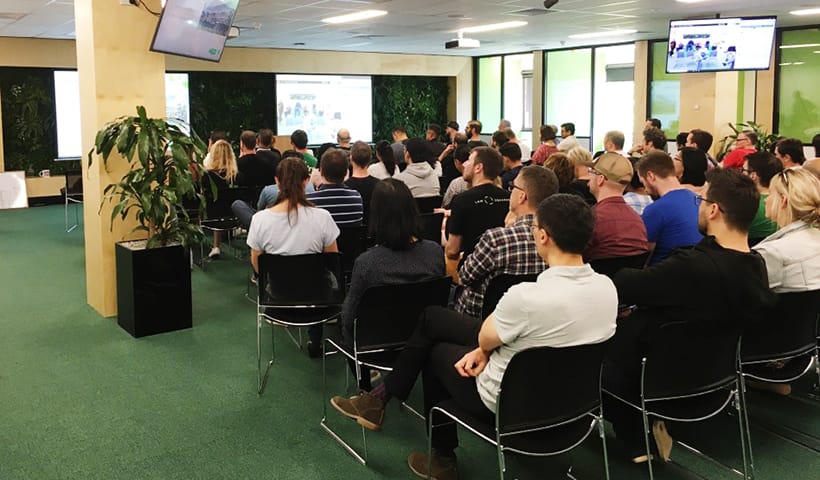 Before: just a regular Global meeting in our Melbourne office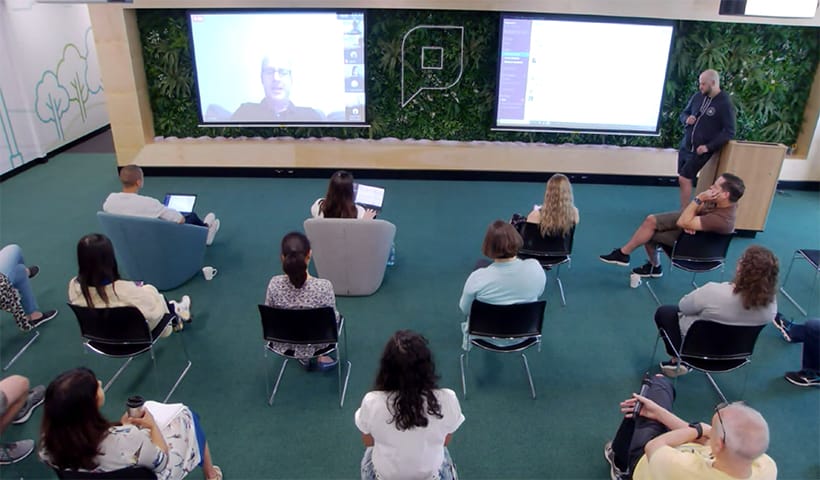 After: practising social isolation while our CEO Chris addresses the Melbourne office during our transition day
We had been in communication with other software companies in Portland and Melbourne during the week.  After these discussions, we decided to join them in moving to a distributed working model. Companies such as Google, Twitter, and Facebook also transitioned during this time.
We're proud of our decision and are keen to play our part in supporting the community with the goal to encourage social distancing.
We're also proud of our People Experience team who suggested we hold the test days earlier. This gave us the confidence to move quickly and confidently knowing that there would be minimal disruption to our global support services.
Staying positive
It's not all doom and gloom.
The new WFH model has led to some ingenious home office arrangements including ironing boards, toilet paper screen stands, and ergonomic Fengshui. And many a PaperCut dog or cat are overjoyed for all this glorious extra cuddle time.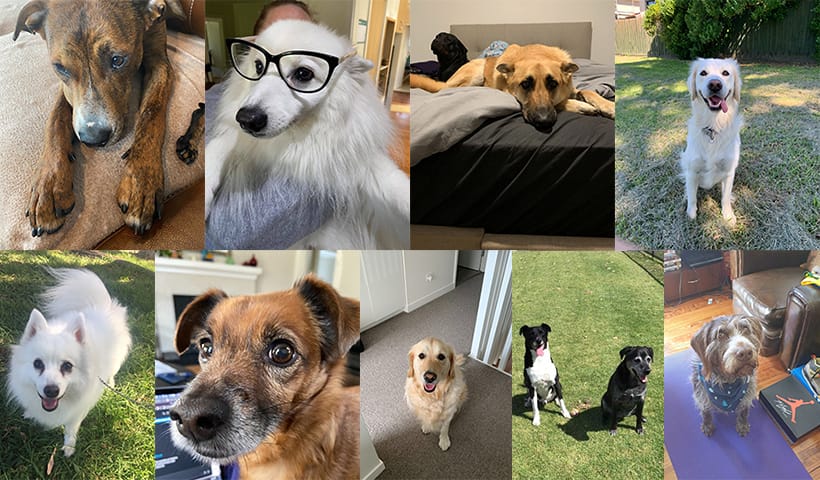 Our PaperCut doggos have reported increase in productivity and pats
To assist with the transition for the office workers, our remote staff are sharing their experiences and coaching us. They're now arguably more connected to PaperCut than the rest of us!
Some of our WFH initiatives include:
A Slack channel for sharing home office setups and tips
A Slack channel called #kidsactiviesandschooling to share tips on helping to keep the kids busy and still learning
Our software engineer who's currently in lockdown in Wuhan ran an AMA session this week. We're very proud to have someone in our immediate team who has been so open and positive sharing his experiences. We've all learned a lot from this.
We held our first Global All hands meeting on Wednesday. With almost 200 people in a Google Hangout, we weren't sure how well it would hold up. I can report it went well! In our next global meeting, everyone has been challenged to wear a funny hat or set up a fun background on their webcam. Who knows what will happen after that!
We are also sharing our tips, tricks, and learnings with other local companies. As a tech company, we're a little ahead of other businesses. We've shared some of our experiences and the list of tools we use to others in the hope that we can help them transition faster.
CHIN: living our values
In Australia, this week our Prime Minister and Chief Medical officer declared this new lifestyle may need to be sustained for 6 months .
Sustainability is a key pillar of PaperCut's mission. With that in mind, it's crucial to carry ourselves in a manner that can be maintained over this extended period, however long it may be.
Across the business, we're doing our utmost to provide support to not just ourselves but the greater community. As our initial WFH trial proved, a proactive attitude and positive resolve are paramount in these uncertain times.
One of the things helping us hold it together is remembering our company values and bringing them to the forefront of our new daily routine: CHIN - Caring, Honest, Intelligent, Nimble.
Caring - We must continue practising compassion with one another, providing support and guidance.
Honest - We must continue speaking our minds and hearts, whether we're helping others or bravely being vulnerable and asking for assistance ourselves.
Intelligent - We must continue working smart, not hard, to avoid burnout and keep driving forward.
Nimble - We must continue our proactive mindset and quick-thinking to remain resilient and steadfast.
We'll continue to share our stories and know that this event will make its way onto our history wall supported by many stories. These are new and strange times. But by adapting and remembering who we are, not just as a business but as a community, we will endure.