PaperCut MF provides integration with Brother Multifunction Devices, enabling the tracking, charging and billing of printing and "off the glass" copying and scanning. The PaperCut MF solution uses the capabilities of the Brother Solutions Interface (BSI) enabled devices to provide users with a rich set of application features. These include:
Monitoring and control of photocopying, printing & scanning
Support for USB printing
Enabling of quotas, charging and cost allocation
Bill and account by user, departments, cost-centers and projects (Shared Accounts)
Optional card authentication at the device via supported USB proximity (contactless) and magnetic stripe card readers
Releasing print jobs from a secure hold and release queue
Group-based device access and control, including color copying restrictions
End user authentication to major environments and directories with support for single sign-on
Consolidated reporting and management
Consolidated management and reporting in either summary or detailed formats are readily available at the click of a button for all copies and prints across your entire fleet. Reports can be scheduled and auto-emailed to selected staff based on pre-determined requirements. Report by:
Device (printers & copiers)
User
Shared account (client, department, faculty)
Location
Date and time / period
Environmental impact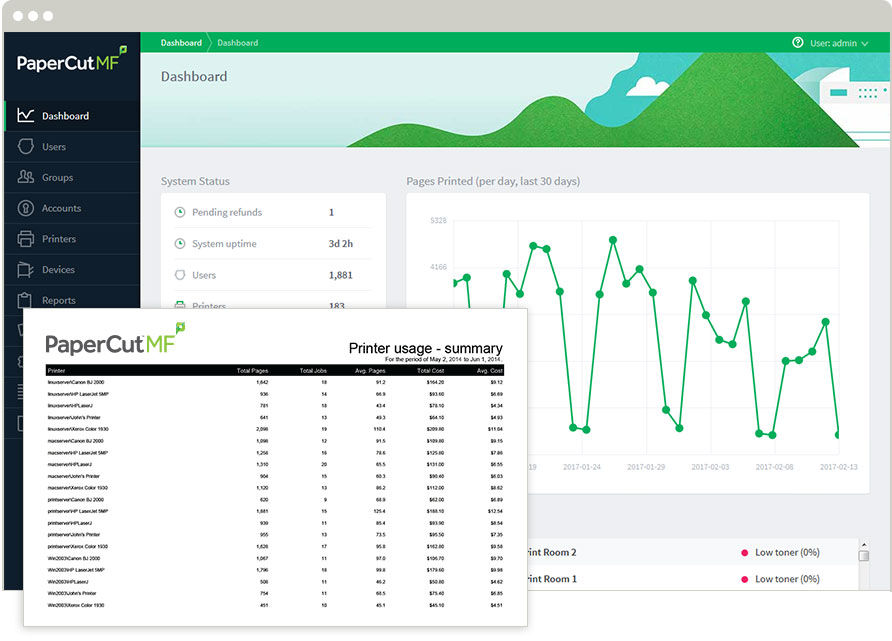 For more information about reporting see the Reporting tour section.
Track and control copying
Charge and account by:
Page count and size
Color / grayscale
Simplex and duplex
Device
Applied rule
Date and time
track scanning
Track scanning to email or to a file
Scanned page counts are reported in the PaperCut logs
Integrated Authentication
PaperCut MF uses your existing single sign-on infrastructure allowing users to log in with the same username and password used elsewhere on the network. No need to remember and maintain multiple logins!
Paper MF integrates with existing single sign-on environments such as:
Microsoft Active Directory
Apple Open Directory
Novell eDirectory
Other LDAP, NIS or POSIX environments
In addition to the above, PaperCut MF on Brother BSI supported devices enables convenient access via ID numbers or cards with optional PIN for added security and convenience.
For more information about shared account see the Account Based Tracking in detail tour section.
Consistency
The Brother MFD solution is developed by the PaperCut Software development team. This means that the copier interface is consistent with the other PaperCut MF user interfaces. Users engage with a consistent and easy to understand device interface regardless of model.
PaperCut MF with Brother provides:
Users with the same account selection options they use for desktop printing
Shared account selection from a list or user entry
Managed access of accounts using Active Directory groups
Releasing a print job from a Brother MFD
Seamless User Experience
The Brother BSI embedded solution offers the same level of tracking functionality in copying as PaperCut does for printing. Each job may be allocated to a shared account that can represent a department, project or client
PaperCut MF with Brother provides:
Users with the same account selection options they use for desktop printing
Shared account selection from a list or user entry
Managed access of accounts using Active Directory groups
Supported devices
Integration is supported for compatible Brother BSI devices. The below list of BSI compatible devices has been provided courtesy of Brother.
Earlier models: BSI compatible touch panel MFC (Type 1). Use firmware of at least "H". (BSI included after version "E")

DCP-9020CDW
MFC-9140CDN
MFC-9330CDW
DCP-8250DN
MFC-8950DW
MFC-8952DW

Earlier models: BSI compatible 5 line LCD MFC (Type 2). Use firmware of at least "G" (BSI included after version "D")

DCP-8110DN
MFC-8510DN
MFC-8520DN
DCP-8150DN
MFC-8710DW
DCP-8155DN
MFC-8910DW
MFC-8810DW
DCP-8112DN
DCP-8152DN
DCP-8157DN
MFC-8512DN
MFC-8712DW
MFC-8912DW
HL-S7000DN (printer with Wide 5 Line LCD)

Monochrome series (support BSI for all firmware)

HL-L6300DW
HL-L6400DW
HL-L6402DW
HL-L6300DWT
HL-L6400DWT
DCP-L5500DN
DCP-L5502DN
DCP-L5500DN
DCP-L5600DN
DCP-L5602DN
DCP-L5650DN
DCP-L5652DN
DCP-L6600DW
MFC-L5700DW
MFC-L5702DW
MFC-L5700DN
MFC-8530DN
MFC-8535DN
MFC-L5750DW
MFC-L5755DW
MFC-8540DN
MFC-L5800DW
MFC-L5802DW
MFC-L5850DW
MFC-L5900DW
MFC-L5902DW
MFC-L6700DW
MFC-L6702DW
MFC-L6750DW
MFC-L6800DW
MFC-L6900DW
MFC-L6902DW

Color Laser series (support BSI for all firmware)

HL-L8360CDW
HL-L8360CDWT
HL-L9310CDW
DCP-L8410CDW
MFC-L8610CDW
MFC-L8690CDW
MFC-L8900CDW
MFC-L9570CDW
HL-L9200CDW
HL-L9200CDWT
HL-L9300CDW
HL-L9300CDWT
DCP-L8400CDN
DCP-L8450CDW
MFC-L8600CDW
MFC-L8650CDW
MFC-L8850CDW
MFC-L9550CDW

A3 inkjet series (support BSI for all firmware)

MFC-J5330DW
MFC-J5335DW
MFC-J5730DW
MFC-J5830DW
MFC-J5930DW
MFC-J6530DW
MFC-J6535DW
MFC-J6730DW
MFC-J6930DW
MFC-J6935DW
MFC-J2330DW
MFC-J2730DW
MFC-J3530DW
MFC-J3930DW
MFC-J6580CDW
MFC-J6980CDW
MFC-J6995CDW
MFC-J5320DW
MFC-J5620DW
MFC-J5520DW
MFC-J5625DW
MFC-J5920DW

Scanner series
The availability of BSI functionality may differ from region to region. To know if BSI is available in your country, please contact your local Brother sales office.
PaperCut makes all attempts to keep the product compatibility information on this website current. However, we make no warranties, express or implied, with respect to manufacturer's products or the interoperation with the listed PaperCut product(s). We offer 40 day trial versions of PaperCut software to assist you with compatibility testing with your network setup.
our values
Consistency & Vendor neutrality
The Brother embedded MFD solution is developed in-house by the PaperCut Software development team. This ensures consistency in all areas of the application. All MFD embedded solutions communicate with the PaperCut server whether it be running on Windows, Windows Cluster, Linux, Novell or Mac Server.
Rate of development
PaperCut is developed under a release-often policy where new features are made available to users as soon as they are complete. Unlike hardware based solutions, new versions can be installed with an easy 'over the top' update installation as new version are made available.
Security
Today, security is a paramount consideration for organizations of all sizes. PaperCut was initially developed in education catering for both students and staff, where security is a high priority. Where security objectives can't be satisfied, any deficiencies are fully disclosed