Healthe Care Australia is the third-largest private hospital operator in the country.
First established in 2005, Healthe Care Australia has grown to over 30 hospitals and healthcare facilities, mainly across Australia's Eastern seaboard. Combined, their locations house more than 2,500 beds and 70 operating theatres, with a workforce of 7,500 nurses and administrative employees.
To cater for Healthe Care's geographic footprint and rapidly-evolving business needs, they needed a mobile printing (BYOD) solution.
We had a chat with Aaran Stent, CIO for Healthe Care Australia.
PAPERCUT: How long have you been with Healthe Care?
AARAN STENT: 13 years, so almost from the start.
What's your IT infrastructure like?
We have two data centers – host servers – in Melbourne. There's almost nothing (no computer rooms) on individual hospital sites.
We use Citrix almost exclusively with our fleet of 700 printers – the majority of which are Ricoh. We have some legacy Fuji Xerox machines and approximately 30 Kyocera devices..
An ongoing challenge is that Private Health is not yet on electronic medical records.
What are some of the unique challenges for you at Healthe Care Australia?
IT provides print solutions to two different stakeholder groups:
Doctors (otherwise called visiting medical officers, or VMOs)

Staff
The doctors are generally not employed by our hospitals, rather, they are visiting medical officers (VMOs). This brings its own set of challenges as doctors use our facilities but they may only be in the hospital for as little as one day a fortnight.
We have a dedicated CEO at each of our hospitals, and each hospital has its own cost centre which is managed with a high degree of autonomy. This can create some challenges as our IT solutions are highly standardised and have tight security controls. Having a proven reliable print solution circumvents the need for bespoke solutions at each of our hospitals.
What did your printing look like before PaperCut? What were your main pain points?
We had a unique use for PaperCut in our business as it was purchased specifically for "guest printing" for our visiting medical officers.
The challenge was that the doctors were not using our workstations, they were required to do off-network printing. They would come to our hospital, use their laptop on our guest WiFi networks and print to unmanaged local inkjet printers (often purchased from a local retailer) .
This approach wasn't viable. It was expensive and unreliable – the drivers wouldn't work, the ink would run out quickly and printers would jam. It was not a good option for a larger scale operation with remote IT support.
Our visiting medical officers would say, "Why can't I use that printer over there?" We'd reply, "Well, that's on our corporate network and you're on the guest WiFi."
We tried to move our doctors onto managed printers but Ricoh was unable to do the necessary page reads, which meant our corporate staff then couldn't use the printers. We couldn't really find a good viable solution.
Additionally, medical printing of images, like for the tracking of gastroscopy, required a high quality coloured printer.
We also had Endoscopy servers and scope equipment linked to a report writing software that was on a private network.
This was hard because they were expensive printers to run, and we needed to provide redundancy when they failed. We really needed managed printers on a Service Level Agreement (SLA). The problem was, what to plug into? Some had internet ports on the corporate network and others had USB ports on local printers. It was complicated.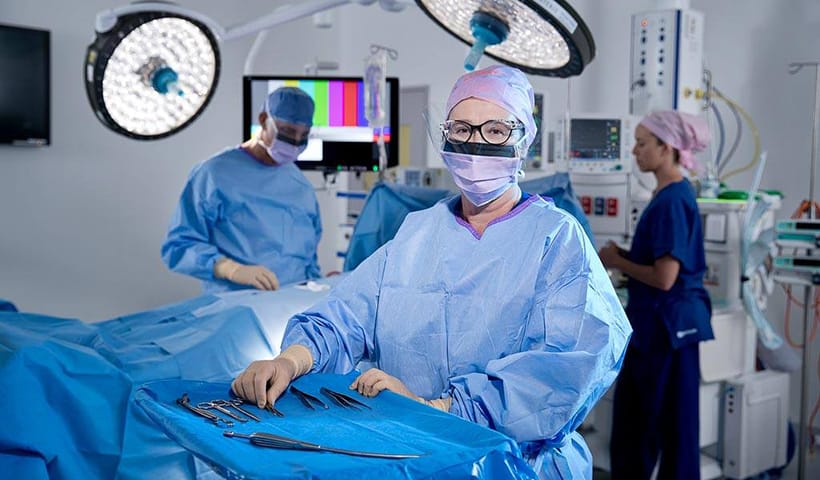 Photo courtesy of Healthe Care Australia's Facebook page
What made you choose PaperCut over other similar solutions?
I had a catch-up with other private hospital CIOs at a forum and I heard about how they were deploying PaperCut with what was then the prefered option, Google Cloud Print . The feedback was really positive so I looked into it.
My investigations showed that the price was reasonable, it was made and supported in Australia, and had a good uptake in schools. The website was professional, the support looked comprehensive, and it was based in English as a first language location. During my dealings with the sales team I found PaperCut were open and transparent about their products and services.
I liked the culture of the company – and still do!
Do your staff move around locations?
Absolutely – doctors come and go.
For example, they could operate at our hospital one day, consult at a non-Healthe Care hospital the next, then be at a public hospital for the rest of the week .
What were you specifically looking for, from a solution like ours? What was your overall goal when deciding to move forward with PaperCut?
Our needs were very unique and specific. We needed a mobility print solution for Healthe Care visiting medical officers (VMOs). We haven't rolled PaperCut out to all staff, just to VMOs.
Our goal was to make sure we had a mobile printing solution that was good and easy when visiting medical officers operated from one of our locations.
Time is money for these doctors. They don't want to spend 15 minutes trying to troubleshoot a printer, or changing the ink. We needed a solution that worked the first time, every time. If they were experiencing an issue, they wanted it fixed immediately, which is difficult when we have over 30 facilities in diverse geographical locations.
We also wanted to remove the array of printers used at some facilities, and the clunky physical processes surrounding them.
Our customers use PaperCut in many different ways, would you mind describing how you use PaperCut from start to finish?
Back in 2011, we deployed PaperCut with Google Cloud Print and email to print. It was okay. What really turbocharged it for us was when PaperCut released Mobility Print . That meant we had a good reliable way to print and also do print discovery at the same time.
It was a good way for us to develop a clear process for guest printing.
The process was:
PaperCut was linked to rollout of new WiFi process for VMOs
SMS link to the password for WiFi
Follow instructions for print onboarding
Able to jump on WiFi each time (we had common WiFi at all facilities)
They can see printers close by at their location
We were able to craft a discovery process with WiFi to allow us to discover and release printers to those guest users.
Let's say we set up five printers that are discoverable when you are on 'x' WiFi network, we now have processes to add and remove printers from the list. This process was a lot clunkier back in the days with Google Cloud Print.
The process overall has made a tangible and supportable system for us to deploy and manage.
Today we have PaperCut running on all our print servers but we're using it solely as a mobile printing solution.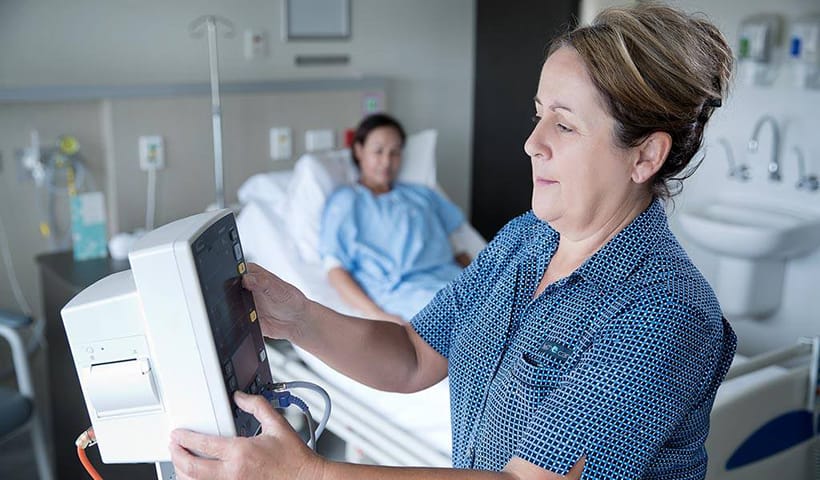 Photo courtesy of Healthe Care Australia's Facebook page
What can you do now that you wouldn't have been able to do without PaperCut?
We have a clear mobile printing solution. It's reliable, simple and effective for us to be able to provide managed printers to guests that are on our guest WiFi network. They can print on any of our 700 printers and by default access the local printers on the network.
Now printing can be audited. If someone prints 1,000 garage sale flyers, I can go back to them and say, "Stop that!"
Another major benefit is we have managed print contracts with SLAs on all printers. If one printer isn't working there's always one around the corner that does work.
Can you quantify any results that PaperCut has delivered for you?
I am looking at consolidating print data into our dashboards. Because we have 700 printers under contract, people have a habit of using another printer if one is not working.
We are paying rental and other overheads so I would like to reach a point where we are using PaperCut to help us with reporting on this type of data - at the moment we're using Ricoh reports.
I would like our Healthe Care sites to be able to click through and use PaperCut reports to look at usage among other things, with a view to eventually reduce the number of printers.
Is data privacy an issue in your organisation?
Security threats like malware attacks are a constant issue in healthcare. Given the nature of our industry, we have a lot of printers sitting right beside people so they can reach out and grab sensitive documents.
Is printing considered a hindrance at your organisation?
No, it's considered a necessary part: we have paper-based medical records and archives full of paper. Having managed print contracts is a no brainer for us.
We do want to get smarter with PaperCut - do you need to do that in colour? Reporting back to business on costs i.e. $200 on colour and $50 on black & white?
We now have the tools with PaperCut and will deploy them in time as resources become available.
Overall, what would you say to someone looking for a printing solution today?
We have found PaperCut support here in Melbourne to be top notch. We appreciate that it's Australian based, in fact we feel patriotic buying local software. But also US and UK based support means you get good English-speaking support from technicians who really know their product.
PaperCut seems to be always developing new features, they have a large market share and aren't overly expensive. From my experience, I'd recommend PaperCut to anybody!
Last week my son started at Viewbank Secondary College and I was pleased to see PaperCut was on his laptop!
How would you summarise your overall experience at PaperCut?
We are using PaperCut for a very targeted need and it's helping us deliver to that need.
Once we get more resources, we will use more feature sets and it's nice to know it's there when we are ready.
PaperCut is a switched-on company doing clever things with printing, at an enterprise level.
Your prescription for healthcare print management
Our BYOD solution Mobility Print is just one of the features that make PaperCut MF trusted by healthcare providers all over the world.
Find out more about PaperCut for healthcare print management.