Welcome back to our brand new blog series, "What's the scoop on X in 20.0?"
To celebrate our release of PaperCut 20.0 I'm chatting with PaperCutters about their features' latest enhancements for this year's major build!
In our last installment we covered our new Epic integration , today it's all about Print Deploy .
Print Deploy's latest enhancement offers self-service printer installation. IT admins can now choose printers to be automatically installed or optionally installed by the user.
I had a chat with Print Deploy product manager Danielle Ko about deploying print queues, Tinder profiles, and rooftop shouting matches.
PAPERCUT: Leftfield question to begin with… I've swiped right on Print Deploy in Tinder, what does its profile say?
DANIELLE: "(laughs) It'd just be the tagline: 'Print Deploy helps you deliver the right print queues to the right user. Anytime and anywhere.' I don't know, is that attractive enough?"
Of course! On Tinder, I think the aim is to be as succinct as possible!
So what's new for Print Deploy in 20.0?
"We've completely revamped our Print Deploy client. It's now interactive. Users can log in and see all the printers that are installed on their computers. Plus they have the options to select the printers they want to install and search for them.
"It's a fresh and powerful user experience."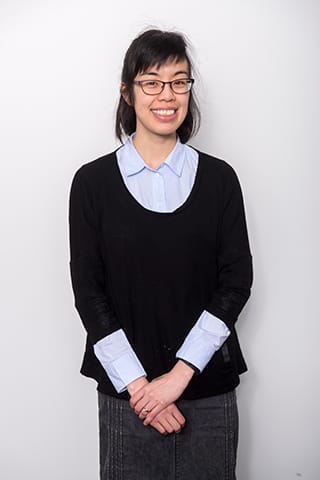 Print Deploy product manager Danielle Ko
Other than that new interactivity, is there anything you're pretty hyped about with this release?
"I just think the whole UI/UX is the bee's knees, it's really smooth.
"Before 20.0, when users went to different locations, their printers just got installed in the background.
"I think there's something powerful and organic in being able to select printers and uninstall them yourself. It's like bringing it back to your native OS feel, but nicer in a way.
"It also allows the admin to control which printers they want users to install. It takes out the complexity of users going to the intranet, or calling their IT support desk and trying to find the name of their printers and installing it themselves.
"So I'm hyped about the simplicity, power, and the slick UI which provides that self-service.
"We all like to be empowered with those elements to make printing work."
Who will benefit the most from this enhancement?
"End-users who move around, like to different branch offices.
"My husband, for example, has offices in Melbourne but also in Sydney. He makes that trip quite often. It'll benefit users like him particularly."
So, verticals where there's a demand for BYOD?
"Print Deploy's for managed environments, where your Windows, macOS, Chromebooks devices are managed by your IT department. Not so much BYOD, that's Mobility Print 's arena.
"It's great for organizations where you have workers who move around different branch offices and need to print."
Can you speak a little about why this self-service feature was built?
"A feature that was requested quite a bit by our customers was the ability for users to install printers from a map of the building.
"This is already something that one of our competitors offers, but we wanted to do something more which would also allow us the flexibility to build other things into the Print Deploy client users in the future.
"That's why we ended up doing the self-service client. It's like the same thing, but better."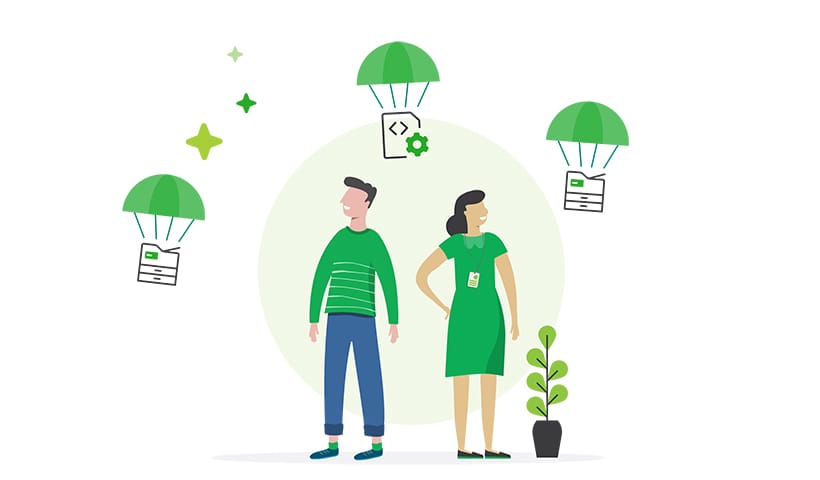 Is there anything about Print Deploy you'd like to shout from the rooftops?
"Give it a go!
"See the benefits firsthand of how Print Deploy cuts costs, reduces IT support calls, and removes the need to deploy print queues via in-house scripts or GPO.
"Deploy the Print Deploy client via your MDM software, or get all your users to install the client themselves and start printing immediately. It is really as easy as that!
"Anything I'd shout from the rooftops isn't just in relation to 20.0, it's just about Print Deploy in general.
"It's part of PaperCut NG , and PaperCut MF , so you can get some zones for free.
"You get print queue deployment combined with print management."
Yeah, it's a huge print enablement feature, right?
"That's it. Our print enablement is catered by Mobility Print and Print Deploy.
"For BYOD users or office people with an environment where IT centralizes all the management of their computers."
I'm still wrapping my head around print enablement and print management.
I suppose a lot of end-users are like me in that they consider them one and the same.
But print enablement is what the end-user first interacts with, whereas print management is a behind-the-scenes priority?
"Yeah, it's more of an admin concern. Cost-cutting, security, quotas, accounts.
"Print enablement is centric to the user. It's your basic IT need."
With that in mind, who's going to be more hyped about Print Deploy? End-users or administrators?
"Both, really.
"Admin will be able to reduce IT support calls, and there's no third-party software required for print queue deployment.
"End-users will be happy with that easy enablement."
Can you give us a sneak peek on what's next for Print Deploy?
"I'm super excited about what's coming next.
"We're seeing an increased number of larger customers rolling out Print Deploy. We're talking thousands of printers. Our feature set for the coming months will include ways to support these larger rollouts.
"This is via bulk creation of zones and print queues, and the ability to update your print drivers in one go.
"This will be a massive time saver. We've heard that it could take up to 1-2 minutes per driver update. We want to eliminate this problem.
"We're also improving the way we support non-local domain environments.
"To sum it up in a sentence - we want to make setting up and maintaining your print environment with Print Deploy, easy."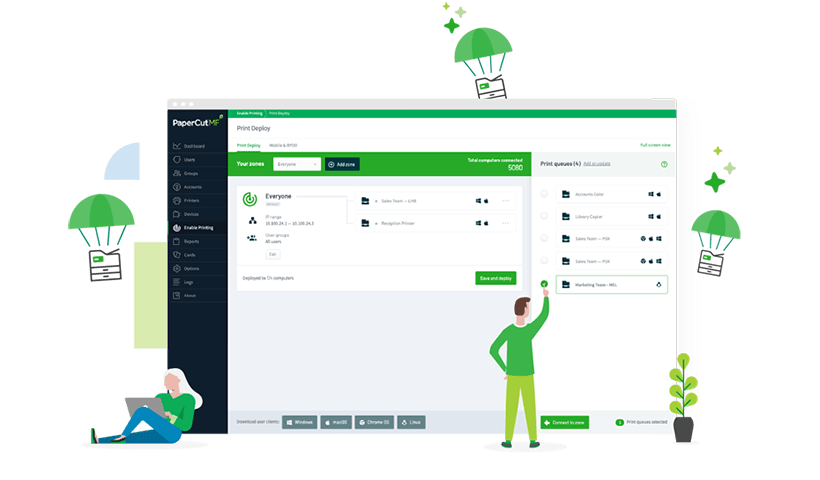 Get the right print driver and the right print queue to the right user in the right location, every single time, with Print Deploy. Find out more .