If coming together was the aim of Ricoh's Convergence conference last month in Las Vegas, then that's exactly what the PaperCut and ecoprintQ teams managed to achieve.
The National Dealer Meeting, put us in front of 1,400 attendees all interested in the latest solutions for Multifunction Printers for the Ricoh Family Group of dealers, which also includes the Savin and Lanier brands.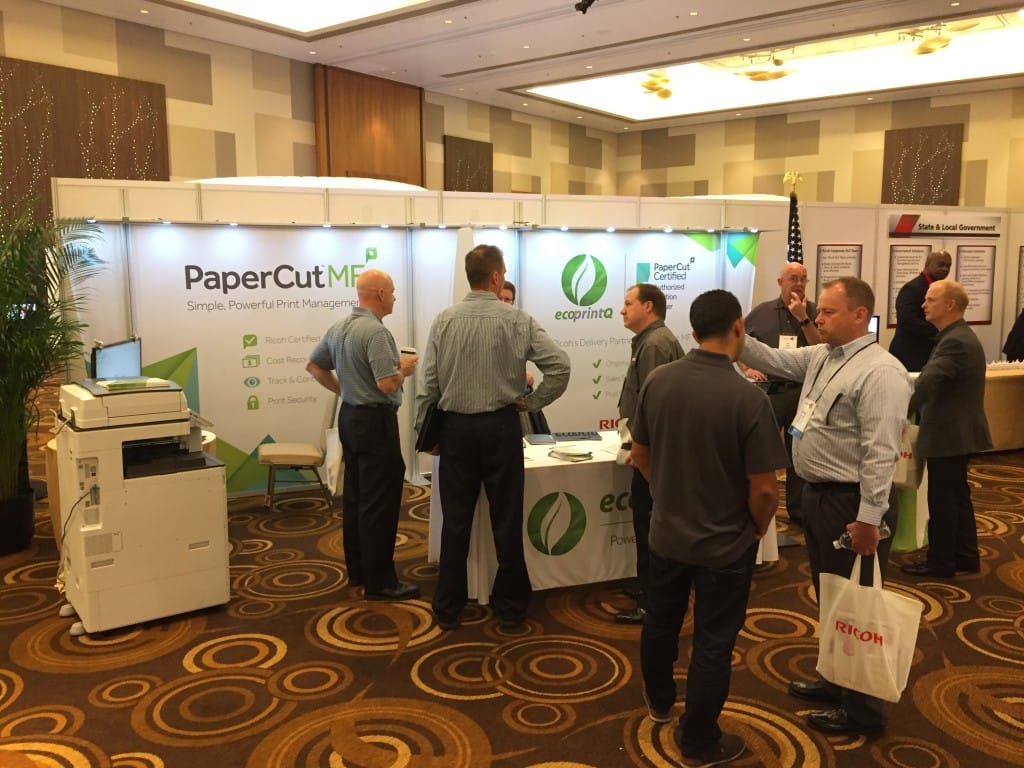 The busy booth at Ricoh Convergence
Over two full days of seminars and technology displays, the PaperCut presence made a significant impact on both dealers and the Ricoh team.
"Seven representatives gave us significant bandwidth to engage at all levels". Americas Channel Director, Joe Rubino commented, "We strengthened our relationship through collaboration and support."
Smarter than the average panel
Embracing Android development, in July this year, we released PaperCut MF 16.2 with support for the latest Ricoh Smart Operation Panel MFP's . Convergence gave us the opportunity to show dealers how customers can spend less time at the device, with the intuitive interface allowing multi-print job selection and quick scroll. Dealers were impressed with the latest interface, and how quick the application was to install, and intuitive to use.
"There's a strong focus on the redesigned user interface (UI) and their Smart Operation Panel (SOP)." mentioned the copier industry newsman, Andy Slawetsky from Industry Analysts in his conference review.
The latest PaperCut MF gives Ricoh users streamlined workflows at the device, including:
Easier data entry for login or PIN with a multi-touch screen
Fast one finger scroll functionality for multi-print job selection
The ability to print, delete, and view the cost of multiple print jobs together
[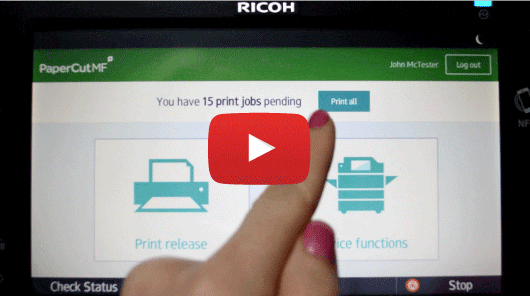 ]
Watch how the easy to use Android based interface just works
Partnering for solutions
Alongside the demonstrations, the teams reported amazing technology discussions happening around them to solve real customer problems. Being first out of the blocks with SOP development, PaperCut were seen as an agile business, able to pivot to align with market needs.
PaperCut MF Authorized Solution Center, ecoprintQ , showcased their innovative new on-board USB card reader support and welcomed positive commentary from the Ricoh channel community. PaperCut MF for Ricoh's success across the US and LATAM was attributed to ecoprintQ's strong solutions and support presence.
"If anyone doubted our partner eco-system, then Ricoh USA and ecoprintQ are a model of how this works," said Dan Quest, Global Partner Alliances Manager at PaperCut. "Much more than a PaperCut MF distributor, ecoprintQ are a vital pre-sales and technical resource for Ricoh and their channel teams."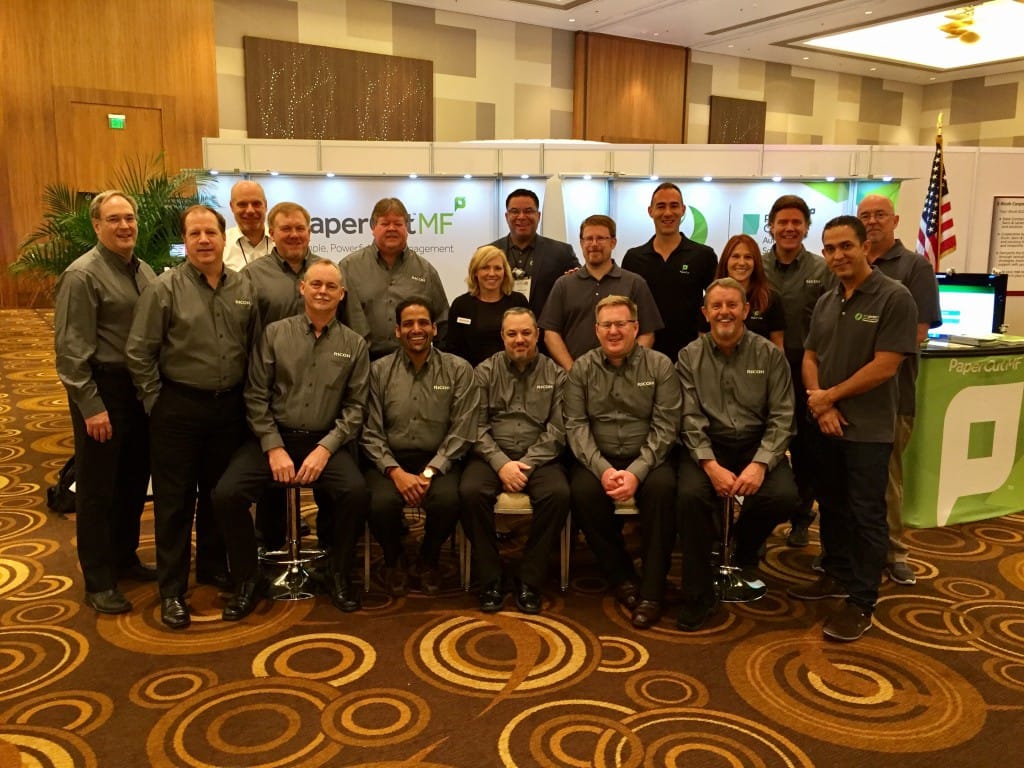 Pictured, the Ricoh USA Channel Solutions Support Specialists, PaperCut and ecoprintQ
All Ricoh dealers can source PaperCut MF through Ricoh USA, which makes ordering and support easier. Dealers also benefit through Ricoh programs, and local Ricoh Solutions Support Specialists, backed by the team at ecoprintQ who are equipped and ready to help.
With the environment in mind
Making use of older devices, Ricoh's established global resource-recycling model, aligns with PaperCut's efforts to reduce waste . Ricoh's worldwide GreenLine program delivers the latest operating software on revitalized MFPs, at a lower cost to users and the environment.  The GreenLine team were keen to position the benefits of saving the planet's resources on all fronts, including reducing paper usage.
What's next for PaperCut MF on Ricoh?
Currently, PaperCut MF integrates with Ricoh's GlobalScan NX to provide device authentication for workflows and OCR using Ricoh's AAA API, for a true single sign on process.
Coming in 2017, look out for Integrated Scanning on PaperCut MF, currently in development for Ricoh's SDK Java interface.
Quoting the 1971 novel about Las Vegas "A little bit of this town goes a very long way," then Ricoh Convergence certainly lived up to expectations.
More information, visit the PaperCut MF for Ricoh Tour .