Visitors to your workplace expect access to resources and amenities: coffee, tea, fridges, microwaves, bathrooms, and… printers! 
But printing is a bit trickier to set up than how to boil the kettle! Guests bring different devices with different Operating Systems (OS). This requires all of the usual print queue and driver installation. And if your workplace has a lot of guests coming to and from the office at different times, it can be a lot for your sysadmins to set up. 
An efficient guest printing setup will allow your visitors, contractors, or other temporary users to print documents from their own devices without having to install drivers, join the network, or log in to the system. Simple guest print enablement software can provide you with a convenient and secure way to provide printing services to visitors.
But, just how vital a business need is guest printing? And if it is, how do your IT administrators simply overcome the challenges of guest printing?
Why is guest printing important for a modern workplace?
Guest printing isn't just a nice-to-have feature. It's a necessity to accommodate the needs and expectations of visitors to your workplace. From your colleague's son or daughter wanting to print off homework or a visiting business partner who needs to print off a contract agreement or pitch document. While guest printing offers many benefits for workplaces and their guests, it's not without some hurdles to overcome for IT administrators who need to set up and manage it.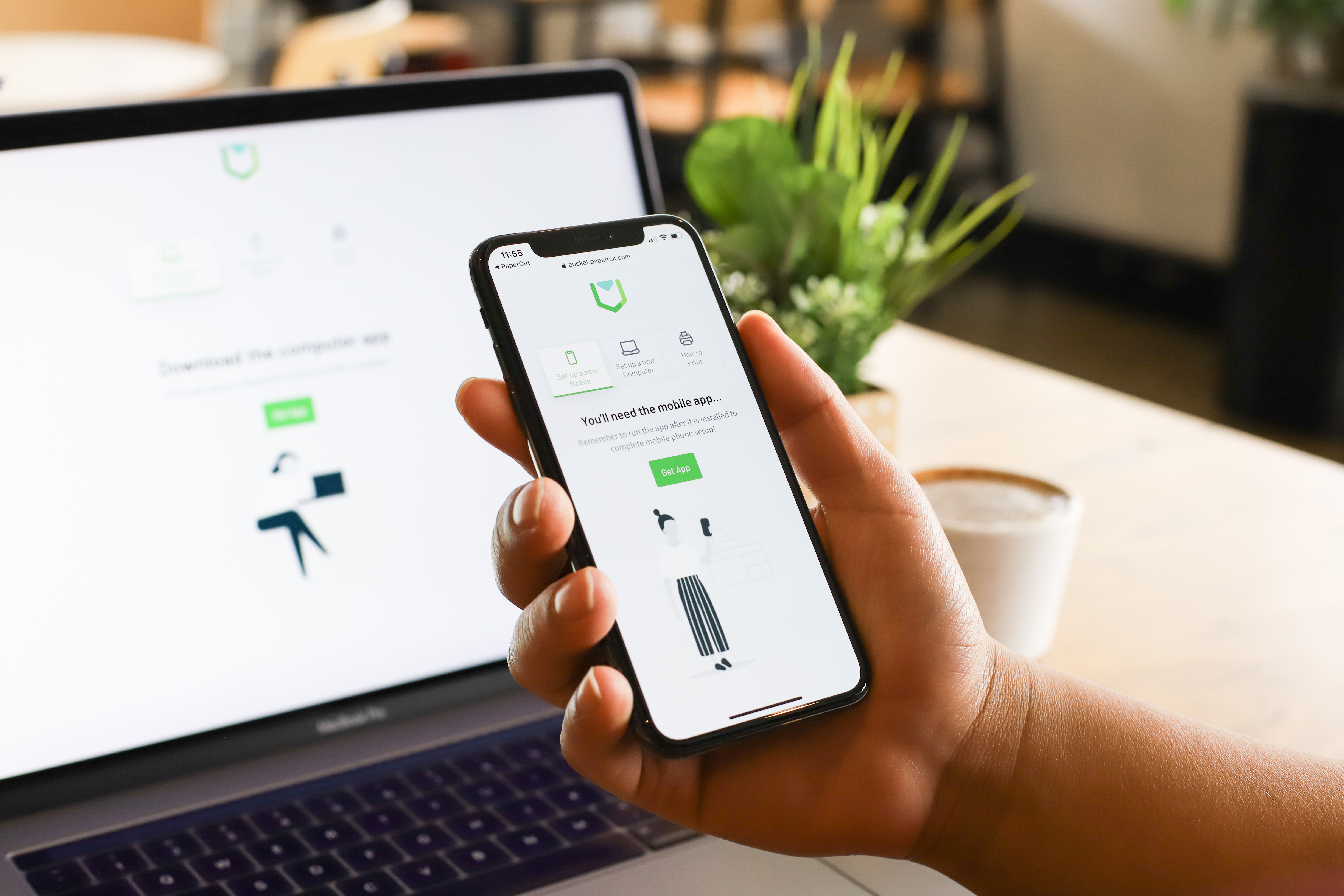 4 benefits of guest printing for businesses
1) Enhanced guest experience: Whether you're hosting a client meeting, a training session, or a conference, guests can print documents on demand without any hassle. This way, they can focus on their work and not worry about technical issues or delays.
2) Improved collaboration and productivity: Guests can share their documents with other participants, such as colleagues, partners, or customers. This facilitates communication, feedback, and decision-making, and reduces paper waste and costs.
3) Supported mobility and flexibility: Visitors can print from any device they bring with them, such as laptops, tablets, or smartphones - no matter the brand or OS. This gives them more freedom and convenience to work from anywhere on your premises.
4) Security and privacy regulation compliant: A tried and tested solution for guest print enablement ensures guest data and documents are protected from unauthorized access or leakage. That security and compliance swings both ways. IT administrators can limit access and monitor printing usage to ensure your intellectual property and confidential information are safeguarded.
Never miss an update!
This site is protected by reCAPTCHA and the Google Privacy Policy and Terms of Service apply.
4 challenges of guest printing for IT administrators
Without a proven guest print enablement solution, your workplace can suffer from the following challenges: 
1) Compatibility issues: Different devices have different operating systems, browsers, and applications that may not be compatible with your printers or drivers. This can cause errors, failures, or poor print quality.
2) Network limitations: Some devices may not be able to connect to your network or access your printers due to firewall restrictions, VPN settings, or authentication requirements. This can prevent your guests from printing their documents at all.
3) User confusion: Some guests may not know how to print or where to find your printers. This can result in frustration, wasted time, or unnecessary support requests for your IT team.
4) Resource consumption: Guest printing can consume a lot of bandwidth, storage space, and printer resources if not managed properly. This can affect the performance and availability of your print environment for your regular users.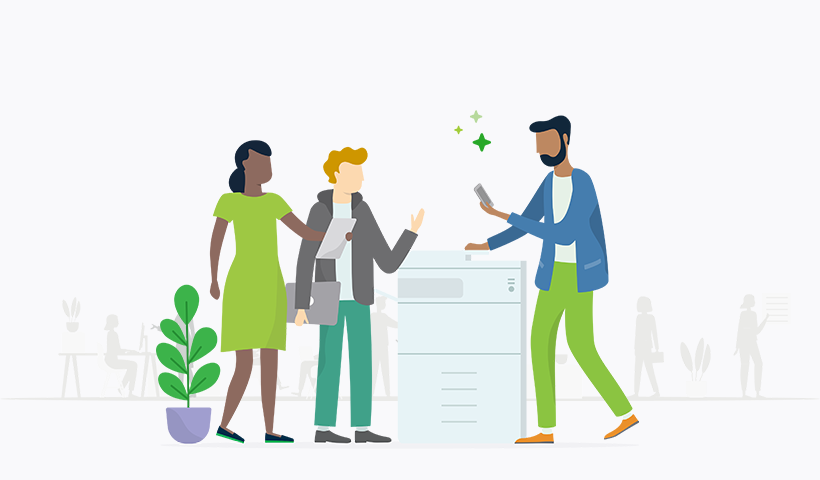 How PaperCut enables guest printing
If you're seeking a print solution for guest printing, PaperCut makes ad hoc print enablement easy and flexible for both IT administrators and guests. We have a range of products and features that provide easy onboarding for visitor printing.
---
---
PaperCut Mobility Print
Our free print enablement product PaperCut Mobility Print is a specialist solution for BYOD (Bring Your Own Device) printing and is, therefore, a perfect tool for guest printing. It enables native printing from any device - PC, Mac, Chromebook , Android, Apple, etc. You can set up a standalone Mobility Print server just for your guests, then use the Cloud Printing option to generate links for your users. Guests simply connect to their local guest Wi-Fi network and activate printing via the setup link. You can also set up authentication and track printing volumes via print logging when Mobility Print is paired with PaperCut MF to ensure no rampant printing occurs.​​​
---
---
PaperCut Hive and PaperCut Pocket
Our cloud products PaperCut Hive and PaperCut Pocket are proven guest and BYOD printing solutions for workplaces with a large volume of transient and guest users like coworking spaces and real estate agencies. All users are onboarded via an email link and can print from their laptop or smartphone of choice by authenticating at the printer/copier with their mobile device or scanning a QR code.
PaperCut Pocket is our DIY cloud solution for simple and basic print enablement and management. PaperCut Hive is our complete cloud print management solution with copying, scanning, and MFP-embedded software supported.
---
PaperCut MF and PaperCut NG
Our self-hosted solutions PaperCut MF and PaperCut NG provide a number of features that enable guest printing.
Email to Print : guests email their documents to the printer directly. Nothing to install. Just send an email and your printing. It's not the most secure option, but it is quick and convenient.
Guest Release: You can increase the security of email to print by setting it up so that visitors must log in to the printing device as a guest and release the job with our Secure Print Release feature. It's a bit less convenient, but the tradeoff is it's a bit more secure.
Assisted Print: This is similar to email to print, but your guests email their documents to the reception account specifically set up for printing. Your reception staff then release the job. Not as convenient, but more secure with some checks and balances in place.
Temporary user registration: Both convenient and secure, with this method guests register as a print user to gain access to PaperCut Mobility Print, then they print natively from their device while your IT team can manage and oversee their printing behavior for support and security purposes.
3 tips for effective guest printing management
Finding and implementing the solution is half the battle. Once you've done so we recommend the following ongoing tips to regularly maintain your guest printing. 
1) Setting user quotas: Limit visitor printing usage and prevent abuse. You can either set a fixed quota per user or a shared quota per group. You can also set a validity period for the quota to expire after a certain time.
2) Monitoring guest printing usage: Use PaperCut's reports and dashboards to see how many guests are printing, what they are printing, and how much they are printing. You can also filter the data by date, printer, or user group.
3) Troubleshooting common guest printing issues: PaperCut's logs and diagnostics can help you overcome most printing issues. You can check the email logs to see if the print jobs were received and processed correctly. You can also check the print logs to see if the print jobs were released and printed successfully.
3 best practices for IT administrators using PaperCut for guest printing
Beyond features in our software, we've learned a few things about the best way to manage all users. Many of our developers are former sysadmins so here's our best practices guide for managing guest printing: 
1) Communicate clearly with your guests: Make sure your guests know how to use your guest printing feature and where to find your printers. You can send them a welcome email with instructions and tips, or display signage near the printer or release station.
2) Test your guest printing setup regularly: Set yourself a regular reminder to ensure guest printing systems including queues, printers, and release stations are working properly and up to date. You can test your setup by sending a test document from your own device or asking a colleague to do so.
3) Review your guest printing policies periodically: Allign guest printing policies with your organizational goals and needs. You can review your policies by analyzing your guest printing usage data and feedback.
No hassle printing for visitors, contractors, and guests
PaperCut makes guest printing easy and flexible for both IT administrators and guests. Set up a guest printing system for simple and secure BYOD printing then configure printer access and customize the guest printing workflow according to your preferences and policies. And tie it all together with PaperCut's reports, dashboards, logs, and diagnostics.
Seeking a guest printing solution? Compare our products for an overview of each PaperCut solution and how it can enable simple and secure printing for visitors to your workplace.
COMPARE PRODUCTS