Wait a second. Forget who PaperCut is… what the heck is this software? I'm willing to wager, say, one sheet of paper, that you haven't heard the term "print management" before. You might be surprised to hear that it's an essential aspect of modern business.
Printing is one of those things we only notice when it's a problem. Print management software makes the administration of printing simple and automatic. With a print management solution, you can streamline printing processes, improve efficiency, and most importantly reduce operational costs. 
With the growing demands of the digital age, in a hybrid-working world where "Zoom meeting" and "You're on mute, Dwight" go hand-in-hand, print management is of the utmost importance. Companies need to connect their devices to print queues. Administrators need control of their print environment. And it all needs to be as simple as selecting  "Join meeting" or clicking "Turn on microphone."
In that melting pot of digitization,  more and more organizations are turning to print management solutions to help them manage their printing and make as many parts of their print environment as automated as possible. All while not bleeding their business dry with ink and paper orders.
What print management software are organizations choosing? Well, it just so happens that the best way to manage all those printers is with PaperCut. I know. Cringe. Beating our own chest here. But for a reason, I promise…
A bit about PaperCut
Now, don't get me wrong. PaperCut is but one of the dozens of companies that specialize in developing printing software. We don't manufacture printers and copiers. But we do have partnerships with print hardware companies. 
Why do printers need software? Many print and copier devices come with inbuilt software and firmware. But companies like us specialize in programming solutions that provide additional functionality on top of what the manufacturer provides. Each manufacturer has their own way of doing things on their device. We, and our competitors, provide ways to make the device experience as similar as possible for users across multiple brands.
PaperCut's been engineering print software for 25+ years. We are an industry leader.  And, in our opinion, we're pretty darn good at it. And here's why we think PaperCut is worth your consideration if you embarking on the print management software buying journey.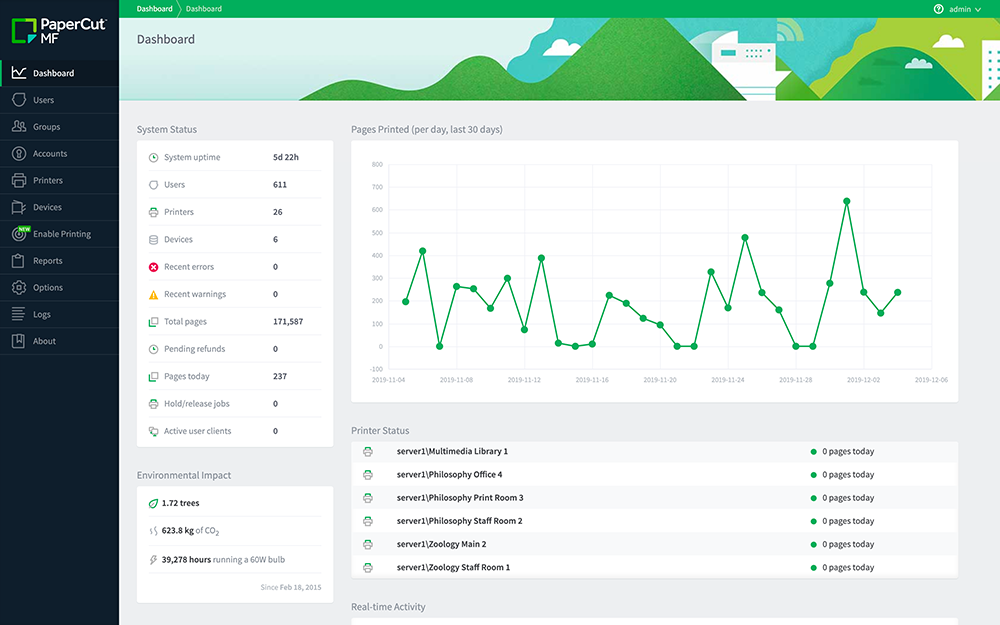 User-friendly interface
We're pretty proud of our user-friendly interface. The UI in our products was designed with ease of use in mind, making it accessible to a wide range of users, regardless of their technical expertise. Even if your IT experience involves turning your TV on and off again, we've got you covered. Our intuitive interface allows users to easily track their print jobs and monitor their printing expenses, making it simple to manage and control printing costs.
Easy setup and deployment
We prioritize simplicity when we build software. We ensure our solutions are easy to set up and deploy, allowing organizations to quickly and easily manage their printing needs. Your system administrators can manage printing with one hand, and sip their cappuccino with the other. Our solutions integrate with a wide range of printer and multi-functional device manufacturers, making it a versatile solution that can be used in a variety of environments.
Never miss an update!
This site is protected by reCAPTCHA and the Google Privacy Policy and Terms of Service apply.
Scalability
Our flagship solutions like PaperCut MF and PaperCut Hive can be used in small offices with just a few printers, as well as in large enterprise environments with mixed fleets of hundreds of printer brands and thousands of users. We believe in the solution fitting the organization, and not the other way around. In fact, we pride ourselves on crafting products that can be adapted to meet the needs of any print environment, regardless of size or complexity.
Customizable feature set
Not all workplaces are the same. That's why we provide a range of customization options, allowing administrators to set up print quotas, implement print policies, and track print usage for different departments or groups. We build the software, but we can't tell you how to set up your environment or print management processes. You have specific needs, so where possible, you can tweak features so they better serve your workplace.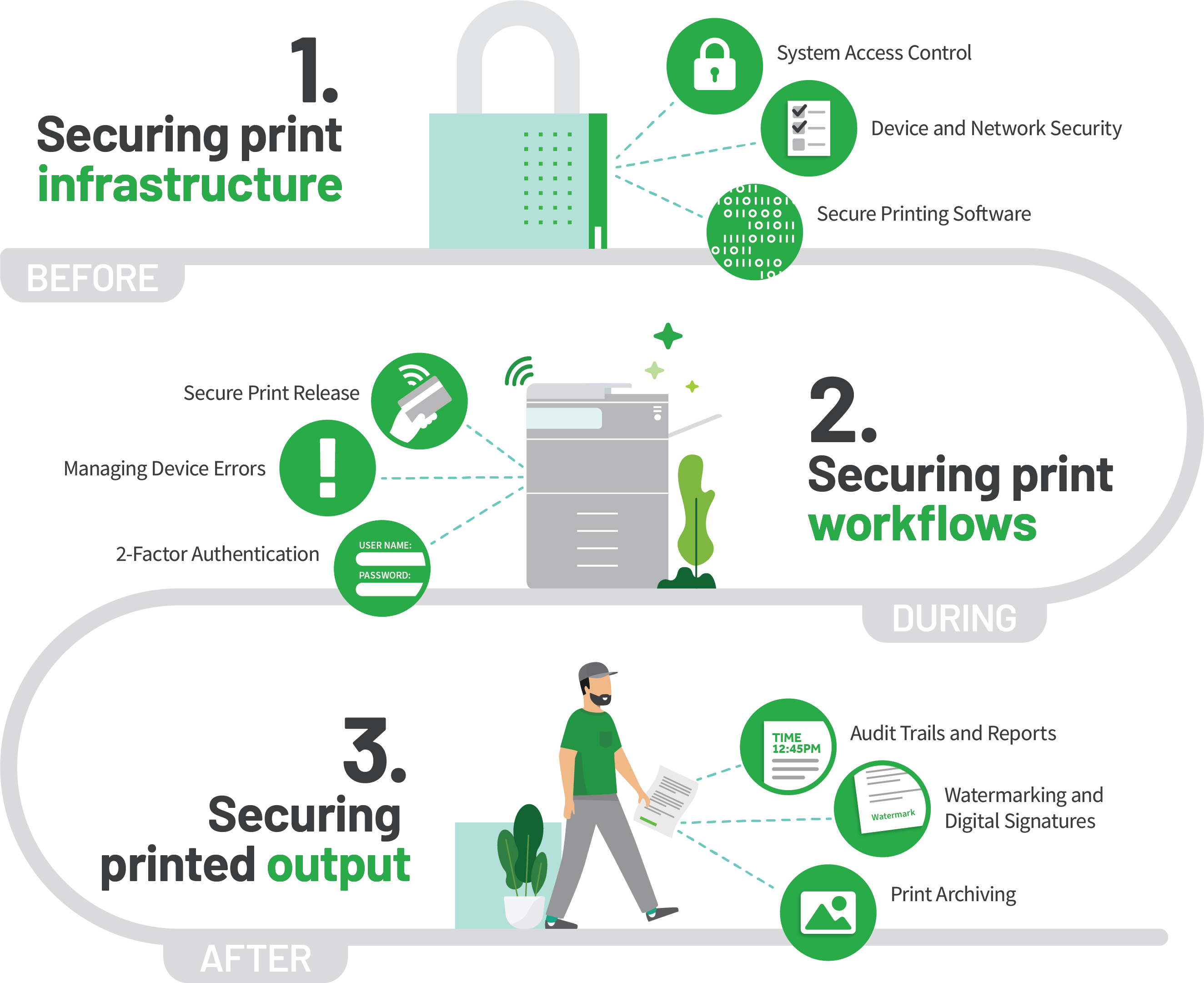 Print and data security
PaperCut products are designed to protect your printed documents during every stage of the printing journey: before, during, and after you press print. Our software provides authentication and access control protocols so you control who prints and when, where, and how they do so. Secure Print Release removes the threat of forgotten or discarded print jobs by requiring authorized release at the printer/copier. It can also be used with the Find-Me printing overlay to add convenience on top of security. Then our afterlife features like auditing, watermarking, and archiving mean you can track your documents' movements even if they get lost.
Cross-platform compatibility
PaperCut works on a variety of operating systems, including Windows, Mac, Linux, and mobile devices, making our products a versatile solution for a wide range of organizations. This cross-platform compatibility means you can manage your printing needs from a central location, regardless of the devices or operating systems being used. It also means you don't need to worry if you have a mixed fleet with various printer brands and Operating Systems. PaperCut works on almost any printer you throw it at. That doesn't sound very impressive but I'm allowing wriggle room just in case you have a legacy printer from the early 90s. Trust me, it happens. Also, don't throw printers at things.
Integration with other systems
PaperCut products can be integrated with other systems, such as Active Directory, to streamline the printing process and improve the overall user experience. By integrating with other systems, you can streamline the printing process, reducing the need for manual intervention and improving efficiency. That means less IT support tickets and happier IT teams. And we like making IT workers happy. We're IT workers. 
Cost savings
We're a cost-effective solution for managing print expenses. Organizations can save money by reducing paper waste and improving print efficiency with automated print policies. We have a range of features to help you monitor and control your printing expenses, making it easier to identify areas to reduce costs.
Comprehensive reporting
PaperCut provides comprehensive reporting features, allowing system administrators to track print usage, monitor expenses, and identify areas for cost reduction. Our self-hosted solution PaperCut MF offers comprehensive reporting features. No matter your industry or print environment, we deliver the data to give you complete visibility of your organization's printing behaviors so you can make informed decisions about your print management processes.
BYOD and mobile printing
Our solutions PaperCut Mobility Print and PaperCut Pocket provide mobile printing capabilities, allowing users to print from their mobile and BYO (Bring Your Own) devices. Both of these products offer simple set-up to connect users quickly from whatever manufacturer and OS (Operating System) they have. This makes it easy for users to print documents while on the go, improving their overall productivity.
Cloud services
From remote printing via the internet to cloud-hosted print management software, we have multiple products for businesses already in the cloud or wanting to move to the cloud. For just enabling printing, our free solution PaperCut Mobility Print provides simple and quick connection for BYOD devices to printers and off-network printing via the cloud. For print management capabilities hosted in the cloud, we have two cloud-first solutions, PaperCut Hive and PaperCut Pocket for organizations wanting to manage their print without on-premises print servers. Our flagship solution PaperCut MF is also a proven private cloud solution for printing - for organizations that need the convenience of the cloud but a requirement for data security and sovereignty that single-tenant solutions provide.
Sustainability 
This is where we consider ourselves pretty unique. The passion for sustainability literally founded our company. Our software began as the passion project of a primary school IT worker who wanted to eliminate discarded piles of paper sitting next to the printer. 
Our software is loaded with environmentally friendly features like automating duplex and grayscale printing to stop ink and paper waste. We also built printing policies to promote thoughtful printing, meaning no electricity is wasted on unnecessary print jobs. Lastly, we can bundle licenses for our products with entry into our Forest Positive tree planting program, PaperCut Grows .
Industry-leading, worldwide used print management software
I know what you're thinking. This is a PaperCut blog. Of course they're going to say they're the best print management software there is. But we can back it up. In G2's Winter 2023 report we were named the industry leader by​​​ being the most recommended product by customers surveyed. Our products were ranked as delivering proven 11-month ROI, well above the 20-month average, as well as being well suited for all organizations from small businesses to enterprises with our solutions receiving a high user satisfaction ranking.
But there's more. In 2022 we were named one of the industry leaders in IDC's Worldwide Print Management Solutions Independent Software 2021 Vendor Assessment' *(Doc #US47348521 , December 2021).  *So this blog is more than just marketing fluff. Even if we're not the best print management software, we are up there.
I'll finish with this. Our solutions are used by 139 million users in 89,000 organizations throughout 195 countries. So whether you're looking to reduce how much you spend on paper and ink, connect users and devices to printers quickly and easily, or just make your printing a little better, in our opinion, we're a solid solution to consider. 
Want to make your own mind up about our print management software? Compare our products by industry, feature, and technology to see what print management solution suits your organization best. Then download a free trial or get in touch for a demo.
COMPARE FEATURES