[caption id="attachment_556" align="alignright" width="350"]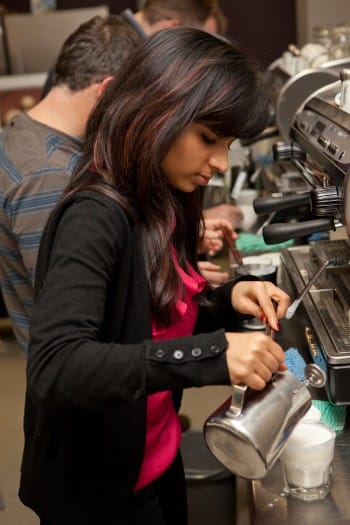 Priyanka transitions from Java code to Java drink![/caption]
The regular readers of our blog will have noticed a few off-topic posts slipping in from time to time. The common theme is coffee and beer . As a group of passionate computer programmers and tech geeks it's no surprise that we have developed a strong corporate coffee culture. Coffee is our secret weapon! Over the past 10 years we've changed programming languages, compilers, and development practices, but one factor has remained constant: Coffee. It must be the pillar for PaperCut's success.
Coffee is very much part of our culture. The company funds a continuous flow of lattes, cappuccinos and macchiatos (Hendrik's favorite) all arriving from the coffee shop directly opposite the office. Most of us have espresso machines at home (e.g. Rancilio Silva ) and discussions on brewing techniques seem to pop up in developer meeting agendas unannounced.
Recently management decided that attending a formal coffee barista course would be a good idea. Traditional businesses would have called this a "cooperate team building exercise", however for us it's "core competency training" :-) The whole Melbourne development team (minus Tom) spent a day at a coffee training academy learning the finer points of coffee production.
Lessons included:
The art of wasting lots of milk perfecting the perfect froth.
The amount of coffee one must waste to calibrate the ideal 25 second espresso pour.
Latte art : The art of convincing someone that the shape on the top of their coffee was deliberate.
How to make beverages unknown to computer programmers (chai lattes, and hot chocolates)
The day finished off with a competition. We paired up into teams and had to make 8 coffee variants in 8 minutes. Congratulations to Matt and Jason who took out the title.
To take a slight deviation, my favorite pieces of coffee trivia:
Overall it was a very fun day. We even got to walk away with a formal certificate - we're now qualified Baristas! If we all get sick of writing print management software we now at least have a fall back option - open a cafe!
[gallery]
Thanks to Jason for the great images!