PaperCut acknowledges the Traditional Custodians of the land upon which our head office stands, and we pay our respects to their Elders past, present, and emerging
Our true clients are the trees we save. Many of our 200+ PaperCutters joined the company because of our environmentally-minded culture. In fact, our software was created because of the drive to minimize waste. Our print management solution started simply with one person looking to solve a problem.
True to our company's foundations, this is a story about a single PaperCutter seeing an opportunity to do something more, and make a big change.
Earlier this year, PaperCut started supporting Carbon Positive Australia , a charitable fund that plants native trees on degraded land in Australia. Carbon Positive Australia's reforestation projects support the rehabilitation of degraded Australian land, sequestering carbon whilst helping restore the country's landscape and conserve its natural biodiversity.
It all started with one PaperCutter, customer care team member and presales specialist, Jess Graves. Thanks to her, PaperCut's tree saving efforts are now going that one step further: if you buy a new PaperCut license, we'll plant a tree.
We caught up with Jess and she told us how one little yoga mat led to a big idea and a special initiative close to the hearts of all PaperCutters.
What was the inspiration for PaperCut's involvement with the Carbon Positive Australia charity?
Historically we sent out physical gifts to customers to say thanks for being a loyal customer. This didn't sit well with me personally because we (humans) don't need more stuff. I really love the idea of donating to a charity in someone's name as a way to say 'Thank you, we appreciate you' - especially a tree-planting charity because of the nature of our product.
The Australian bushfires of summer 2019 and 2020 encouraged me to get this idea off the ground. They were devastating, not only in terms of the 18 million hectares burnt and the trees and animals lost, but the human impact also. It was a distressing time for the whole country, and a shock to myself as a New Zealander who's never really experienced bushfires up close before.
It was around Christmas time. I had seen some other companies who were planting trees and doing some cool stuff to give back to the planet. A friend bought a Jade Yoga mat and it came with a little card that said," We're planting a tree because of your purchase."
I really wanted PaperCut to be involved with something like that because given the devastation, shouldn't everyone be planting trees? I started researching and found Carbon Positive Australia. They had a big banner on their website that said, "We're on a mission to plant a million trees in Eurardy, Western Australia." I clicked on all these maps and got to see a bird's eye view of where they are planning on planting during winter. I got hooked on that idea of PaperCut planting a forest.
Why was Carbon Positive Australia the charity you chose?
There are a lot of tree-planting initiatives, some are better than others. During my research, I read a really interesting article which made the point that when people go out and plant trees, a lot of these trees don't survive. It's not so much about the long term impact, it's about the short term feel-good factor.
Carbon Positive Australia works with landholders across Australia to develop ecologically sensitive planting projects. For the first three years after planting, they keep a close eye to make sure that the uptake and the growth are up to speed. Their planting sites are independently monitored for progress and the results are published on their website.
Their approach made me feel like they were taking it a step further. It's an ongoing conservation project, not just planting trees and forgetting about it. Carbon Positive Australia's work supports the rehabilitation of degraded land here in Australia that has previously been cleared for commercial purposes.
What was the first step to getting PaperCut involved?
I made a few donations myself for friends and family. I got to write a little message and they received a cute little personalized e-card. After testing the water, I put a formal proposal to the Head of Sales and Channel. It was like an episode of Dragon's Den! I was so nervous because of how important it was to me. But since this relates to one of PaperCut's core values, I probably didn't need to feel so nervous. So many people join us here because of our tree saving mission
It was well received and signed off almost immediately. After that, it was easier than falling out of a tree to get the rest of the company on board.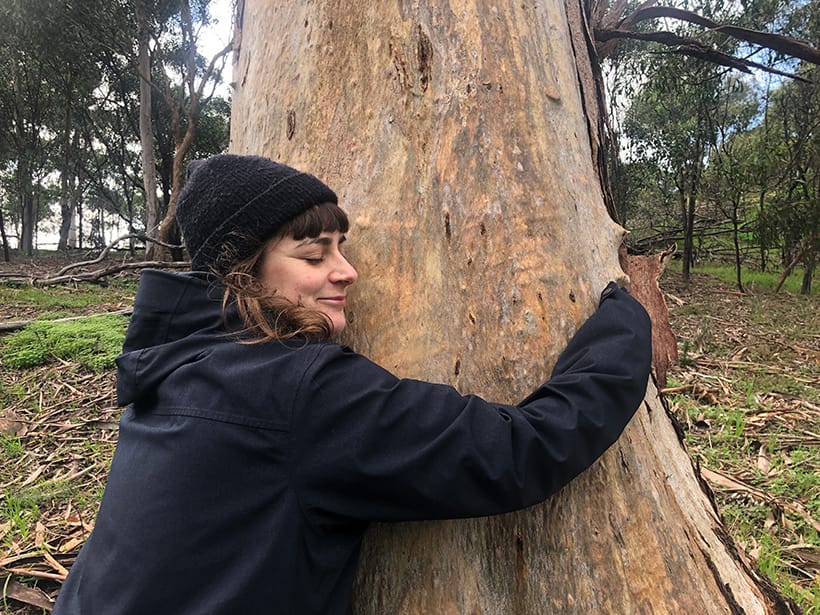 Jess and one of her best buds (that pun though)
Why did you want PaperCut to get involved?
PaperCut helps save trees by not wasting paper for printing. This initiative is the next logical step of our tree saving efforts: helping to grow and restore forest life. Doing this in Australia is really important, not just because we are an Australian company, but because of the bushfires here. And now after seeing the bushfire season Oregon U.S  has just had, I think this is going to create more conversations, action, and uptake of initiatives like this globally.
What's it been like watching this go from a dream to a reality?
I want this to be the promise of more green initiatives to come. I don't want to stop here. But it has been absolutely amazing. It's quite a manual process. I'm involved with communicating between PaperCut and Carbon Positive Australia every step of the way. I get to see it all happening. It still feels like I'm having that personal relationship with the organization and manually making the contribution. I went from making donations myself to getting PaperCut to make contributions I could only dream of.
We'd like to thank Jess for getting PaperCut involved with this reforestation project, and Carbon Positive Australia for helping to conserve our planet's natural resources. From little things, big things grow, and we look forward to doing more little things that all add up to something for the environment.
Feature image: Courtesy of Carbon Positive Australia