Another successful PaperCut Constructival hackathon has come and gone. Around 120 PaperCutters huddled together in busy little groups for 30-odd hours and hacked to their collective hearts' content.
Why have a hackathon? What's the value? How do I run a hackathon with my own team? These are the questions we'll solve today.
Why do we run hackathons at PaperCut?
There are a few answers to this question. In no particular order:
Hackathons are great for team bonding
In this year's hackathon, one particular team included a graphic designer, a channel marketer, an array of developers, and a couple of product owners - a group that had never worked together before. Now that group of people have a strong shared bond (and a trophy, as it happens).
Hackathons are great for culture
Giving staff time away from their usual roles brings excitement to a weary team. The workplace has a different vibe when everyone's huddled in spaces they don't normally use, building something completely new. It's especially exciting when usual deadlines and tasks are put on the back burner for a couple of days.
Hackathons can produce new products/services/processes
You've probably heard that the Facebook Like button was borne out of a hackathon. Similarly, a number of past initiatives at PaperCut have seen the light of day. And it's not just new products and features - the PaperCut Environment Guild and edible herb garden both came from past hackathons.
[caption id="attachment_4776" align="aligncenter" width="820"]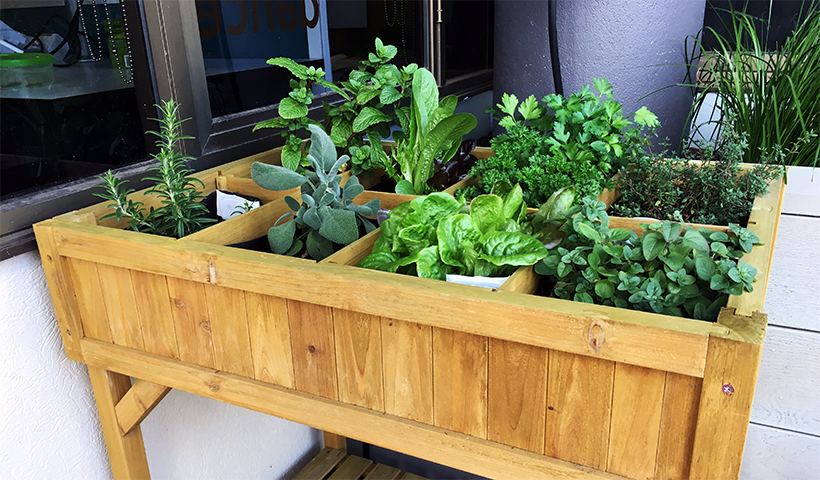 Herb garden by the Gardens of the Galaxy team[/caption]
If you're stuck for a new business idea, looking for an administrative improvement, or need to crack an internal innovation, follow these steps to hacking success the PaperCut way.
The complete list of hackathon tips
(compiled from three years of trial and error at PaperCut)
Tips before the hackathon
Form your committee - get an inspired crew together that's motivated to get this thing happening. You want to be coming together at least three months before your hackathon kicks off. That's so you have time for planning, any fundraising, internal marketing and the like.
Identify your theme and parameters - themes are optional, parameters are essential. A theme can help focus teams (focus on hacks for a particular vertical, for example). Parameters are your rules of engagement: no pre-work, no working after 6pm, no teams bigger than five people etc. (At PaperCut, hacks must be showcased at the end of the event in a video running for no longer than three minutes).
Communicate the theme clearly - as with anything in life and business, communication is critical. Make sure participants understand and can get behind your theme. Perhaps road test it with a couple of team members.
Inspire your staff -  you and your committee need to evangelise the value and fun of this event.
Provide a purpose - pump up the opportunity to have a hand in future success. Or perhaps highlight the one, two or three days off normal work (and free pizza). Whatever inspires your team.
Look for sponsorship opportunities - your company might be prepared to cover expenses (although food costs get pretty exe, depending on your team size), but imagine how spectacular this event could be with a few thousand kicked in from a willing sponsor. Every committee member must undertake to try to raise funds.
Gather the ideas before the event - this goes against many hackathons, but it's PaperCut's way of rolling. We post ideas up on a wall a couple of weeks before the event, and people add their names to projects that interest them. The clever folks quickly learnt to target and recruit key personnel as well. Not sure I endorse that officially, but it's a smart tactic nonetheless.
Ensure each idea has a leader - usually the person who has the idea is the project leader, but not always. Make sure each project has a nominated leader. They'll be your contact point, and have the unofficial task of recruiting.
Order t-shirts - I can't tell you how popular our Constructival t-shirts are each year. They're worn year round.
Tips during the hackathon
Set the scene at kick-off - it's super important to give the event bookends. A strong start and a memorable finish. At PaperCut, we assemble everyone in our all-hands meeting room at the scheduled start, blast an opening video designed to inspire and energise, run through the rules and outline the meal breaks and perks (free drinks/snacks etc.) and finish with a message from Papercut's CEO to explain the importance of the event. It works well.
Get around each team regularly - committee members should roam throughout the event, checking that everyone's focused on their project and not diving off to perform BAU tasks. A few inspiring words don't go astray either.
Offer mentors - Chances are you'll have a one or two teams that are light on for experience in some facet. Nominate a couple of senior tech, dev and/or marketing peeps who are available for advice giving.
Provide fuel - participants should expect to have main meals catered for (including dinner if possible). Plus snacks and drinks (soft drinks, juices, energy drinks, coffee) should always be available.
Generate excitement - think of ways to keep the interest levels high. Perhaps create a Spotify playlist of people's favourite tunes, make regular announcements over intercom, have a roaming coffee cart … whatever keeps the energy levels up.
Film it - at PaperCut, we have a team that roams around filming regular interviews as part of a documentary we put together. We use the doco for promotion of the next event. Plus it's a handy way to promote our culture to future employees.
Socialise it - share the hype with your social followers. It's a terrific way to generate a conversation.
Celebrate it - as mentioned above, celebrating the end of the event is critical. At PaperCut, we gather everyone in our cafe and screen each team's three-minute video. And have a drink or two to celebrate as well.
Award it - In the past, we've awarded prizes during the hackathon closing event. Nowadays, however, we hold our awards ceremony a few days after the event, to allow for people's votes to trickle in. This also gives the leadership team time to consider the submissions carefully. It lends the event a gravitas that goes beyond giving out on-the-spot awards.
[caption id="attachment_4777" align="aligncenter" width="820"]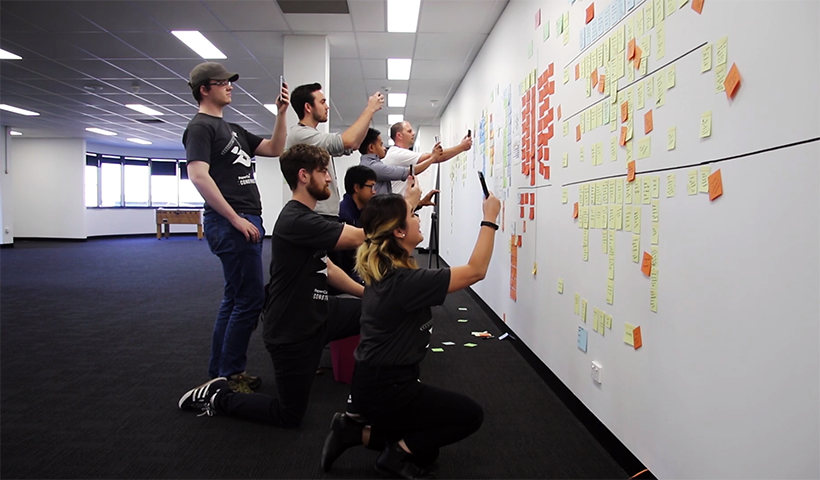 Team SCAN-DUH-LESS in action during Constructival[/caption]
Tips after the hackathon
Maintain the rage - the ulterior motive for running a hackathon is creating an environment for finding new ideas worth implementing. As such, keeping good ideas progressing is super important. You lose credibility if the projects start and end with the hackathon. You MUST give projects an opportunity to persist, pivot or perish. Set time aside to review each project's potential; give team members clear feedback on your thoughts.
Get something into production - try to get at least one project up and running within a reasonable timeframe. This inspires future hackers that their idea may just see the light of day.
That's a high level look at how we run our hackathon events. If you think we've missed anything that's helped you, add it in the comments below. And if you have any questions, hit us up and we'll do our best to help you run a successful hackathon of your own.