EDITOR'S NOTE: Due to COVID-19 we understand that you may be restricted in your workplace access. All of PaperCut is currently operating under a Distributed Working model for the immediate future.
But, to quote Nick Fury, until such time as the world ends we will act as though it intends to spin on. So we'll continue to share ideas and stories to improve your print environment for when we're all back at work.
---
Morning sun bleeds through the blinds. The bittersweet aroma of coffee tickles the nostrils. Laptops, mugs, wallets, and keys litter the boardroom table. An eaten apple core sits next to the conference call speaker.
Triage is underway
Sitting around the table is PaperCut's APAC Support team. Every weekday at 9.30 am they file into Station, the large narrow boardroom in the eastern wing of PaperCut HQ in Camberwell. They spend the following 60 minutes with their eyes fixed on a wall-mounted widescreen. They discuss disruptions and malfunctions as they file through issues relating to networks, connectivity, and host servers.
At the head of the table, adorned in a salmon-colored Incredible Hulk t-shirt, sits Dug, PaperCut's Asia-Pacific (APAC) Support Manager. Think Simon Pegg with the height and presence of Chewbacca.
Presenting his laptop on the TV from the middle of the table sits Senior Technical Support Engineer, Mel. The screen glows in the reflection of his glasses. He's still chewing the last of his apple.
Right now Mel's Turbo, the owner of the meeting, (named after Turbo Man from Jingle All The Way). Turbo drives through the support tickets in Zendesk. As the team discusses issues and fixes, Mel takes notes for each ticket then assigns them to individual support engineers.
To Mel's right is Shane, his Booster (his backup, yes, Booster is also from Jingle All The Way). Once triage is finished, Shane will watch the queue in Zendesk throughout the day. He'll also help with quick fixes or assign engineers for harder stuff.
This is how our Maintenance and Support (M&S) teams operate in our Melbourne, London, and Portland offices. Some of the names may change (Turbo is Ninja in the US and Meerkat 2.0 in the UK), but the process is the same.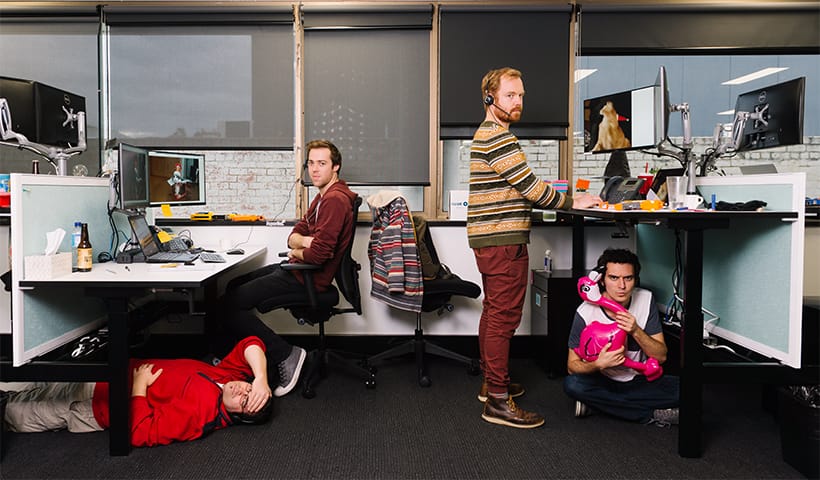 Just another day at the office…
Sorting the tickets
It's not all fun codenames and elaborate meetings, the triage is a vital process for our technical support engineers. Here they discuss technical issues, balance workloads, train and coach, as well as identify and focus on complex problems. The extremely complicated tasks are passed onto specialist initiatives.
Product Optimisation
Consisting of developers, this crack issue-busting team serves as the link between support and development. Questions are reviewed and answered immediately and anything more tricky is assigned for further investigation.
Hot Issues
Incredibly time-sensitive urgent matters are shared in the 'Hot issues' Slack channel. These are the "drop everything" issues, communicated to the entire company for input and insights.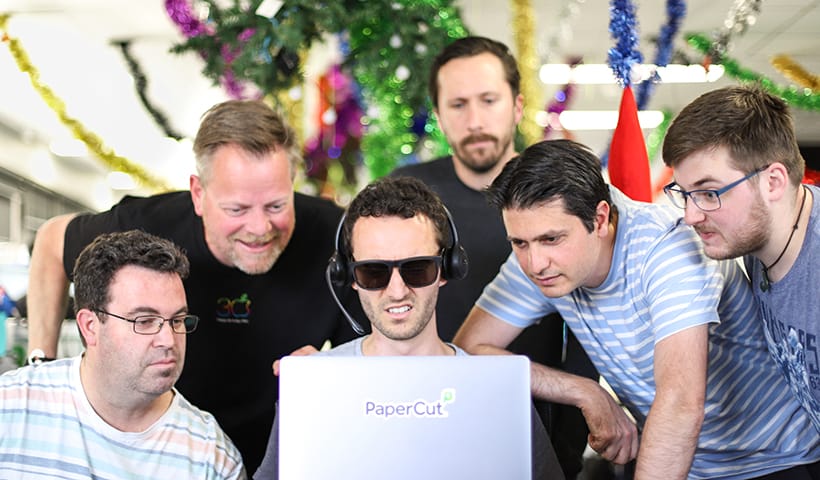 Our APAC Support team in action pre-COVID-19 (and pre-Christmas, too, it would seem). Don't let the tinsel fool you, these techies mean business.
So what do these tickets entail anyway?
Feature updates
Some technical issues are simply solved by keeping PaperCut MF or NG up to date , which is simpler than it sounds. After fixing an issue the Support team checks for eligibility of an upgrade or update. Sometimes the feature to solve your problem already exists, but you're just running an older edition.
If your issue can't be solved with a pre-existing feature or update, then we'll make one! Our Support team-members are also members of other teams in development and beyond, contributing ideas for updates on our major and minor builds.
"__We add new functionality with most releases and we are always listening to customer requests. We are nimble and able to make changes quickly in many cases." - Alan Morris, Technical Support Lead, Portland
Security risks
For security-related threats, vulnerability issues, or bugs, the Security Response team jumps in for action. These, in turn, inform security fixes and patches that are issued whenever they are needed.
"The most awaited time for our clients is when the bugs are fixed and released officially! Customers are keenly waiting for these, like queuing up in front of retail stores at 4 am for Boxing Day sales!
"We inform customers as soon as the release is out, including their fixes - we get an automated email notification on our internal JIRA (items, tickets). Tickets usually get closed within a day as soon as the fixes are out, with delightful closures." - Anshul Satija, Technical Support Engineer, Melbourne
Technical support
It's not all upgrades and security risks. Sometimes you just need help straight from the source, and that's what the Support teams provide worldwide.
Our teams are built up of knowledgeable techies with deep experience in databases, operating systems, print management, and print enablement. They're ex-Sys Admins as well as former software and manufacturer employees. They know about print environments firsthand; because they've supported them.
"M&S allows our advocates to mitigate all the trials and tribulations of a fast-changing IT world and enable you to just get on with what matters most, which I guess in this case means printing." - Jack Lawless, Technical Support Engineer, London
Back in Triage
It's now 10.30 am at the Melbourne office. Mel has assigned the tickets to support engineers. The APAC team gather up their laptops, mugs, wallets, and keys. Mel shoots his apple core into the compost bin. They return downstairs to their desks and begin the day.
Meanwhile, in Portland it's 4.30 pm, the Americas team is in the middle of answering tickets and authoring KB articles.
In London, it's 10.30 pm, and in 11 hours the EMEA team will walk into their triage. Before they start they'll log into Slack where they'll find handover notes from the Melbourne team. This includes the number of tickets, phone calls answered and any issues to keep an eye on. When they log off for their day the London team leaves the same for the Portland team.
Then the cycle will start all over again.
PaperCut MF users can purchase M&S from your reseller, your first port of call for tech support and pricing queries.
PaperCut NG users can purchase M&S from us directly by emailing sales@papercut.com .
AUTHOR'S NOTE: This piece began before the current COVID-19 situation. Currently working via our Distributed Working model, our Support teams are using the same practices just remotely. This week I sat in on a virtual triage and nothing much had changed. Well, Mel has switched to bananas.