We love shining a spotlight on some of our favourite PaperCut users. Here's Flavien's story about his company The Babel Community's experience.
The Babel Community is a concept of hybrid residences designed for young, nomadic, free, but nevertheless demanding occupants. There are co-living and coworking spaces where one can sleep, eat, exercise, work and live.
Co-working at The Babel Community in Marseille
Inside The Babel Community restaurant
A quiet place to talk
Not a bad spot to find yourself feeling peckish
Each residence is integrated into a larger ecosystem of services and leisure activities, including concierge services, community events/animation, cleaning services, and room service.
The Babel Community opened its first residence in November 2017 on the Old Port of Marseille. Since then, a residence has been opened in Montpellier, with 25 more to follow in Europe by 2025.
4 printing challenges to overcome
The project to solve printing within the coworking spaces was quite challenging.
The print management solution had to be hosted in the cloud and had to be able to work from mobile devices.
A user had to be able to easily trigger her printout wherever she was (transport, cafe, workspace) from her computer or smartphone.
She had to be able to release her printout once on site using her identity badge, in any Babel Community workplace in France.
The print management solution also needed to interface with The Babel Community's billing software.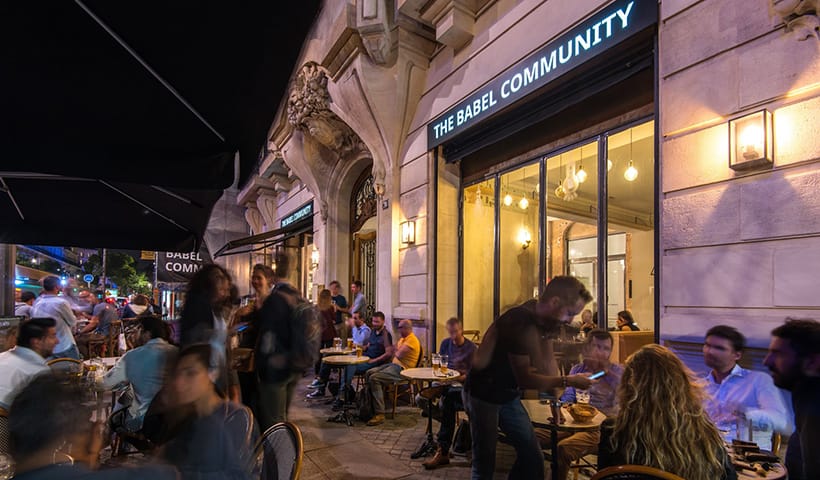 Eating outside? Printing isn't a problem with PaperCut Mobility Print
PaperCut MF and Mobility Print to the rescue
The simplicity of the interface of PaperCut MF software as well as its Mobility Print module, which is very intuitive for an uninformed audience, were decisive factors in the choice of this solution.
PaperCut MF's API made it easy to interface with our billing software, so that we could see who printed what and how much it cost. Authentication on Ricoh MFPs is based on badges already used for access control and catering.
The PaperCut MF server is on a high-performance server and thanks to a fibre-served network, the release time for print jobs is very acceptable, even better than when the solution was hosted locally.
Once the central server was in place and the MFPs installed, it took 10 minutes to deploy a residence.
The solution covers the co-living areas in addition to the coworking areas and to all new residences (2 to 3 multifunction copiers per residence).
Printing is a critical issue for us and the Bluemega team (our PaperCut Authorized Solution Center) has always been very active and involved in the search for solutions and improvements.