"Ships can carry more than cargo, they can carry ideas."

C.Y. Tung, co-founder of the Institute for Shipboard Education
As far as vision statements for a workplace go, that's up there with the best of them. C.Y Tung, the author of that quote, was instrumental in getting the Semester at Sea concept up and running. Well, floating.
Semester at Sea sees 500+ students and 100 faculty and staff set sail for a 100 day voyage of learning and discovery. It's an exceptional experience in-which the syllabus is heavily based on the countries the students visit.
We caught up with Layne Hanson, Semester at Sea's vice president for public affairs, to hear a little more about life at sea, including the challenges faced by the ship's IT team. You'll be surprised how big an impact errant printing has on a ship!
Here's their story …
Tell me about Semester at Sea!
Essentially, we're a floating university! Our campus is a retrofitted cruise ship that houses up to 550 undergraduate students and 100 faculty and staff each voyage. We also have a handful of 'life-long learners', adult voyagers who are often retirees or mid-career professionals taking a sabbatical, who learn alongside the undergraduate students. Around 10% of students are non-US passport holders.
The idea came about in 1963 when a businessman from China C.Y. Tung, believed "Ships could transport more than cargo, they could carry ideas".
We teach a variety of courses that are taught through the lens of the countries on our itinerary. Each voyage is about 100 days and we visit 10-12 different countries.
The Institute for Shipboard Education (ISE) is a 501(c)(3) non-profit based in Fort Collins, Colorado that administers the Semester at Sea study abroad program in conjunction with the Colorado State University. Students are able to get university credits through being involved in the program.
What are some of the unique challenges for the IT team on board?
Internet connectivity is a big challenge, but at the same time, being disconnected is one of the gifts of this experience. We do have internet but it's very slow; about dial-up speed.
Students of this generation will have never grown up in a world where they are disconnected. At home they have constant contact. Onboard they come to dinner without their cell phones and have meaningful conversations. It's amazing to watch.
What led you to needing to bring your printing under control?
As we are on a ship that moves from place to place, we need to be very aware of the amount of supplies we bring onboard. Every pound we carry equates to additional fuel cost so we try to be as efficient and sustainable as possible.
We also teach students about ocean awareness and sustainability practices and part of that is making them aware about paper waste. As much as possible we try to use digital sources - exams and essays are electronic, for example - whenever possible.
Unfortunately, we were still seeing a lot of paper waste. Students would press print, and then print again. There was no control.
Waste also has to be disposed of, which is difficult on a ship.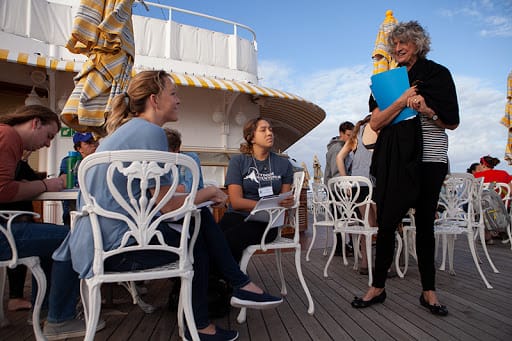 A typical Semester at Sea classroom
What were you specifically looking for from a print management solution?
We were looking for a solution that was very user-friendly and could be picked up easily. Our population changes with each voyage (both students and staff) so we needed a solution that was user-friendly.
We wanted people to be more mindful before printing and PaperCut could help to achieve this goal.
How have you set up your users in PaperCut?
We set up students and staff with different printing permissions and allocations. Once they burn through their allowance, students need to pay a small amount to print, while staff have to ask for permission to extend their allocation.
It means there's a slight hurdle for students printing while on the ship. This helps people stop and think if they really need to print or if they can just use a PDF.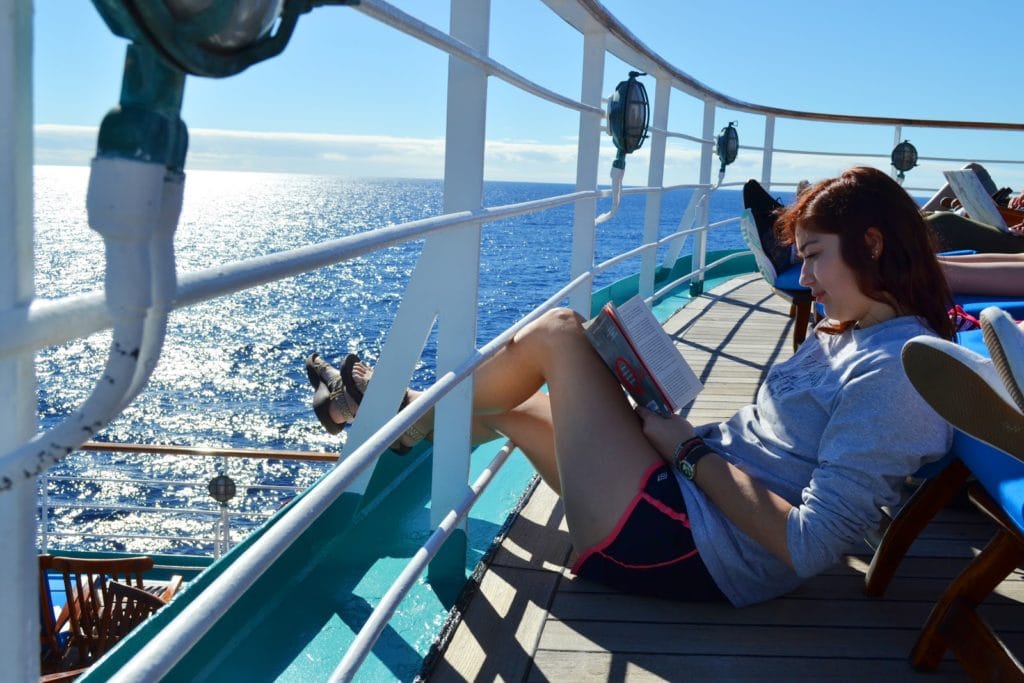 Not the worst place in the world to do your homework
The big question - has PaperCut solved your problems?
From a perceptual perspective it's created awareness that paper is a limited resource. By implementing PaperCut, we've been able to reinforce that paper and printing is a valuable resource on the ship.
What can you do now that you wouldn't have been able to do without PaperCut?
I really don't know how else we would have reduced the amount of wasteful printing without PaperCut.
Being able to pre-allocate the amount of printing also helps us to better manage paper and other supplies.
So what's your overall experience with PaperCut?
The benefit of PaperCut is really in its ease of use. It's the right choice if you are looking for something with ease of application and an easy user interface.
From an operational perspective, we've been able to reduce our costs.
PaperCut aligns well with our mission of teaching our students about sustainability and respecting our finite resources. Implementing a system like PaperCut has helped to reinforce these ideas with our students.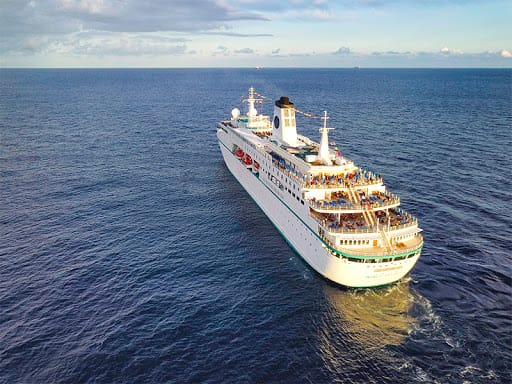 ---
Interested in a Semester at Sea? They have a number of voyages each year - there's no cooler way to sneak in a little extra learning.
And if you want to experience the paper-saving power of PaperCut solutions, get in touch !