Pennsylvania's Dallastown Area School District (DASD) spans:
six schools
seven buildings
500 teachers
350 support staff
6,200 students.
And John Lenhart's the one Google-backing sysadmin at the helm of it all.
"I absolutely love G Suite [for Education] ," he says. "They just keep adding more and more features, and it's all free for schools. I can't stress my appreciation for the product enough."
In fact, in his first year as sysadmin, he helped bring 2,000 Chromebooks into the intermediate school. And now, every second student in the district takes one home.
It's no small feat – and also something that spring-boarded the DASD into winning the 2016 EdTechTeam Student Summit for the impressive uptake.
So with all these Chromebooks in the mix, how exactly does he manage printing? Isn't Chromebook printing a hassle? Enter the DELTAs.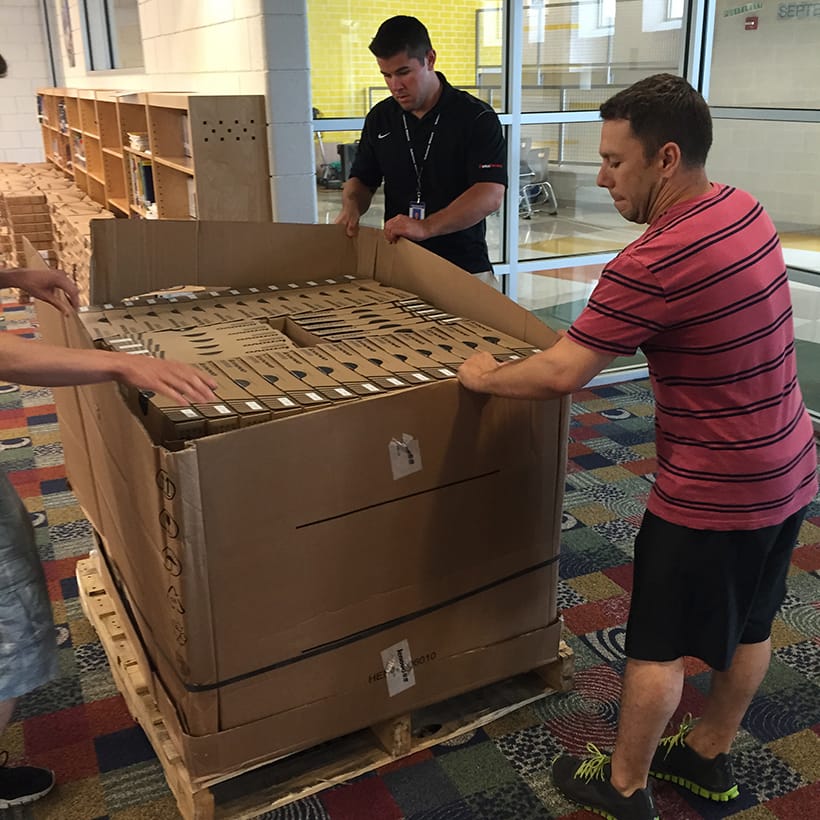 The DASD IT team show off their unboxing skills
The not-so-ordinary students of DELTA
Made up of 100 hand-picked sixth-graders, the DASD's DELTA Team guide their schoolmates on everything Google, Chromebook, and IT – and were a definite ace up John's sleeve.
They've even received training on everything from 3D printing to coding by a specially deployed Google tech team. They're a team that represents the district's continued pursuit of a more digitized school environment.
"It was just an idea. Can we assemble this class of sixth-graders, and show them some basic troubleshooting steps?"
It's a journey that's seen the team go far beyond troubleshooting to become on-the-ground experts on all things Google. It's also freed up a lot of the staff's time.
"They make sure everyone's connected correctly… From fixing the WiFi, to showing others how to use G Suite tools. We had one technician handling the whole building – and he was just there to make repairs."
The success of the DELTA Team has been a real catalyst for wider adoption within the DASD. The intermediate school remains the trailblazing superuser, but others have started to follow suit in a big way.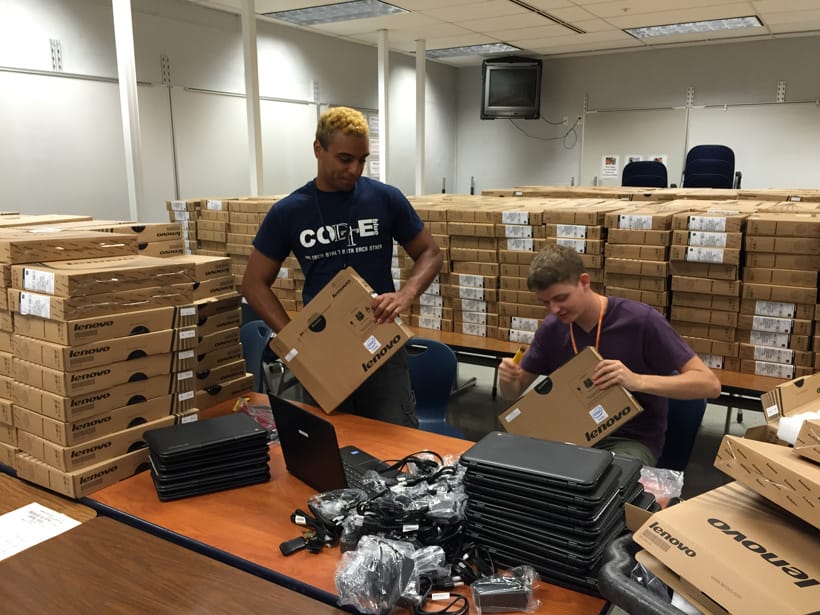 No, not pizzas. Chromebooks. Lots of them.
"The middle school's doing a lot of Chromebook integration, and they're using the tools in Google a lot more. We're in our third year now, and it's like night and day from when I started".
But a talented cohort of students is only the beginning. John needed a second ace – some not-so-ordinary print management software to tie it all together – and we fit the bill perfectly.
PaperCut and Chromebook printing: the final piece in the printing puzzle
PaperCut has been loved by the education industry for years – and bringing them into the mix was an easy call for John, given how well it plays with Chromebooks and G Suite.
"[With G Suite] I can push things out and know everyone will get that policy. It was the same with PaperCut. Within 10 minutes all of our Chromebooks had it… I didn't deal with a single Chromebook printing issue all year."
In particular, it was the software's Bring Your Own Device (BYOD) feature, Mobility Print , that sealed the deal, and solved a lot of problems they had around anonymity and server access.
"A big issue was that students could see every printer, and send jobs all over the district. But the real concern was that it was anonymous. If somebody printed something out as a joke, we had no way of tracking who did what."
With Mobility Print, John was able to:
set up a print environment that works flawlessly with their Chromebook printing fleet
data-rich visibility
prevent users sending jobs to school printers when they're off campus.
"We can finally see what our true student printing looks like. And what we've discovered is that students haven't been the problem all these years – the staff actually do the bulk of the printing."
For John, it's a useful and encouraging insight into both what they need to tighten up, and what they're doing well.
"It's a credit to the students and teachers for going more paperless – and something we can finally report on since we integrated Mobility Print."
Chromebook printing going strong three years on
Today, John's happy to report that everything's working well – and even happier to recommend PaperCut.
"If you're not using PaperCut and you have Chromebooks in your district, get it for an easier way of doing things, if for nothing else."
But seeing students excited about smarter tech and the possibilities that come with it is what really puts a smile on his face.
"One of the highlights of my job is giving each [DELTA Team] student their new Chromebook early. They cheer when they wheel out these carts full of Chromebook boxes."