It's January 2011, and we're excited to announce the release of our latest version of PaperCut - Version 11 (or is that XI?). If you're an existing PaperCut user then two things will be immediately obvious:
A new & improved look and feel
The addition of a new tab - Dashboard!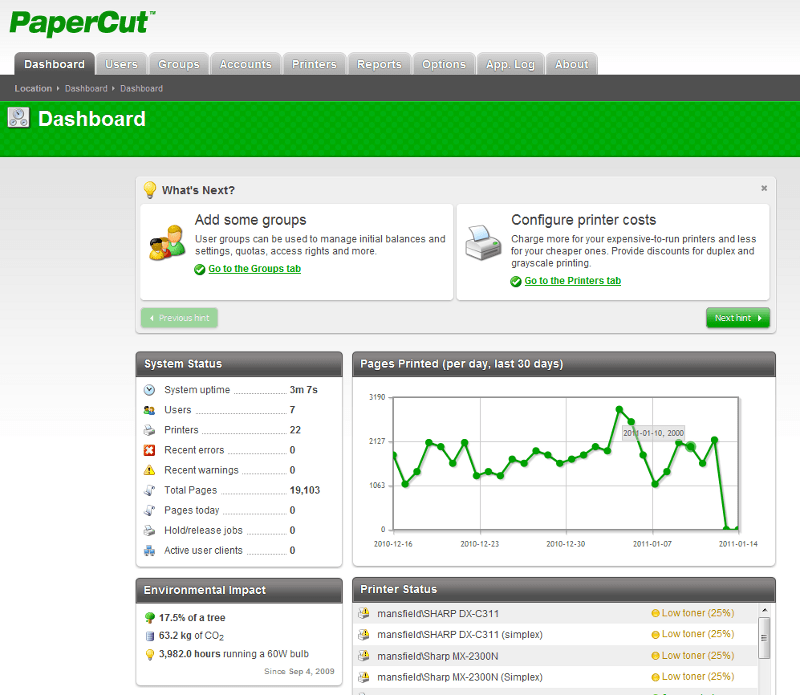 The new look and feel is the result of a design contest that was held recently to refresh the appearance of the administration console, as those who  follow us on Twitter would be well aware of.  While the previous design wasn't exactly "old" (it's web based - lifespan is measured in days & hours!), we felt it was time to refresh and revitalise the appearance to give it a new lease on life.
To coincide with the recent  redesign of our website we wanted to bring some of the new look & feel we implemented into our application… or at least add a few rounded corners and gradients :). We hope you agree that the results are a greatly improved appearance which is far easier on the eyes.
The new Dashboard tab is now the first tab displayed when you log into the administration interface.  The Dashboard provides an overview of all system activity and the current status of all your devices and users.
In the v11 release we have included seven new dashboard gadgets:
The System Status gadget provides system statistics such as uptime, active users, jobs today and system warnings.
The Pages Printed graph helps you track printing volume over the last 30 days.
The Printer Status gadget is ideal for an "at a glance" view of your print fleet. It displays pages printed today and device information such as toner levels and paper jams.
The Real-time Activity gadget lets you see what's happening right now in real-time. It shows events like print jobs arriving, users logging in, exceeding print quotas, print job status and much more. This tool has been designed specifically to help you monitor activity and diagnose problems.
The What's Next? gadget offers tips for for first-time users .
The Environmental Impact gadget displays overall environmental impact statistics at a glance.
The News gadget ensures you're kept up to date with relevant release and development activity at PaperCut.
Future releases will allow you to extend the dashboard with additional gadgets as well as providing the ability to add, remove and re-arrange the display.  If you have any ideas or suggestions for new gadgets, then let us know by completing our "Vote for a Feature" form in Administration console -> About -> Product News.
The full list of changes in this release can be found on the release history page.
PaperCut Version 11.0 is a new major version, in line with our commitment outlined in our  December-January period for new major version releases . If you have a current subscription to our premium upgrade assurance plan you may upgrade to version 11 at no additional cost. For our other customers please see our  upgrade policy to determine if you are eligible for a free upgrade. Once-off upgrades may be purchased via our  online order system . Upgrading now will entitle you to all the releases in the 11.x series throughout the year.
We hope you enjoy this release, and we look forward to hearing what you think about it!