[caption id="attachment_198" align="alignnone" width="400"]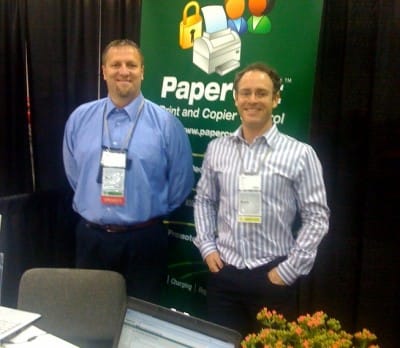 Ted (Novell's main iPrint developer from Provo) and Chris at the PaperCut stand.[/caption]
I've just arrived back from the USA where I spent a week at the Novell Brainshare conference - Novell being the newest platform PaperCut supports.
As the main Linux & Novell developer I had the task of tripping over to Salt Lake City in the USA and manning the PaperCut stand. Rick also joined me from PaperCut's US office.
Novell, both the the company and the user community, is an interesting environment. Many people think of Novell as an "aging platform", however it's very different today. Novell today is more focused on services sitting on top of the OS. The base OS is now Linux and the focus on open source has really changed the environment. The community today very much has a "Linux feel" - full of lots of smart forward looking administrators and managers.
As a developer I loved this conference. Because the crowd was so technical all discussions were very interesting. Less time talking about how glossy the brochure is, and more time talking about "tech stuff" like, clustering, the process-level isolation design used in PaperCut's OES Linux version, and how cool PaperCut's new advanced scripting feature is! There were lots of organizations on legacy Netware and PCounter installs looking for more modern alternatives. I think we impressed lots of people here. I regularly heard comments like, "PaperCut is the best 3rd party application to come the Novell platform in years", both from existing and potential new users.
I also got the opportunity to catch up with many of our Novell users from around the world. It was great to put some faces to some names and speak to people using our German, Korean and Portuguese versions. Fortunately everyone spoke English! Many also came with lists of ideas for future releases, some of which we've already started work on.
One story that I think summed up the conference occurred on the third day. I'd been flat out on the stand talking to people all morning. Finally there was a lull so we took the opportunity to pop out and grab a quick coffee, only to return to the pavilion to see a group gathering around the stand. I thought, "Typical. Everyone decided to arrive at the exact 10 minutes we're not there." As I got closer I noticed they were all looking at the computer and playing with the software. It turned out that one in the group was already a PaperCut user, loved the software and wanted to show a few others he'd met. No one was on the stand so he decided to give his own demo. Wow! If I had of known it was that easy I would have just set up the stand and went skiing for a few days instead :-)
And yes. It briefly snowed while I was in Salt Lake City. A interesting experience as an Aussie coming from a long hot summer!
PaperCut on Novell users from the UK Me with Simon from Cambridge University and Richard from Brighton & Hove College.