_EDITOR'S NOTE: Due to COVID-19 we understand that you may be restricted in your workplace access. All of PaperCut is currently operating under a Distributed Working model for the immediate future.
But, to quote Nick Fury, until such time as the world ends we will act as though it intends to spin on. So we'll continue to share ideas and stories to improve your print environment for when we're all back at work._
---
If you've got a wide format printer (also known as a plotter) in your office, it's probably playing a vital role in your day-to-day business. But do you actually know who uses it and for what? It gets through ink quicker than the office stock of coffee beans, but who is actually printing all these documents?
Did you know that PaperCut MF and PaperCut NG offer the ability to track and control wide format printers in addition to all of the other printers scattered across the office?
Tracking wide format printers in PaperCut MF/NG is easy. It works in exactly the same way as the rest of your printers. You need to make sure you have a print queue set up either on a PaperCut controlled print server, the computer where you installed the main PaperCut application, or by using our Direct Print Monitor for those users who print directly to these devices.
Printing directly from a workstation or laptop to a wide format printer is not unusual. The size of the print files that these large documents generate means that most customers want to have the shortest route to the printer to avoid any delays. Installing our Direct Print Monitor to support this is simple. You can follow our Direct Print Monitor installation guide , or if you also want help with deploying these print queues to the user's computers, then PaperCut Print Deploy can help cover both challenges in one hit.
Once these wide format printers are successfully being tracked, then we also have specific pricing frameworks that are suited to these devices where every print is quite possibly a different size.
So how do you set it up?
To set up this pricing, open up your PaperCut Admin Console, go to Printers, and select your wide format device.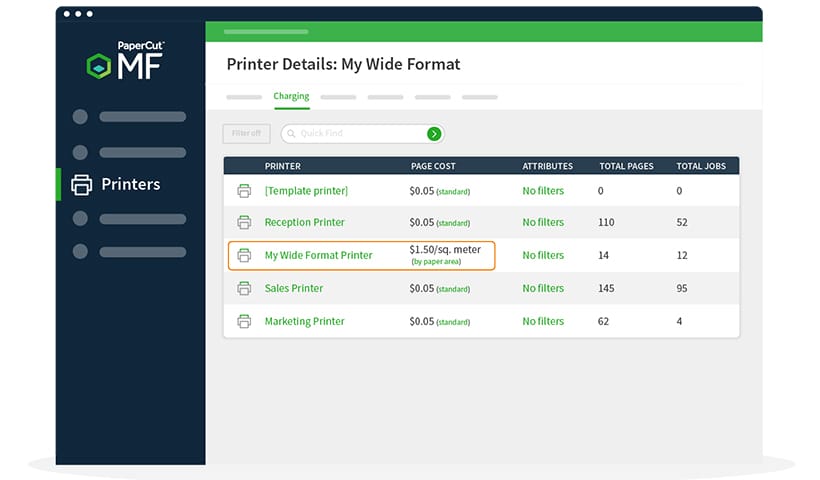 From the top menu, choose the tab for Charging, and you will then see a drop-down list where you can select your Charging Type.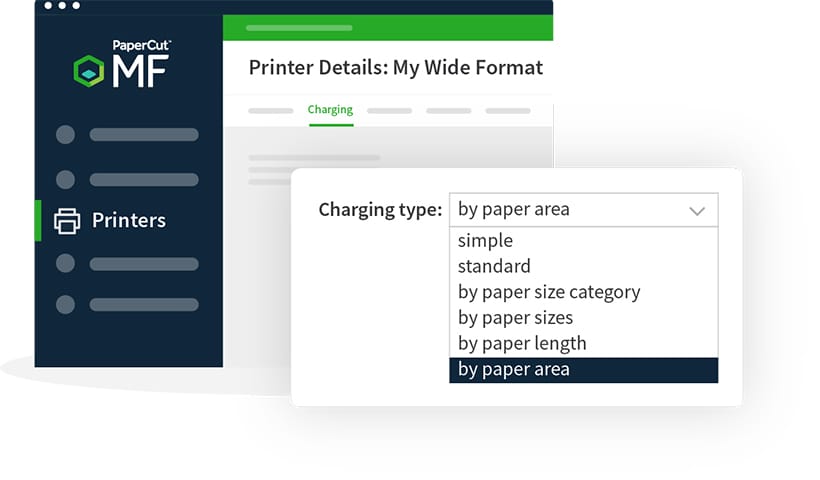 The options which are most suited to wide format printers are
By paper lengthThis mode is designed for plotters or printers that use a paper roll or fixed-width media. Charging by length allows the cost of the job to be a function of the paper/plot length.
By paper areaThis mode is designed for plan printers, plotters, or printers that support a variety of paper sizes. For example, many engineering firms use these types of printers for plotting CAD design diagrams. Charging by area allows the cost of the print job to be a function of the paper area.
For example, choosing By Paper Area offers you the ability to choose to charge based on Per square meter or Per square foot. Go ahead and enter your costs based on your specific printer.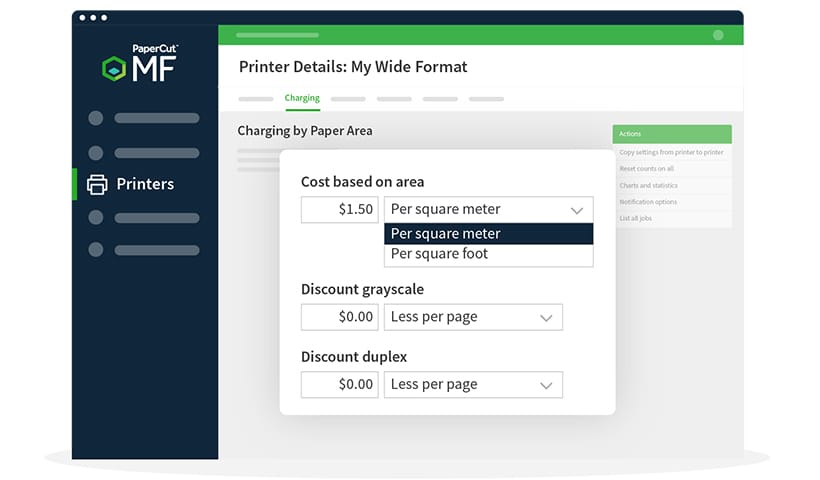 Once configured (don't forget to hit apply), you're good to go. Your wide format printer will now join your other PaperCut managed printers, be included in all of your reports, and allow you to get an insight into where all of that ink, paper, and money is going.
If you have any questions, queries, or need a little help getting your wide format devices tracking in PaperCut MF or PaperCut NG  (or anything else PaperCut related), please get in touch with our support team at https://www.papercut.com/support/ .